Did you see the 5-foot-high head shot of Condoleezza Rice rolling down Colonial Drive Oct. 20? It was plastered on the side of a tour bus promoting the new book Condi vs. Hillary: The Next Great Presidential Race by Dick Morris, the Democrat whose transformation to the dark side comes complete with pro-Iraq-war stance, anti-Hillary sentiments and a stint on Fox News. When Morris slithered into town to talk about his book, we had to go and listen.
A sample of Dick's wisdom: "`Hillary` will raise taxes just so the rich won't be so rich," "Invading Iraq was a very good thing," "This country owes Karl Rove a great debt." Remember, this is the guy Fox News puts on as the "liberal" view for balance.
Just as we were palming a rotten tomato, Candice Burke, a spark plug of a woman with fire-red hair, chimed in to lambaste Morris by asking questions about President Bush's environmental policies, his "compassion" for the uninsured and the whole Iraq thing, which isn't going so well. The crowd booed her. We high-fived Burke on the way out.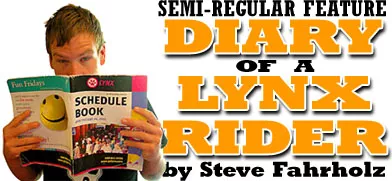 Speaking of W., we're having
a grand ol' time watching the wheels come off his administration. And so, we assume, are the folks at
www.worldcantwait.org
, a group planning rallies across the country
Nov. 2
to let the world know that Bush needs to go.
That sounds all protesty, but the turnout at a planning meeting for the Orlando rally (set for noon Wednesday in front of City Hall) was underwhelming. Local coordinator Joe Hawkins reports that response from locals so far has been "pretty good overall," adding that this is not just a coalition of political groups, but a rally for everyone. "We're all in this at the same time," he says.
Another coordinator, Josh Leclair, adds that there really aren't any mainstream political avenues to travel any longer, because people don't believe in them anymore – although, with a smirk, he jokes that from the looks of things lately, Bush may yet put his own peach in impeachment. "It might just take care of itself."
When was the last time a poem changed a nation? Probably Oct. 6, 1955, at the Six Gallery in San Francisco, when Allen Ginsberg first read "Howl." When will the next time be that a poem changes a nation? That's hard to say. But if you've seen the best minds of your generation destroyed by madness, starving, hysterical, naked, then do something about it.
As an ode to the 50th anniversary of Ginsberg's reading, The Sandspur (Rollins College's newspaper) and Austin Coffee & Film are sponsoring the Howl Again Poetry Contest. The winner gets swag and exposure and a $50 gift certificate to Austin Coffee & Film, though that's not really important to poets out to change the world. Submit your entry to howlagain@thesandspur.org by Oct. 31 or forever hold your peace.
When is a voter-approved constitutional amendment sacrosanct, and when is it a mistake? For the Orlando Sentinel's editorial board, the answer depends on the issue at hand. Check it out:
Voters are smart and know what they're doing (class-size amendment and high-speed rail):
Aug. 23, 2003: "`T`he state's effort to comply with the `class size` requirement is in its infancy. Why would voters change their mind so quickly? … Before asking voters to repeal or even narrow the plan, Florida should give the amendment some time to see if it can work as is."
March 25, 2003: "Florida lawmakers and Gov. Jeb Bush must think they know it all. First the governor insults voters, suggesting that they hadn't a clue what they were doing when they approved two constitutional amendments, one mandating high-speed rail and the other requiring smaller public-school class sizes."
March 5, 2003: "When voters speak, elected officials have an obligation to listen. Yet … Gov. Jeb Bush all but dismissed the people's will as misguided and inconsequential. … Did Mr. Bush forget? These were the same voters, by and large, who also re-elected him to office. Were they horribly misinformed then, too?"
Voters are misinformed and must have made a mistake (expanding gambling in Broward and Dade counties):
Oct. 24: "Legislative leaders and Gov. Jeb Bush wisely agree that voters should have a chance to revisit their approval of a constitutional amendment that opened the door to new gambling options in Florida."
Oct. 13: "Voters deserve a chance to revisit last year's approval of a constitutional amendment that may well open the door to casino gambling throughout the state. … The proliferation of gambling could dramatically denigrate Florida's quality of life."
Sept. 19: "Most Floridians hadn't a clue that the election might also open the door to full-scale, Las Vegas-type slot machines at seven casinos in Florida run by Indian tribes. But don't blame voters. The ballot made nary a mention of how the amendment might affect Indian-owned casinos. And that, alone, is a good enough reason to put a repeal on next year's ballot."
We'd call them flip-floppers, but it seems that term has already been used somewhere.
Speaking of the Sentinel, we read there Oct. 25 that Buddy Dyer's days of secret dealings are over. Post-indictment, he's discovered a newfound commitment to open government. Odd, since that very day Dyer had a meeting with commissioner Betty Wyman on his schedule to discuss "personnel and other issues." Rumor had it that Wyman wanted to crab about raises the mayor was giving to his staff, so we decided to show up. These one-on-one meetings are public, but no one ever goes.
What did they actually chat about? A golf training program and the upcoming Veterans Day parade, which will feature none other than Bob Dance's Beautiful Granddaughter (scary!). Not a word about personnel. Think maybe they didn't want to air their grievances in front of an audience? Nah, can't be. There is a new commitment to openness and honesty at City Hall. We know it's true – we read it in the Sentinel.
This week's report by Jeffrey C. Billman, James Carlson, Billy Manes and Issac Stolzenbach.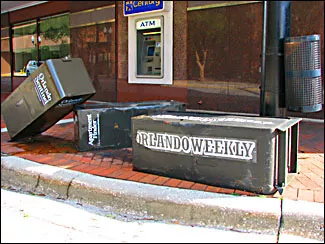 SATURDAY, OCT. 22
There are lots of LYNX riders who worry about finding time to spend with our Lord and Savior, Jesus Christ, what with the late buses (and even the on-time buses that run once an hour) which carry us to our low-paying, service-industry jobs. I know I do.
Problem solved! You can now catch your fill of Jesus talk on select LYNX buses – whether you want to or not. And of course you want to. Right?
Anyway, while on the 50 the other day (that's bus talk for the line that goes down Colonial Drive), I was treated to a tag-team sermon right behind me. The ride started like any other, quiet and normal. There was a young kid behind me wearing a Hot Topic shirt with a beastly-looking creature emblazoned on it. This drew the attention of an older man who bore a striking resemblance to C. Everett Koop, who began talking to the lad about his apparel. He started by saying something about attracting evil spirits by wearing clothes with pictures of evil spirits on them. He was quickly joined by another man who looked like he was on a post-Passion of the Christ high. The pair went into a long and increasingly loud sermon on Jesus, the devil, hurricanes (signs of God's wrath and the end times) and "skull and crossbones" clothes attracting death. Koop told the young man that he had once been saved from a gun-wielding mugger by a sword-wielding angel.
"That's right, that's right," his partner said. "People don't believe that stuff."
I didn't stay on the bus long enough to see if there was a collection plate passed around, or if someone tried to baptize the Hot Topic kid with bottled water. (I would have volunteered, but I was wearing a Devil's Rejects T-shirt, and I didn't want any grief.) I did notice that the two preached loud enough for the entire bus to hear, and probably the cars next to us as well. My fellow riders didn't look too thrilled. happytown@orlandoweekly.com