We at Happytown™ are big fans of all things nekkid, so we were pleased to stop in on the opening night of last week's three-day Nude Nite art extravaganza and see the flag of figural representation flying high.
In her attempt to remake the venerable exhibition concept as her very own, promoter Kelly Stevens appeared to, shall we say, have a firm grip on things – and not just because her choice of Cameron Kuhn's unfinished Cornerstone Building as a venue afforded the same confluence of cheesecake and construction work that's always made the Snap-on Tools calendar such a big hit. Local photographer Bernie Martin, on hand as an interested spectator, gave the layout the thumbs-up while a body-painted model snacked nonchalantly from bag of chips; elsewhere, other immodest types had their cellulite immortalized as sculpture.
And what of the more stationary art? Well, a Krista Berman graphic that listed euphemisms for various naughty bits had already sold on opening night, moving somewhat faster than an acrylic-on-wood 'toon collage that included the frankly disturbing sight of a naked Yogi Bear. The photographic images of breast-cancer survivors impressed us with their defiant anti-eroticism, though the best-titled artwork had to have been Woody Igou's "Ted Remained Haunted by Alice's Unusual Fallopian Tubes." As do we.
Can't get enough about the doings of the Metropolitan Bureau of Investigation (see cover story, page 20)? Neither can we. We never tire of stories about the bumbling, unlovable morality police. So here's another amusing tidbit to chew on: MBI agents are once again pounding the pavement to prevent innocent Orlando-area adults from encountering materials that may be – umm, how do we put this delicately – icky. All we can say is thank God someone is watching out for us, because otherwise we might accidentally come across material we find offensive while exercising our First Amendment rights.
Last week, an MBI agent paid a visit to The Original Bookstore, an adult shop on Orange Blossom Trail, with a list of DVDs the agency had decided were "obscene." Pay attention to that last sentence: The cops decided these materials were obscene; not a judge, not a jury, not lawmakers, not citizens. Even though we are talking about porn here, and even though many find porn offensive, the fact is these materials have not been deemed out of bounds by anyone other than some dudes with a badge. And if that doesn't frighten you, it should.
Of course the legal definition of what's obscene is as slippery as a tube of K-Y Jelly. (Oops, hope that doesn't bring the MBI down on us!) Even the Supreme Court hasn't been able to nail it down, instead passing the buck to communities to decide for themselves what's obscene and what isn't.
What exactly is so naughty that the MBI says you can't see it? American Bukkake 14, American Bukkake 6, American Bukkake 16, American Bukkake (the original, we presume), American Bukkake 5, Ass Openers 13, Cum Drenched Faces, Tampa Tushy Fest Part 2 and so on. (Why other films in the American Bukkake and Tampa Tushy Fest oeuvre aren't on the list is anyone's guess.)
At The Original Bookstore, the MBI agent who dropped off the list pointed out that the store didn't have to remove the tapes – that would be prior restraint, which is unconstitutional – but urged the store to have their lawyer contact the MBI to "settle" the matter. The Original Bookstore pulled the titles from their shelves, according to their attorney, Steve Mason.
The MBI didn't respond to questions about how these particular movies were selected and what other stores received the list. But sleep safely, Orlando, in the knowledge that the MBI is out there watching porn so you don't have to.
Has our local congressman fallen from grace? It seems so, as Ric Keller's name was conspicuously absent from a Christian Coalition of Florida press release touting the winners of its 2005 "Faith and Family Awards," which are given to representatives who vote exactly how the fundies think they should on pressing Christian issues like tax cuts. Tom Feeney made the list, as did Katherine Harris and John Mica. So why was the heretofore scrupulously conservative Ricky-boy excluded? Has he gone all Hillary or something?
Frankly, we're not sure. And neither is the Christian Coalition. When we called spokesman Bill Stephens, he said he thought Keller scored a 91 percent out of a possible 100. He referred us to the group's website (www.ccfla.org) to find out where Keller went wrong. But the website only lists votes from 2002 and 2003, mentioning nothing about 2005. So we called the Washington, D.C., office, and were referred to the same website. The coalition hasn't compiled a 2005 list, we were told. They'd get back to us.
Hey guys, a quick suggestion: Get your facts straight before you accuse our beloved Ric Keller of not being a lockstep conservative, OK?
This week's report by Jeffrey C. Billman and Steve Schneider.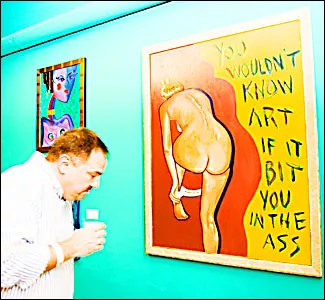 SEMI-REGULAR FEATURE:


DIARY OF A LYNX RIDER
by Steve Fahrholz
My sinuses are hell right now. I'm stuffy, I'm snotty, I'm crabby and in an all-around state of ill health. And as I stuff yet another cold tablet down my gullet, I take a moment to reflect on the hygiene conditions on the LYNX bus.
There's no way to prove this, of course, but I firmly believe my current malady can be traced to one fellow passenger.
The fellow rider was a large woman seated in front of me, who insisted on coughing, coughing, coughing – never once covering her mouth. Thanks, bitch. I had headphones on, but the noise from her mucus-dispensing throat rose above my John Mellencamp CD like a Harley revving its engine. Apparently, I wasn't the only one who noticed. I glanced around the bus, and everyone else was glaring at her too. The message was clear: Cover your mouth, dammit!
This occurrence was neither surprising nor unusual. Many LYNX riders have yet to master the kindergarten-level skill of covering your mouth when coughing or sneezing. To date, I have managed to avoid any direct hits from flying snot rockets. I have, however, sat down several times to notice discarded, and very used, tissues. Nice.
One last anecdote: While headed downtown, a fellow rider persuaded the driver to let him eat ramen noodles on the bus. No sooner did he dig in, than another rider moved in and sat across from him and began to cough uncontrollably. The phlegm gargling in this man's mouth was, well, rabid. And, naturally, he made absolutely no effort to cover his mouth.
Mr. Ramen Noodles looked up at him, got up, took his food to the back of the bus, and declared, "Damn, motherfucker's gonna get all of us sick."
Amen.