Sunday night, Aug. 28, saw something of a pink debacle out at The Parliament House complex. Citing extensive underaged drinking, state officials – not the feds as some media reported – forced 12 bartenders in varying shades of revealing dress into handcuffs, prior to shoving them in the back of police vans and cars to be processed in the pokey.
From the sort-of-reliable sources we were able to contact, we gathered that owner Don Granatstein arranged for everybody's bond to be waived, leaving them with little more than a misdemeanor charge and the glitter covering their skin. Whether this will mean a loss of employment is still up in the air (underaged serving is a tough rap; convicted bartenders are suspended from serving alcohol for five years), but as far as we know they're being fined, taken to court and wrist-slapped.
According to the Department of Business and Professional Regulation, which oversees liquor licenses, this is how the bust went down: A 19-year-old undercover agent was denied a wristband at the door, but was able to procure alcohol from 12 of the 13 bartenders on duty anyway. Hence the arrests. But a source present that night tells us there were a number of younger people asking the "of age" for their wristbands.
Rumors of a Jeb Bush connection abound, as do suggestions that this is some sort of state-sanctioned fag-bashing. These whisperings are, as best we can tell, unfounded. According to the business regulation department, the state is not going after The Parliament House's liquor license; instead, it issued what's known as an "official notice," which is a way of saying, "Don't do it again."
On the other hand, the rumor that Mayor Buddy Dyer had a role in The Parliament House's problems is entirely true. On Aug. 15, the mayor received an e-mail from "RadioGuyRob@aol.com" declaring, "Mayor Dyer … did you know that underage children can party at the Parliament House on Sunday nights? No ID needed … this is so wromg … u need to look into … please advise … thank you."
Laura Bornfreund, the mayor's "constituent correspondent," passed along the e-mail to Orlando police chief Michael McCoy. And that got the ball rolling.
Speaking of gays – because we always are – as recently as last summer, the gay-leaning Human Rights Campaign and its sister org, Equality Florida, didn't have a presence in Orlando, according to HRC associate field director Bo Huff. But in the wake of a disappointing presidential election and sundry religious flourishes, support is reaching a palpable and valuable pitch.
Aug. 31 (today, if you get your paper the moment it hits the racks), the HRC and Equality Florida stage a "Fight for Equality" town hall meeting at Embassy Suites Down-town, 7:30 p.m. to 8:30 p.m. And while gay marriage is a hot button, it's not the only one.
"It's more than a marriage thing," says Huff. "It's a legislative and electoral overview for the GLBT community, heading into Congress coming back into session. There's a litany of issues: nondiscrimination in the workplace, this time transgender inclusive; the Hate Crimes Prevention Act, immigration bills, the whole catalog of issues."
According to the press release, that catalog also includes "Florida's discriminatory gay adoption ban, growing trends in anti-gay violence, discrimination and marginalization of GLBT students in public schools, local efforts to pass nondiscrimination policies, `and` redistricting in 2006."
Shifting public opinion is making much of this discussion seem startlingly antiquated, says Huff. "We like to say that those who profess bigotry are on the wrong side of history."
Our buds at the ACLU came calling last week and dropped an interesting stat in our laps. Remember back in April when Orange County Sheriff Kevin Beary used the long arm of the law to track down the Winter Park woman who wrote a letter to the Orlando Sentinel calling him fat? The incident led to a complaint filed against Beary that was investigated and ultimately dismissed (natch) by the Florida Department of Law Enforcement.
Still, the ACLU Central Chapter wondered: How many other cops out there are abusing police-only databases designed to track down criminals? So they filed a public information request for all complaints from citizens about police departments, statewide, from Jan. 1, 2003, to the present. (FDLE is required to investigate all such complaints, ostensibly so you don't have police agencies investigating themselves.) And they waited. And waited. The seasons came and went. The tides rose and fell. Still they waited.
Finally, in August, the FDLE responded with a list of 380 complaints about cops statewide. But they didn't produce any information about the nature of the complaints or how they were resolved; only that they were filed and what police agencies were involved. The ACLU is hounding them for the particulars. (Ain't Sunshine Laws grand?)
If the sheer number of complaints against a department is any barometer of how its officers treat the public, be glad you don't live in Miami. In Central Florida, police departments in Winter Springs, Maitland, Altamonte Springs, Eustis, Lake Mary and Kissimmee and the Orange County Sheriff's Office all drew a single citizen complaint; Apopka drew two, while Ormond Beach drew three.
We can't want to find out the nature of the complaints. Are there more cops out there as arrogant as Kevin Beary? Stay tuned.
This week's report by Jeffrey C. Billman, Billy Manes and Bob Whitby.
SEMI-REGULAR FEATURE:
DIARY OF A LYNX RIDER
by Steve Fahrholz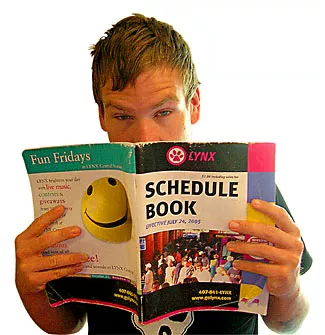 Recent events have forced me to return to the world of commuting in Orlando on LYNX. I've had time to observe what goes on within the confines of the bus. It's a way to pass the time, and sometimes provides amusement. Welcome to my diary.
SATURDAY, JULY 30:
Catching a whiff of something mysterious while riding LYNX isn't unusual, but this day was very special.
I was riding from downtown to the MetroWest/Pine Hills area, which as any regular rider knows is where the freaks are located. A somewhat rotund elderly lady boarded my bus, bringing with her what could only be described as the stench of death. It didn't take long for my fellow riders to notice. Cries of "Somebody done shit themselves!" filled the air, which was heavy with a scent best described as a mixture of vomit and raw sewage.
The bus went chaotic. Passengers rushed to open windows. The driver held his nondriving hand over his nose – safety first! – and I tried my best to breathe through my nose and not yack. Then we saw it: a trail of what I assumed to be dog crap, leading from the front of the bus to where the fat lady was seated, her legs propped up on the seat.
"Oh, it's on my shoes," she offered. I guess she didn't want us to think she pooped herself. She got off at the next stop.
The rest of us were stuck with the smell the lady left behind. The driver pleaded with his passengers to spray perfume, bug spray, anything to cover the smell. One woman obliged, but the perfume wasn't much of an improvement. I had just a few more exits to go, but my eyes were watering and my throat was swelling with bile. I made it, but not before seeing another passenger take a seat in the pile of leftover poop. I could have stayed and watched the fun, but there's only so much a man can take.