Hash House is centrally located in the Tourist District of I-Drive, but packs a punch that's definitely local-worthy, with gargantuan portions of home-cooked goodness. They certainly don't hide their love for the farm here – there is a damn tractor right when you walk in after all – but they manage to do it without coming across as tacky, which is so often the case with Southern-style restaurants. (Lookin' at you, Cracker Barrel.)
You many think that because Hash House is in the heart of the Tourist District it's for vacationers and conventioneers. But we have to admit, with its big ass pancakes and oversized EVERYTHING (well, almost everything), it should be on the top of your to-do list when you've got out-of-towners to entertain. Hash House's extensive bar menu and easy-parking make it a great choice for Orlando locals looking for an above-average brunch experience on the south side. And it certainly is the optimal brunch spot to get your day of shopping and attractions off to a great start.
The aforementioned full liquor bar at Hash House boasts an extensive and creative drink menu. First and foremost, the Huckleberry Sin is not to be overlooked. This mixture of homemade lemonade with huckleberry vodka is a refreshing break from the usual brunch libations. They keep the unique booze coming with a deliciously sweet Spiked Kiwi Watermelon Lemonade. And while a 25 oz. Budweiser in a brown bag might not be as "flavorful" as some of their other concoctions, it certainly is funny.
But if you're more of a mimosas and Bloody Mary kind of bruncher, Hash House slings quite a few interesting selections of both. The Texas Bloody Martini throws in Tito's Handmade Vodka for the old shaken and stirred treatment and is garnished to perfection with jalapeño-stuffed olives, baby gherkins, blue lake green beans and lemon. Pinkies up for that one.
Perhaps you're leaning more towards a mimosa, and that's more than OK at Hash House. They've got a large menu of juices to choose from, but the shining stars here are the Specialty Mimosas. Taking influence from the idyllic island-life, their Aloha Royale perfectly blends together chambord, pineapple juice and champagne. While the Aloha Royale is a breath of fresh air, the Deep Eddy is a beast of a mimosa. With this drink, you've got tangerine juice and Deep Eddy cranberry vodka taking champagne on the wildest trip of its life.
We sort of, kind of, totally hinted at big ass pancakes here, and y'all we ain't lying. Imagine the largest plate you've ever seen in your life, then plop a thick pancake on top that covers the whole thing. The size isn't just for show, either. These bad boys get taken to a new level with these unbelievably tasty flavors: Brown Sugar Banana, Pumpkin and Red Velvet.
If you came to Hash House looking for something a little more savory, then Andy's Sage Fried Chicken Benedict is your winner. It's a Man vs. Food favorite for a damn good reason. This mighty combination of bacon, mozzarella, scrambled eggs, mashed potatoes and fried chicken gets drowned in a chipotle cream that you just want to dip damn near everything into.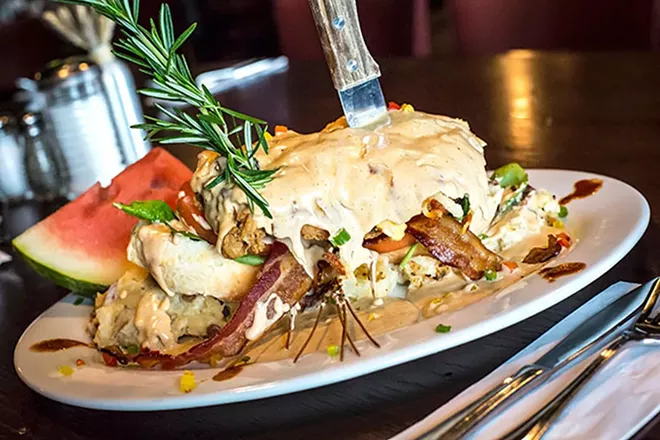 Overall, the menu takes home-cooked favorites and amplifies them to 11. Hash House is here to please with traditional dishes, but they always give you something extra, a unique twist added to every recipe. Just look at their French Toast – griddled french toast that takes a dip in banana cinnamon cream and comes with pecan maple syrup. It could've been simple, but that's not the Hash House way.
And that brings us to the pricing. Most orders run between $8-$19, and while $19 may seem like a lot for a brunch plate, it's almost as if the more you pay, the bigger your plate will be. You can totally get away with sharing portions, as these dish sizes are seriously unbelievable. So prices are proportionate to serving size. If you have not yet made it to this "attraction" of a breakfast joint, it is definitely worth the trip. These massive portions of creatively traditional fair, along with a full liquor bar of complimentary beverages, might just make Hash House your next brunch mainstay.
ADDRESS: 5350 International Drive
PHONE: 407-370-4646
WEBSITE: hashhouseagogo.com
PARKING: Private lot, complimentary valet
RESERVATIONS: OpenTable
AVERAGE WAIT TIME: 5-10 minutes
ALCOHOL: Full bar, wine by glass and bottle, beer, cocktails
SERVING TYPE: Menu
OUTDOOR SEATING: No
CAFFEINE: Signature coffees, cold brew, tea, espresso
VEGETARIAN/VEGAN: Vegetarian-friendly
NON-BREAKFAST ITEMS: Yes
DOG-FRIENDLY: No