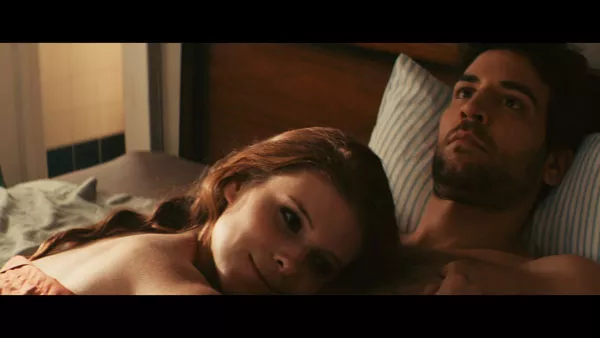 Happythankyoumoreplease
3 Stars
(R)
You hate to begrudge anyone for whatever piece of optimism and hope they can snatch from the clutches of this often dreary existence, but damn, sometimes that shit gets annoying.
Josh Radnor, one of the lesser-known stars of the hit CBS sitcom, How I Met Your Mother, is the king of this sort of post-millennial, doo-wop romanticism - the antithesis of Zach Braff's introvert that defined the previous decade. To the show's credit, Ted Mosby (Radnor) and his starry-eyed state is a frequent source of exasperation for his friends week after week. Ted hearts New York, loves being in love and gloms onto life's little coincidences like he's Meg Ryan in Sleepless in Seattle - everything's a sign meant just for him. Radnor plays it 
perfectly. And it's really fucking annoying.
So the fact that Radnor has written, directed and stars in his very own Garden State with the cutesy title Happythankyoumoreplease, in which he plays Sam Wexler, a struggling novelist who hearts New York, loves being in love and yes, gloms onto life's little coincidences - in this case, a boy (Michael Algieri) he runs into on the subway and decides he needs to help - tells you too much already.
Sam believes he sees this boy, Rasheen, get abandoned. Despite being late for a meeting with a potential publisher, he invites the boy to tag along with him for the time being until they can alert the proper authorities. In the meantime, Sam uses Rasheen to hit on a beautiful waitress (Kate Mara, Rooney's older sister and luminous in her own right) and as a sounding board for his thoughts and insecurities.
He gets the girl, named Mississippi, home, and in an effort to sleep with her, proposes that they have a three-night stand: He can have a live-in girlfriend for a few days, and she can not feel guilty for sleeping with him. Win-win?
He's essentially building a fake family at a point of unparalleled dejection in his life. That should trigger a thousand red alarms in both the audience and the film, and to be fair, several supporting characters in Happythankyoumoreplease (if you think that title looks annoying on this page, imagine it on a marquee) alert Sam to this fact. Chief among them is Mississippi, though it only becomes an issue for her when he chooses not to see her warble through an acoustic set at a coffee shop.
Another voice of reason is Mary Catherine (Zoe Kazan), Sam's cousin, who, unbelievably, has an entire B-plot of her own. Through Sam's eyes, however, she's shrill and kind of a bitch, so the film chalks up her resistance to Sam's insanity as Haterade or something.
Although Sam eventually faces reality, it doesn't really change his arc all that much, which is not only a disservice to everything that came before, it points to a disturbing level of narcissism within Sam that Radnor seems OK with.
Oh yes, Zoe Kazan. Her Mary Catherine, who we cut to frequently, has been asked to move to Los Angeles by her boyfriend, by whom she may be pregnant and may be falling out of love with. Neurosis abounds. There's also Malin Akerman, a lovely comic actress saddled with a cancer-girl plotline. She's a recovering alcoholic being pursued aggressively and charmingly by Arrested Development's Tony Hale.
These three vaguely intersecting plots have plenty of nice moments among them and performances that shine, especially Mara and Hale's. But Radnor's script is so overloaded with developments and so free of a point of view that it comes out like a lot of back story for characters who should be embarking upon a life-changing experience; it's all buildup with no liftoff.