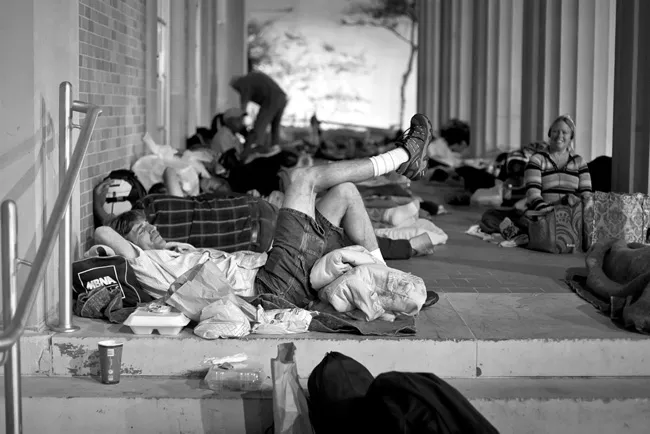 When Orlando's new Amway Center was under construction, none of the contractors, electricians or other laborers who helped erect the city's shiny new centerpiece probably imagined they'd soon be out of work and sleeping on the porch of a downtown church. Just a year after Mayor Buddy Dyer and Stuff the Magic Dragon cut the ribbon at the arena's grand opening on Oct. 1, 2010, though, that's exactly where some of them can be found.
This winter, as the Orlando Magic begins its second season in the arena and tickets are being purchased to see big-name bands like Red Hot Chili Peppers play there, the workers who helped make the Amway Center a reality are long forgotten. A handful now spend their nights huddled under blankets, their scant belongings gathered about them, on the open porch of the Downtown Baptist Church on the corner of East Pine Street and Rosalind Avenue. They are part of a group of men and women – sometimes as few as a dozen, other times as many as 30 or 40 – who sleep on the cold concrete, just a couple of blocks away from where girls in high heels totter along on their way to the bars and SUVs with tinted windows hum down Orange Avenue.
"We might as well be invisible," says Richard Peete, a tall, gray-haired man in a polo shirt who's been a regular on the church's porch since 2010. And Peete is right – save for a handful of good Samaritans who stop by to distribute food or blankets to the homeless who gather here, most people who walk past avert their eyes from the depressing scene.
Ever since Pastor David Knight visited the church late one night in 2010 and found that people with nowhere to stay were taking shelter from the elements under the wide, covered porch, he's allowed a limited number of people to sleep here at night, free of charge, provided they abide by a few rules: no drinking or drugs, don't harass passersby, sign up for a church-issued ID card. Those who stay on a regular basis are expected to attend church services and Bible study. The church has even partnered with the Ephraim Project to open a clothing bank in a building next door.
There's never a night these days when there aren't people sleeping on the porch; the downtown shelters are often full, but even if they weren't, most who are sleeping at the church say they can't afford the luxury of a shelter, because all of the major shelters charge a fee to stay for more than a few nights. At the Salvation Army, for instance, the first three nights are free, but after that it's $9 per night; the Orlando Union Rescue Mission will let you stay for a week at no charge, but after that it's $6 a night; even the Coalition for the Homeless of Central Florida charges $1 per night.
"You don't have to pay nothing to stay at the shelter in Pensacola," says Dean Odom, a cabinetmaker who moved to Orlando from Pensacola to look for work. He didn't have as much luck as he'd hoped, and a few weeks before Thanksgiving, he found himself with no place to go; he quickly learned that in Orlando, even the homeless have to pay rent. Here, the homeless can't sleep in parks, or police will arrest them for trespassing; they can't congregate for safety in most public places without being asked to disperse. Some find shelter underneath highway overpasses and in wooded areas, but those aren't the safest or most appealing options – particularly for women, says Tonya Kimble, a former waitress and home health-care aid, who has been homeless since 2008.
"They don't have enough shelters for women in this city," she says, and women are more vulnerable than men out on the streets.
Kimble and her fiancé, Gary Hubbard, stay at the church because it's safe and free. Hubbard was one of a group of Parramore residents who found work with Sewell Masonry, a minority-owned contractor hired to help construct the Amway Center beginning in 2009. Sewell hired a handful of locals, including Hubbard. It trained them in masonry and put them to work laying bricks. Once the job was finished, Hubbard says, the work dried up; now he's hoping that when the city begins demolition on the old Amway Arena, he'll be able to find a job again. At least for a little while.
According to J.R. Ross, director of the Downtown Baptist Church's Friends in Transition program (which is what the church calls the support system formed to help those who sleep on the porch) many of the people who flock here nightly helped build the environment that city residents often take for granted. Spend an hour or two talking to the individuals gathered at the church for the night, and you're likely to meet people who worked on the Amway Center or Baldwin Park or some of the newer high-rise buildings that make up the city skyline. Others moved here from other cities or states to find work, but once the recession set in, jobs became scarce.
"I've had engineers here, we've had a lot of laborers, construction workers, a dental hygienist," says Ross, who once spent his nights sleeping out on this porch, too. "We've had all walks of life sleep out here. They're here for all different reasons, but it's not by choice. People don't realize that they may be only one to three paychecks away from being homeless. It's a scary thought. One guy went through a divorce and next thing you know, he's out on the streets. It could be a divorce, job loss, anything. But it's not choice. It's anything but choice."
Although the media has paid a lot of attention lately to homeless families in Central Florida – the New York Times and 60 Minutes have both done stories on homeless kids and teens in the region – homeless men and women without children rarely receive such sympathetic treatment. If anything, says Peete, they tend to be looked at as an inconvenience by those who find homeless people unsettling or threatening. "We're not out here breaking into people's houses," Peete says. "Most people out here are just trying to get their basic needs met."