Alas, it's that time of year again. February is when Sports Illustrated releases its annual swimsuit issue, replete with the usual oiled-up pimping of site-specific liposuction, freakish genetics, rhinoplasty, gym-rat body sculpting, faux-hot thousand-yard gazes, and chemically plumped lips puckered into automaton pouts.
Viruslike, this Photoshopped Frankenstein aesthetic spreads to cinema and mass culture, and/or vice versa, reinforced by lad magazine spreads that make objectification sound progressive and reinforce an obsession for the deathly anorexic. Which helps explain how aerodynamic points-of-purchases such as the Jessicas Biel, Simpson and Alba, talentless nip/tuck lab creation Fergie (frighteningly, No. 10 on Maxim's babe list), and America's No. 1 Victim, Elisha Cuthbert (Captivity, 24), are bestowed with a dumbed-down mantle of hotness. Their major active effect on males is the nurturing of a fetishistic urge for impossible females; for women, they instill self-loathing about bodies that can never match a swimbot's mechanistic perfection.
But the SI issue also allows us a primo excuse to celebrate women who embody everything Franken-girl culture would have us think doesn't exist or scarcely matters. And so, here are our alternative Top 20 of hotties who thrive outside, or in spite of, traditional notions of beauty.
These women are cinematic icons who matter, persist and are reflective entities in whom we see best-case-scenario versions of ourselves or whom we dream we might be. And for those of us with special needs – the nerdy, the outsider, the literally and metaphorically queer – this reflective quality is even more important.
Whether it's via signature roles, life stories, off-screen behavior, or an alchemical mixture of all those elements, they validate, reinforce and represent. Like any good relationship, digging their finer qualities takes some effort. It's energy well-spent, what with the way these women continue to make our lives palpably better places to live.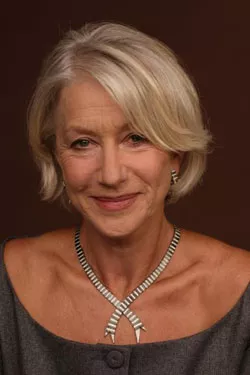 No. 1: Helen Mirren
Because she embodies a truth that applies to every woman on this list, a truth that those who slaver at the supermodel of the month will never get: that "attractive" is not the same as "perfect," that "beautiful" has nothing to do with "young," and that "sexy" is none of the above. See The Cook, the Thief, His Wife and Her Lover or the Prime Suspect TV series.
No. 2: Katee Sackhoff
For all her boozing, Cylon-blastin' and -– God help us – barely clothed boxing in Battlestar Galactica, it's the way the butch/curvy Sackhoff deals with the show's signature agonies that accounts for her thermonuclear hotness. The cockiness melts in slow gradients as the lost girl in Starbuck's backstory emerges, almost scarily naked and vulnerable, followed almost immediately with the delicious tension of waiting to see whether she'll get hard-case stony, get shit-faced or blow something up in that liberatingly unhinged manner only she possesses.
No. 3: Michelle Yeoh
A former Miss Malaysia turned dancer turned one of the very few women Jackie Chan lets do her own stunts. The only actress who can not only imbue kicking, punching and flying through the air with Grace Kelly-style class, but who can share the screen with Zhang Ziyi and not suffer by comparison. See Crouching Tiger, Hidden Dragon, Supercop 2.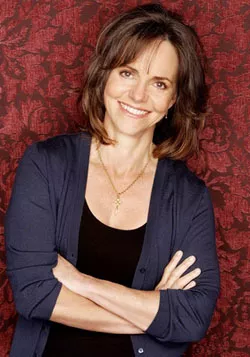 No. 4: Sally Field
The great transformation of Martin Ritt's 1979 Norma Rae isn't Sally Field shedding a sexless flying nun habit, Gidget's '60s sweetheart grin or Smokey and the Bandit's sassy mouth. It's a formidable actress turning a single-mother textile worker into the sort of spryly intelligent and charismatic hero typically reserved for the good-looking Robert Redfords and Dustin Hoffmans of the era. Sure, Norma Rae is a very Hollywood version of the real-life Crystal Lee Sutton, but it remains one of the few times mainstream American movies or television ever touched organized labor – and the men and women who fill its ranks – in any way.
No. 5: Jean Seberg
The perfection of Jean Seberg's astonishing porcelain face was rivaled only by the tragedy of her not-long life. Troubled marriages, stillborn babies, suicide attempts, addictions, persecution by the FBI – and still she found time to pretty much invent the close-cropped strong-yet-fragile delight that is the modern gamine. See Breathless, Lilith.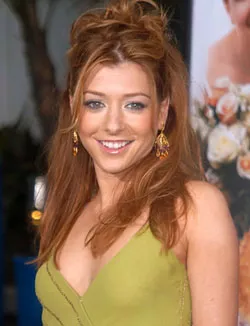 No. 6: Alyson Hannigan
That Hannigan – a physically androgynous young women perhaps best described as wallflower-pretty – has forged a career armed only with ace comic timing, huge silent film–star eyes and bottomless geek empathy is remarkable enough. And that she was able, in Buffy, the Vampire Slayer, to make us totally invest ourselves in Willow Rosenberg's somewhat unusual seven-year arc –from education-crazed Jewish outsider to Wiccan witch to non-tormented lesbian to black-veined villain to happily partnered assistant world-saver – is an amazing feat of extended acting chops. But it was those chops, fused with her disarming sweetness, that rendered her first-ever TV lesbian kiss, with Buffy co-star Amber Benson, so inarguably dear that even the Fox network couldn't rationalize nixing it. And that's earned Hannigan a deserved place in queer/humanist televisual history.
No. 7: Katharine Hepburn
Acid-tongued, more handsome than pretty, fiercely independent and preferring pantsuits to girlie frocks, Hepburn herself most succinctly summed up her radical role in American cinema culture, saying "I am a missing link" between the genders. The original drag king, and she wasn't even trying. See Woman of the Year, The African Queen.
No. 8: Jean Harlow
Even her surname is loaded with echoes of both "harlot" and "hallowed."There would be no Marilyn, no Jayne, hell, possibly even no Pamela Anderson, without her. Cut down at 26 by uremic poisoning, her short stint on Earth produced one of America's most beloved archetypes: the Blonde Bombshell. See Red Dust, Saratoga.
No. 9: Hanna Schygulla
If Josef von Sternberg and Alfred Hitchcock had their druthers, bombshell blondes would fulfill only one role in movies: untouchable ice-queen objects of desire (see Marlene Dietrich, Grace Kelly, et al.). Fortunately, German writer/director Rainer Werner Fassbinder met actress Hanna Schygulla in the 1960s, and in their 23 movies together Schygulla completely rewired the archetype into so many different complex women that their work together still mystifies. See Lili Marleen, The Marriage of Maria Braun, Beware of a Holy Whore, Effi Briest.
No. 10: Penélope Cruz
Penélope Cruz is possibly the most glaring example of Hollywood's shameful waste of female talent. It's in the movies of her native Spain that she's truly allowed to shine, and she makes it clear that despite being eye-searingly gorgeous, her beauty is incidental to her real work. See All About My Mother, Volver.
No. 11: Ida Lupino
The heart-faced, sour-sweet Lupino didn't just play a fatale, victim or sassy sidekick in classic films noir, she shape-shifted between elements of all the genre's archetypes. Too big in ambition by the late '40s to play second fiddle to male fantasies, she then became the first – and inexplicably underworshipped -– American female to produce, write and direct her own movies, quickly hitting her fear-free stride with Outrage, an expressionistic noir dealing with rape and its aftermath; and in 19-frickin'-50, yet. See Road House, On Dangerous Ground.
No. 12: Clara Bow
The "It Girl" of silent movies, as kittenish as Mary Pickford and as fearlessly carnal as Theda Bara. Seen through modern eyes, she's still got an easy smile and giggly wink that promises a strings-free good time; not because she's crazy, slutty or tragic, but just because she likes you. See The Plastic Age, Children of Divorce.
No. 13: Maila Nurmi
The protogoth pinup Vampira was nothing more than an elegant fiction created by the self-described ugly, poor and anorexic Nurmi, but what a fiction! And to Nurmi's credit, no one – not Patricia Morrison, not Lily Munster and definitely not that tacky blasphemer Elvira – could (re)animate that poison hourglass like she did. See Plan 9 From Outer Space.
No. 14: Sonja Sohn
Part soul, part Seoul, all hot, Korean-African-American Sonja Sohn's interpretation of police detective Kima Greggs is one of the most finely nuanced performances on television today. The mix of intelligence, strength, tenderness and humor she brings landmarks the role as a lesbian icon and an instant classic. Are you really, seriously not watching The Wire?
No. 15: Anne Bancroft
Yes, she won her Oscar for The Miracle Worker. But it was with pencil skirt–powered legs and lust-sheen glare, toying with a craven, helpless Dustin Hoffman in The Graduate, where Bancroft's catlike hotness performed another miracle: During the youth-besotted 1960s, she made older women sexually viable. The original MILF, with a vengeance. See The Pumpkin Eater.
No. 16: Traci Lords
The angel-faced dirty brat next door. So hot, so blond, so barely legal; whoops, not legal at all. Child-porn laws put the kibosh on a portfolio of "performances" made before her 18th birthday, but name one other actress who essentially destroyed the 80-100 films that made her famous and went on to bigger success. See Cry-baby, select episodes of Melrose Place, Will and Grace, Gilmore Girls.
No. 17: Louise Brooks
An ethereally beautiful boozehound with a salty tongue and caustic wit that rivaled Dorothy Parker's, Louise Brooks disappeared from film after 1938; but not without leaving a permanent mark in the shape of her trademark spit-curled bob. The quintessential flapper, bristling with wry, intelligent sexuality. See Pandora's Box.
No. 18: Sissy Spacek
Transform from trembling geek to drop-dead glamour queen? Stab your psycho fundamentalist mother? Telekinetically whack a future Scientologist? Burn down the fucking high school? Spacek's ultimate grub-to-avenging butterfly in Carrie was the first in inspiring gangly, overfreckled outsiders worldwide not to take this shit. See Three Women, Coal Miner's Daughter.
No. 19: Tallulah Bankhead
A decent actress but a far better sexual provocateur, this openly bisexual originator of ab-fab consciousness was touted in the '30s as the "next Marlene Dietrich." That didn't really pan out, but as the eternally bemused original patron saint of elegantly not giving a goddamn, Bankhead was unbeatable. See Tarnished Lady, Lifeboat.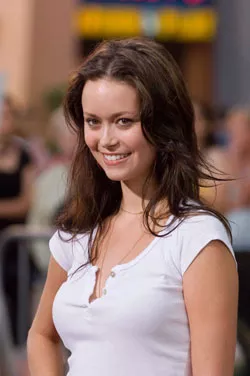 No. 20: Summer Glau
The look: doll-like Victorian manga. Specialty: subverting multiple assumptions by playing mentally discombobulated girlie girls–turned–super-smart ass-kickers. See her seemingly fragile, ultimately heroic, space zombie–whacking telepath in Serenity and emotion-challenged "good" Terminator in this season's funnest guilty pleasure, Terminator: The Sarah Connor Chronicles. Result: Fanboys grow faint, AfterEllen.com gushes, troubled souls of all stripes gain a new poster girl.
[email protected]