If you aren't aware that there's about to be a city election in Orlando on Nov. 3, you can hardly be blamed. The election wasn't supposed to even happen this year – it was originally scheduled for April 5, 2016, three weeks after Florida's March 2016 presidential primary election. Earlier this year, though, Orange County Supervisor of Elections Bill Cowles sounded the alarm – what if it was too confusing for voters to have two elections so close to one another? What if they didn't show up at the polls, thinking they'd already had an election? He urged the city to schedule its election to happen on primary day, or reschedule for a later date in 2016.
Instead, the Orlando City Council voted in May to move city elections to Nov. 3, giving people just six months to raise money and pull campaigns together if they wanted to run for one of the four seats up for grabs: that of Orlando Mayor Buddy Dyer and city commissioners Tony Ortiz (District 2), Patty Sheehan (District 4) and Sam Ings (District 6). Despite the truncated elections schedule, all of the incumbents except for Ortiz face challengers who say the old guard has got to go.
Now the election is just 15 days away. Do you know where your candidate stands on the issues? Are you ready to vote? Don't worry if you're having a hard time keeping up – we've got you covered with our Political Pop Quiz™, an on-the-spot exam of 11 random and relevant questions that gauge what the candidates know (or think they know) about the inner workings of Orlando.
To our readers: Happy voting!
To all our candidates: Good luck. If you get elected, don't fuck it up.
Mayoral race
It's been a little painful, if entertaining, to watch the three candidates vying for mayor take shots at one another over the past few weeks. Frankly, we're glad this election is almost over.
First things first: Everybody in this race has a nickname. Mayor John "Buddy" Dyer is seeking a fourth term as mayor, and he's got two challengers for the seat. Businessman and veteran Neil "Paul" Paulson and medical student "Sunshine" Linda Marie Grund have both qualified to run, and they have mainly been attacking Dyer for the city's decision to increase the property tax rate by 17.7 percent in 2014; that rate was adopted again in September for the 2015-2016 fiscal year. It was the first property-tax increase since 2008, and it raised taxes by one dollar per thousand dollars in property value, and it has given Paulson and Grund plenty of fodder upon which to base their criticism of the mayor.
Dyer, who has raised about $373,000 for his campaign so far, recently accused Paulson of trying to buy the election after Paulson loaned his own campaign $610,000 of his own personal money. Paulson denies Dyer's claim (his campaign treasurer's report does indicate that Paulson's campaign is primarily self-funded), and he also disputes an Orlando Sentinel story that alleges that a charity he runs – Help for Vets, Inc. – raises red flags when it comes to fundraising and structure. The Sentinel also took Paulson to task for using partisan campaign material in a nonpartisan race – something prohibited in nonpartisan races. Paulson says his attorney told him that particular statute was not being enforced.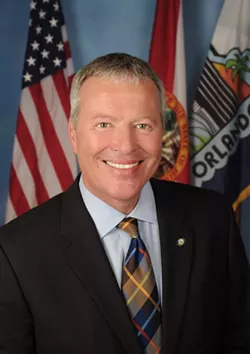 "Mr. Dyer has broken that statute before, and done much worse, like being indicted," he says, then proceeds to criticize the newspaper. "I would compare the Sentinel to the National Enquirer, but I don't think it would be fair to the Enquirer."
Grund has distinguished herself in this expensive race by taking in no contribution money because she says it allows her to be completely transparent to voters. If elected, she says part of her platform would focus on preserving the wetlands near her home.
"The current makeup of the political process means someone like George Zimmerman could win this election because of name recognition, which brings in money," she says. "You lose touch with citizens and are influenced more easily."
Dyer says it's a serious responsibility to be not only mayor, but also a leader for the region on issues like same-sex marriage, establishing a domestic partnership registry and supporting a living wage for workers. He says his opponents focus solely on the tax hike and have lost sight of other issues. "I'm passionate about the city," he says. "My opponents haven't touched on city building or their vision for the future of the city. We've had a great last 10 years in terms of building consensus and collaboration and have moved the needle on so many issues, like growth. We're recognized as the city of the future and the most sustainable city in the Southeast United States."
1. What is the millage rate for the city of Orlando?
Dyer: 6.5. No, it's 6.65. There's a lot of numbers flying through your head all the time.
Grund: Six-something. It's higher than what it should be.
Paulson: It's raised up now to 6.65, but it used to be 5.65. It went up one with Mr. Dyer.
2. What is the average homeless population in Orlando?
Dyer: I know that we have a little over 100 homeless veterans left. We are making a real effort to end homelessness among our veterans by the end of the year. We have reduced that population by over 60 percent. It's hard to quantify that population because the point in time count is rarely accurate.
Grund: Too many. I think one is too many. Everyone in Orlando should have a home.
Paulson: That's a tough question because how would you be able to do a census of them? A lot of them live in the woods in East Orlando, and they're difficult to count. I think that's the best answer, that we just don't know.
3. What is the tallest building in Orlando?
Dyer: SunTrust.
Grund: The Vue.
Paulson: Probably SunTrust. It's pretty tall.
4. Is there such a thing as "too much" development downtown?
Dyer: There is such a thing as bad development for downtown. We want to encourage downtown, but we want to have the right type of development, like transit-oriented development that would take advantage of SunRail and more affordable units. We promoted getting a grocery store, movie theaters in downtown. We're recently in the process of buying Constitution Green, which could have been an example of bad development if we had allowed them to take down the tree.
Grund: Yes. We need to have green space. I think green space is important to downtown and the residents that live there.
Paulson: Yes, when it impacts neighborhoods and we divert money from them to build an opulent downtown. We've reached that point. That's the difference between Mr. Dyer and myself. We could have development if funded by donations, like the Dr. Phillips Center and also the new soccer stadium, which will be funded by private enterprise. We have an old arena that we borrowed $150 million from the state, and then Mr. Dyer imploded it and now it's just sitting as vacant land, which we owe money on even though it's gone. There are a lot of problems with the downtown venues, and we've neglected the neighborhoods.
5. What is the daily ridership goal for SunRail?
Dyer: 4,300.
Grund: I have yet to ride SunRail, so that's on my to-do list. I know the numbers were down and they've had to alter it.
Paulson: More. The problem is at nighttime, it's not producing the ridership. The schedule has to be flexible and adjusted to ridership. It hasn't been producing enough money to pay for it, so we've been subsiding it. SunRail isn't the only solution; we need to have a mix of transportation systems, like Lynx, Lyft and Uber, which needs to be expanded.
6. A tree is about to fall over outside your house, and it's on the city's part of the property. Who do you call?
Dyer: If it's my tree, I'm responsible for it.
Grund: Orlando Utilities Commission.
Paulson: The landowner is responsible for the tree if it's on his property. I know city code enforcement requires the tree to be removed if it won't come back to life. The city has an arborologist who will come and tell us which type of tree we will have to replant. It's complicated.
7. Talk for a moment about the property tax rate. Is the current rate appropriate for the level of services the city provides?
Dyer: Yes. We have made substantial cuts to the city's budget while I've been mayor. We have reduced the overall number of employees by 350 people and increased police and fire employees by 175. When we went through the recession our property tax collections were $137 million and they were reduced to under $100 million. We did not want to raise the millage rate through the recession but with property tax caps and wanting to make sure we did not touch public safety, we raised the millage rate, and still did not collect the same as 2009. If we didn't raise rates, the only place we could have started cutting was the public safety budget, and we did not want to do that.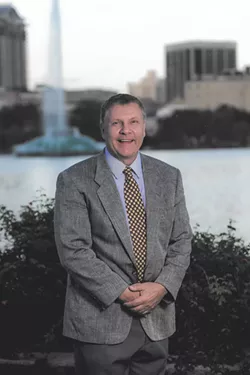 Grund: We could always do better. We could look at how we could do things at a lower cost with exceptional service. My charge is that buildings are being built, but I don't necessarily see services being increased throughout the city that the residents would actually use. For example, I have yet to go on SunRail or to the performing arts centers, and it's not that we can't have those things, but when we have issues that need to be addressed, like a homeless population of more than one, and leaders who are increasing their pay, I don't think that's a good direction to go. I do understand it's important to provide services, and the mayor doesn't act alone in the budget, but you are leading the way in setting the pace for what you believe the best strategy is.
Paulson: No. It's too high because Mr. Dyer raised it by 17.7 percent. He has approved a budget with the council to keep that tax hike for next year. Mr. Dyer and the budget have benefited from a 14 percent natural increase because property values went up. There should be enough money in the revenue fund to pay for everything, but the problem is that Mr. Dyer has not balanced the budget. About 24 percent of the budget is for interdepartmental things that's not accounted for. That's over $250 million. Additional money could be taken from OUC in the form of dividends so we don't have a tax increase. I will appoint a blue-ribbon committee to go through the budget and rank what programs are working and which are not.
8. What is the status of the long-awaited Creative Village in downtown Orlando?
Dyer: We have a meeting of the board of governors two days after the election to bring the UCF/Valencia campus master plan to get approval. We're currently installing the horizontal infrastructure and utilities, but have developed the School of Emerging Media, city labs and other structures. When the student housing and parking garage breaks ground, we will also be breaking ground on private residential property that will house the culinary school. A lot should happen in the next year.
Grund: On hold. I know they're trying to get funds. I think they were trying to get some of the tourist dollars. It's obviously not moving as fast as it could, or should be.
Paulson: We didn't get the money from the state Legislature. I think Gov. Scott vetoed $50 million. The future will tell us. Right now it's a project that doesn't have the funding.
9. Who appoints the city's Citizen Police Review Board? How do you think the process could be improved?
Dyer: The mayor makes recommendations to the City Council, and the Council approves them. I think we have a pretty good process in place.
Grund: The mayor. I think having more voices at the table could improve it.
Paulson: I believe the mayor does, but I think there's also input from the community and police department. I think the process could be improved when we work on retraining the minds of law enforcement officers to be more sensitive and have greater communication skills.
10. Where does Orlando rank among the top 50 American metro areas in terms of median wage? How could your economic policies make life more affordable for the average citizen?
Dyer: If we're not the lowest, we're right at the bottom. It's something we certainly need to improve on. The city has adopted a living wage policy for its employees and for contractors who work with the city. We have to look at other measures for income equality as well. One that is in control of the government is transportation, so expanding Lymmo, Lynx and SunRail for people who already have incomes are able to access jobs, daycare and educational opportunities is also important.
Grund: Not high enough. My answer has always been people drive the economic engines in any community if you provide an environment they will want to live, work, play and stay in.
Paulson: We're close to the bottom. I can't give you the exact number, but the problem is we're largely a service industry that depends on people to work in hotels and amusement parks, often times at minimum wage. The bad thing is Orlando has lost a lot of higher-paying jobs when the Navy base closed in 1989. We've also had some issues with Department of Defense jobs. I have connections in Washington, D.C., and I will make it my priority to bring high-paying defense jobs and light manufacturing jobs to Orlando.
BONUS: How many seats is the Orlando City Soccer Club's new stadium supposed to contain?
Dyer: That hasn't been determined yet because they have to finish the architectural plans, but they have increased size from 19,500 roughly to somewhere between 25,000 and 27,000 pending on the plans.
Grund: Not enough. My son loves soccer.
Paulson: One for each person that goes there. We don't want people to be sitting on each other.
City Council, District 4
Commissioner Patty Sheehan is facing off in District 4 against Navy veteran and business owner Aretha Olivarez and Randy Ross, a community activist and TV talk-show host. Olivarez and Ross accuse the 15-year incumbent of being a "career politician" who is out of touch with many of the problems faced by her constituents, but Sheehan contends her opponents are ignoring other issues to focus on the city's 17.7 percent property-tax hike, and that constituents have understood why the city raised the rate.
According to the latest campaign finance reports from September, Sheehan leads the pack in fundraising, with $48,890 in contributions; Olivarez and Ross have pulled in $10,538 and $10,010 respectively.
Sheehan says she wants to keep her focus on quality-of-life issues she thinks are important to people, like sidewalks, urban chickens and preserving Constitution Green, while still concentrating on bringing smarter technology to save the city money, like composting programs and supercritical water oxidation.
"I put my heart and soul into every race," she says. "I believe that people get into public life for two reasons: Either they want to be somebody or help somebody. There's a difference between being a politician and a public servant, and I believe I'm a public servant."
Ross, who qualified in the race by petition, says Sheehan's urban chickens and composting projects show she isn't listening to her constituents, who are more concerned with the tax hike. He has previously concentrated on community fundraisers for a variety of issues, including homelessness and domestic abuse. Ross, who was arrested for a false insurance claim earlier this year, says he's put his skeletons out front and is ready to talk about the real issues.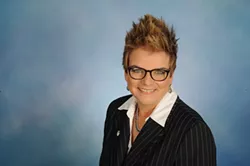 District 4 Commissioner Patty Sheehan
"I bring passion to the table," he says. "I know I'm not perfect. I've had my flaws and mistakes, and I've learned from those. I'm going to win this race, and I'm winning it on the ground."
Olivarez, who ran in 2012 against Sheehan, says she's always felt a call to run. If elected, she would like to focus on homelessness, affordable health care and creating a living wage for the residents of Orlando. Incumbents get comfortable, she says, and Olivarez is hungry to learn.
"I love helping people," she says. "I want to make a difference at the local level ... Orlando is very beautiful, but I think we're behind on things we should have."
1. What is the millage rate for the city of Orlando?
Olivarez: You'd think I know this since I got my real estate license once. I think it's a little over 6 mills.
Ross: One of the most important things I should know, and I'm blanking. I know the increase from the previous millage rate was 17.7 percent. Just say Randy had a brain fart.
Sheehan: 6.65
2. What is the average homeless population in Orlando?
Olivarez: I just worked with Rethink Homelessness, and they gave us the number. I can't remember, but I know it's huge. It's bad.
Ross: I know we have 10,000 homeless students between Osceola, Orange and Seminole counties. I don't know if I know the answer to that.
Sheehan: There is way too many. I've heard anywhere from 1,500 to 5,000. That's a moving target.
3. What is the tallest building in Orlando?
Olivarez: The SunTrust building.
Ross: That's the SunTrust building. That doesn't matter as much as knowing the homeless population, though.
Sheehan: The courthouse.
4. Is there such a thing as "too much" development downtown?
Olivarez: Yes.
Ross: Yes. As related to development, there's not a ton you can do in District 4. You're not going to be able to build a plant or more hotels. Anything that's going to be built is going to be torn down and then built back where it was. The only reason there's a big fight over Constitution Green is because this particular commissioner allowed the votes for all the buildings to go up around it. The city should have bought that land a long time ago and designated it a park that they owned, not something they leased from these private property owners.
Sheehan: I think there needs to be a balance, especially with what's happening with Constitution Green and that building that was proposed by Lake Eola. I don't think we have too much development, but I think we're going to have to find that balance. Unfortunately, we're going to be forced to do some growth in order to keep up with our budget because of these tax caps on homes and commercial property, which I don't think was a good idea.
Downtown is beautiful, but we have developed it so much with the high rises. I think we need to stop because now we don't have safe places for people to walk or for bike riders.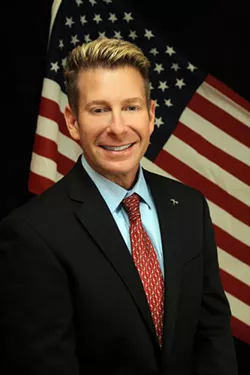 5. What is the daily ridership goal for SunRail?
Olivarez: I don't know the exact number, but I'm sure it's very low.
Ross: Anything I say to you would be uneducated, but I will tell you it's not hitting the goal that they wanted it to hit. Part of that is the ridership time zone because people want it accessible to them, and as a city, we're not really prepared for public transportation. I think that's where SunRail has a consistent challenge.
Sheehan: I think it's around 1,500.
6. A tree is about to fall over outside your house, and it's on the city's part of the property. Who do you call?
Olivarez: The city, of course.
Ross: That's happened to me before. I have a number written down at my house that's for the Public Works Department, so I would call them and hopefully they would help me through the problem.
Sheehan: Andy Kittsley, the urban forester for the city. Or the Parks Department, if you don't know him.
7. Talk for a moment about the property tax rate. Is the current rate appropriate for the level of services the city provides?
Olivarez: It could not be, like for the homeowners and businesses that are suffering, but for people who rent apartments, I'm sure it's OK. It depends on who you're asking if it's appropriate. The homeowners may say it's too high, renters not so much. And that also depends on where in Orlando you live.
Ross: No. What I want to know is how do you get $52 million in the hole and need a 17.7 percent tax increase to recoup? That doesn't happen because you budgeted wrong. That happens because they projected home values to go a certain way and they didn't. If every two, three years we need to look at the millage rate and say it's not quite where it needs to be, then propose raising it slightly to let people digest it. I think it could have been done over periods of time, and the solution does not always rest with money.
Sheehan: Yes. There's no way to maintain an ISO rating of 1 for fire and a police response time of three minutes or less unless you have a fully funded police and fire department, and I'm proud of what we do. When we average it out, each citizen is paying about $40 a month, less than what they pay for their cable bill. I don't think it was too much, especially since people are now paying less than they paid in 2009. We need to be fair, but we also need to pay our fair share.
8. What is the status of the long-awaited Creative Village in downtown Orlando?
Olivarez: I've been seeing a lot of stories on that. The last thing I heard was people talking about the gentrification it could cause in the Parramore area.
Ross: Two articles came out recently, with one saying they were going to delay it, and the other said they were going to scale it back, so assuming the most recent one is the correct one, I think it's a great thing that UCF is going to become a part of downtown. Sheehan: Gosh, that's just been tough. By partnering with UCF, we thought that would be a way to really get it jump-started. There was a $15 million appropriation, and darn it if the governor didn't veto it. I mean, that's the difficulty in Parramore, getting those catalytic projects to start redevelopment, and Creative Village is intended to be one. The soccer stadium we were able to come back from because the owner said he would pay for it and do it privately. But you know, we don't have that kind of money lying around to help UCF.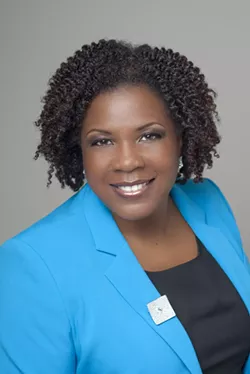 9. Who appoints the city's Citizen Police Review Board? How do you think the process could be improved?
Olivarez: I know for sure they're appointed by City Council, but they are looking at people who they have relationships with, people who they think will be fair. I think the process could be improved by asking African-Americans and Hispanics to be the majority on the board because we are the first ones to get our houses raided and the cuffs slapped on our wrists.
Ross: I've applied to one, so I know it's the commission. At the city and county level, I think it's jaded and dictated by commissioners' party affiliation, which only brings in people that keep their same ideas.
Sheehan: All of the boards are appointed by the mayor, and basically approved by the City Council. If there's something that's an issue, I'm certainly not aware of it. I think we should appoint good people and work on diversity.
10. Where does Orlando rank among the top 50 American metro areas in terms of median wage? How could your economic policies make life more affordable for the average citizen?
Olivarez: At the bottom. It's sad, isn't it? I think that we definitely have to increase the minimum wage. People have been talking about making the minimum wage $15, but we need to have stipulations so that the living wage is $18 or $19 by the time they finish. That's what I want to fight for, and hopefully City Council will agree to that. My policies can help by having more entrepreneurs start and grow their businesses here and asking bigger businesses to come here. I would also make sure that local contractors get the job instead of outsourcing the jobs.
Ross: I saw a report that put Orlando way down, like in the lower third. You have a city based on an industry of tourism and service, and those jobs don't necessarily pay as well as medical professions, law professions. I'm not going to be one to tell you I want to force a company to pay a certain amount of money, but at the same time, we can pay more. You can't live in downtown on a service-industry salary.
Sheehan: I don't know what our ranking is in there. I know there's been talk now of raising that, which I support. I don't think if you're working 40 hours a week you should be making less than $30,000 a year. The only groups that have come to me recently about pay concerns and stuff like that is our 911 operators, and I think we should be paying them higher and not losing people to Orange County.
BONUS: How many seats is the Orlando City Soccer Club's new stadium supposed to contain?
Olivarez: I'm not into soccer, so I'm going to take a wild guess and say it's in the thousands.
Ross: Originally, it was going to be 19,000 seats. I think now it's going to be between 24,000 and 27,000 seats.
Sheehan: I think it's around 30,000 seats.
City Council, District 6
His opponents call City Commissioner Sam Ings "Silent Sam," because they say he doesn't speak up enough for the community he represents. The veteran law enforcement officer, who has served the district since 2006, they say, makes feel-good appearances but is rarely in touch on the important issues.
"In this district, he hasn't said anything, he hasn't done anything, and that's why we call him Silent Sam," says Lawanna Gelzer, community activist and president of the National Action Network's Central Florida Chapter. Gelzer is one of four people who've qualified to challenge Ings for his seat. "We also call him Spending Sam because he's always overspending his budget."
Gelzer and others all seem to think that District 6 – which is a mix of poor neighborhoods, industrial zones and touristy areas around I-Drive – needs more of a voice in city government.
"Commissioner Ings is basically invisible in the district, outside of I-Drive," says candidate Marcus Robinson, who's running his third campaign against Ings. "When it comes down to functional things in the community, as a city commissioner, he's basically invisible. The only time he's out there is if they're giving out some turkeys or book bags to kids."
District 6 Commissioner Sam Ings
And what does the district need? According to all of the candidates, business development, economic opportunity, crime reduction and jobs that pay a living wage.
"There is no opportunity for people here," says Nathan Chambers, a community organizer who says that while some regions of the city have experienced unprecedented growth, many District 6 neighborhoods (like Washington Shores, or Carver Shores) have languished. "If we can clean up Ivey Lane and Washington Shores and help small businesses, and help people get business plans and help them create opportunity, the more people we can get to work. The more people we get to work, the more we reduce crime."
And it's not just work the district needs, says Ka'Juel Washington, a law professor at Florida A&M University – people need a fair wage. "I think it's important that we fight for $15," Washington says. "And one way we can do that is through government contracting. Anybody who has a city contract, or who wants to build a venue with us, everyone they hire needs to pay a minimum wage of $15 an hour. Some people don't agree with that, and that's fine – you shouldn't have to go out of business, if you don't support it. You just can't do business with us."
There's no shortage of ideas among the challengers for improving people's lives, but what about the incumbent?
His campaign called us to ask us if he could do the interview via email. We replied that we were only doing interviews in person or over the phone, and we were told he'd get back to us. The day we went to press, the campaign sent us a statement: "I have built strong relationships and partnerships with businesses to expand their companies in District 6, which has increased opportunities and jobs for many residents," it reads. "Many developers have invested in our district because they see the potential and they are still investing in District 6. As Commissioner of District 6, I have consistently demonstrated to the residents what I have done. The evidence of what I have accomplished for District 6 can be seen from new retail stores and businesses, to new housing developments and new programs for seniors and children throughout our District. I am the only candidate with a proven track record. District 6 residents should keep the progress by re-electing the only candidate experienced to lead and proven to serve."
1. What is the millage rate for the city of Orlando?
Chambers: I believe it is 19.
Gelzer: It's close to 7.
Robinson: Off the top of my head, I don't know. But I know it went up.
Washington: Is it 17.7? I'm not quite sure.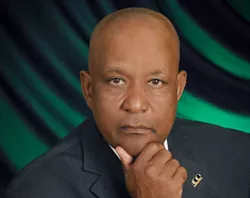 2. What is the average homeless population in Orlando?
Chambers: I'm not sure, but it seems too high right now. Different things create homelessness – it could be divorce, it could be loss of income, it could be anything. Most people are a flip of the coin away from being homeless, so we have to show some respect for humanity and make sure we are providing a permanent place for them, as well as creating temporary living for people who need help getting back on their feet.
Gelzer: I don't know.
Robinson: I know that there are 6,300 people on the waiting list for affordable housing, and I can guarantee you that a lot of those 6,300 people on the Orlando Housing Authority's waiting list are part of that number. They may not all count as homeless, but if you have a waiting list of 6,300, that in itself is too much.
Washington: I know it's high. I'm at the homeless shelter two days a week, and the Coalition for the Homeless is flooded.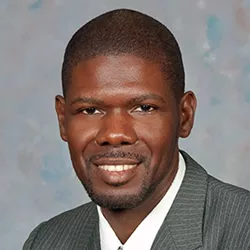 3. What is the tallest building in Orlando?
Chambers: I think it's the SunTrust.
Gelzer: I think the SunTrust is the tallest building.
Robinson: Last I thought, it was the courthouse.
Washington: If it's not the Bank of America building, then it's probably the Centroplex building.
4. Is there such a thing as "too much" development downtown?
Chambers: It's not too much development, but as a real estate broker, there's demand and supply. In downtown there's high demand for land we have, and we should not be giving away 100 percent tax incentives to investors. ... We need a big enough tax base to create revenue for our city, so why give away so many incentives?
Gelzer: Absolutely. I have a problem with who is getting to develop in Orlando and who is benefiting from it. A prime example: How can the city sell the Orlando Police Department headquarters for $13 million, then turn around and take out a bond to build a new police headquarters for $60 million? It does not add up to me. I believe in development, but who is really benefiting from it? Not the community, not the city – it's big developers and special interests.
Robinson: When I ran in 2004, I said to the editorial board of the
Orlando Sentinel that the development they have planned for downtown is just going to make downtown too congested. I thought it was too much for downtown. ... And everything else, except for International Drive, is neglected when it comes to development. In District 6, especially, in the black section of District 6, you have a commissioner who hasn't even created a plan for development. I came up with a plan, called the Southwest Economic and Poverty Plan.
Washington: Downtown, maybe not. Because it is a downtown, and I understand what they are trying to do: Attract people downtown to shop, eat, attend the bars and all of that. There may be too much development than City Hall can afford, subsidizing through taxing. City Hall cannot afford that type of development.
5. What is the daily ridership goal for SunRail?
Chambers: I'm not sure of the ridership, but I think it fills a need. The city is growing, and any sort of mass transportation is helpful. I am always for mass transportation.
Gelzer: I know it's decreasing, and it's going to continue to decrease, because it's north to south, but you have not improved the east to west transportation. How can somebody come in from another county on SunRail, then it's going to take them two hours to get to another destination from there?
Robinson: Low? Low. They should really take advantage of the nightlife in downtown Orlando.
Washington: I don't know the ridership goal for SunRail, but I think we have an issue with ridership.
6. A tree is about to fall over outside your house, and it's on the city's part of the property. Who do you call?
Chambers: I would call the city, but which department I'm not sure. Most of the trees planted are in the easement, so they are the city's responsibility.
Gelzer: [One lady that happened to] had to pay for the city's portion of a tree because of the way it fell. It was an incident on the east side. That was wrong, because an elderly lady living on a fixed income did not have the right kind of coverage. But I think it depends on where you live.
Robinson: If I'm the city commissioner, I work for you. You can call me and say, "Commissioner Robinson, I have a tree down." The commissioner's assistant should then take down the information and get in touch with whatever department it is and let them know to contact you within 24 hours. ... Then I'm going to follow up. That's the job of our city commissioner.
Washington: The first thing I do is call the utilities, in case it's about to hit a power line. Then I call the Parks Department.
7. Talk for a moment about the property tax rate. Is the current rate appropriate for the level of services the city provides?
Chambers: The present tax rate, the increase, I'm against it. The reason why I'm against it is because we have to look into the budget to see where we can cut without hurting any department. Police and fire, we cannot cut. But before we increase things 17.7 percent – that is a major increase – we need to see where we can cut. ... for services, well, it's not the greatest.
Gelzer: Absolutely not. And the reason we are in a deficit in the first place is bad business deals by the City Council. We were spending money and hoping for the economy to catch up. Robinson: The property-tax increase was based on mismanagement of the budget. What they could have done, instead of raising the property tax, is – last I checked, we still had a double A rating in municipal bonds – asked for more bonds.
Washington: That's a sticky issue. I know at the time they increased the rate, 29 or 30 cities were considering doing the same thing. So some of the rationale was trying to balance the budget. But the question is, where does the money go once it's collected? Are people getting a return on their investment? They may not be. Do the roads look nice? The greenways? I know in my area [Washington Shores] I'd have to say there is not enough return on investment.
8. What is the status of the long-awaited Creative Village in downtown Orlando?
Chambers: I'm not really sure what's going on with that.
Gelzer: It's going to be an empty lot for a while. Why did you blow up the original arena? That was $93 million we lost. What was wrong with putting the soccer stadium there? The list goes on and on. The reason there's so many delays is that the community is waking up and they don't believe this is going to be good for the community, it's going to be jobs. We aren't buying that crap.
Robinson: First they want to figure out what UCF wants to do. The Creative Village has had many facelifts.
Washington: All you see over there is a banner around an empty lot. I don't know what the status is.
9. Who appoints the city's Citizen Police Review Board? How do you think the process could be improved?
Chambers: I think it's appointed by the mayor. And I think that's fine, as long as they are doing the right thing by citizens.
Gelzer: I believe in an independent review board. We've done the research. No matter who is elected, they always side with the police department. ... We've got a problem in this city. We have spent $4.5 million settling excessive-force cases, we've spent a lot of money. We can't continue to have this going on in our community.
Robinson: The Citizen Review Board is appointed by the mayor. But I think the board should be an independent body.
Washington: My understanding is the commissioners get to appoint people.
10. Where does Orlando rank among the top 50 American metro areas in terms of median wage? How could your economic policies make life more affordable for the average citizen?
Chambers: I think we are 14th. What we need to do is, I'm for $15 an hour for minimum wage increase. It's very difficult for a single mom to have two jobs and have kids and try to get by. We need a better standard of living in this town.
Gelzer: I might want to say we're 50. But I'll stick with between 35 and 45. You have to work with legislators to increase the living wage. We have got to do a livable wage. There's no way in a service-industry job we can expect people to make it these days. We need to sit down and recognize that we have a problem. But we have politicians who do not realize how difficult it is to live on minimum wage.
Robinson: We're last. I was part of that walk for poverty on Labor Day, with Eric Gray. We are dead last in wages, we are number one in tourism. It's a slap in the face, actually. Yet the machine keeps growing.
Washington: I am all for the fight for $15. That gives everybody a living wage. We have to do better than we are doing. ... My economic development plan is all about can we get city contracts to have a clause where if you hire people, you have to hire them at this set wage. We are going to be building all this stuff – Creative Village, police headquarters and other things further down the road – and when you hire somebody, we want you to hire them at a living wage. Orlando ranks pretty low, and that's one of the first things I'd try to do.
BONUS: How many seats is the Orlando City Soccer Club's new stadium supposed to contain?
Chambers: I am not sure.
Gelzer: Between 24,000 and 25,000.
Robinson: 23,000. Something like that. They should have just played at the Citrus Bowl.
Washington: I thought it was about 20,000.