Page 2 of 3
City Council, District 4
Commissioner Patty Sheehan is facing off in District 4 against Navy veteran and business owner Aretha Olivarez and Randy Ross, a community activist and TV talk-show host. Olivarez and Ross accuse the 15-year incumbent of being a "career politician" who is out of touch with many of the problems faced by her constituents, but Sheehan contends her opponents are ignoring other issues to focus on the city's 17.7 percent property-tax hike, and that constituents have understood why the city raised the rate.
According to the latest campaign finance reports from September, Sheehan leads the pack in fundraising, with $48,890 in contributions; Olivarez and Ross have pulled in $10,538 and $10,010 respectively.
Sheehan says she wants to keep her focus on quality-of-life issues she thinks are important to people, like sidewalks, urban chickens and preserving Constitution Green, while still concentrating on bringing smarter technology to save the city money, like composting programs and supercritical water oxidation.
"I put my heart and soul into every race," she says. "I believe that people get into public life for two reasons: Either they want to be somebody or help somebody. There's a difference between being a politician and a public servant, and I believe I'm a public servant."
Ross, who qualified in the race by petition, says Sheehan's urban chickens and composting projects show she isn't listening to her constituents, who are more concerned with the tax hike. He has previously concentrated on community fundraisers for a variety of issues, including homelessness and domestic abuse. Ross, who was arrested for a false insurance claim earlier this year, says he's put his skeletons out front and is ready to talk about the real issues.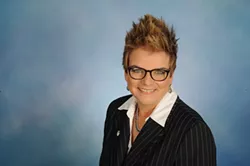 District 4 Commissioner Patty Sheehan
"I bring passion to the table," he says. "I know I'm not perfect. I've had my flaws and mistakes, and I've learned from those. I'm going to win this race, and I'm winning it on the ground."
Olivarez, who ran in 2012 against Sheehan, says she's always felt a call to run. If elected, she would like to focus on homelessness, affordable health care and creating a living wage for the residents of Orlando. Incumbents get comfortable, she says, and Olivarez is hungry to learn.
"I love helping people," she says. "I want to make a difference at the local level ... Orlando is very beautiful, but I think we're behind on things we should have."
1. What is the millage rate for the city of Orlando?
Olivarez: You'd think I know this since I got my real estate license once. I think it's a little over 6 mills.
Ross: One of the most important things I should know, and I'm blanking. I know the increase from the previous millage rate was 17.7 percent. Just say Randy had a brain fart.
Sheehan: 6.65
2. What is the average homeless population in Orlando?
Olivarez: I just worked with Rethink Homelessness, and they gave us the number. I can't remember, but I know it's huge. It's bad.
Ross: I know we have 10,000 homeless students between Osceola, Orange and Seminole counties. I don't know if I know the answer to that.
Sheehan: There is way too many. I've heard anywhere from 1,500 to 5,000. That's a moving target.
3. What is the tallest building in Orlando?
Olivarez: The SunTrust building.
Ross: That's the SunTrust building. That doesn't matter as much as knowing the homeless population, though.
Sheehan: The courthouse.
4. Is there such a thing as "too much" development downtown?
Olivarez: Yes.
Ross: Yes. As related to development, there's not a ton you can do in District 4. You're not going to be able to build a plant or more hotels. Anything that's going to be built is going to be torn down and then built back where it was. The only reason there's a big fight over Constitution Green is because this particular commissioner allowed the votes for all the buildings to go up around it. The city should have bought that land a long time ago and designated it a park that they owned, not something they leased from these private property owners.
Sheehan: I think there needs to be a balance, especially with what's happening with Constitution Green and that building that was proposed by Lake Eola. I don't think we have too much development, but I think we're going to have to find that balance. Unfortunately, we're going to be forced to do some growth in order to keep up with our budget because of these tax caps on homes and commercial property, which I don't think was a good idea.
Downtown is beautiful, but we have developed it so much with the high rises. I think we need to stop because now we don't have safe places for people to walk or for bike riders.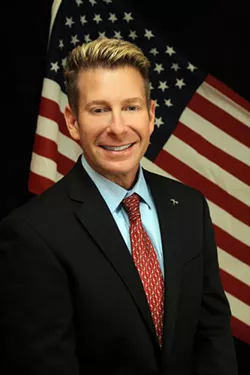 5. What is the daily ridership goal for SunRail?
Olivarez: I don't know the exact number, but I'm sure it's very low.
Ross: Anything I say to you would be uneducated, but I will tell you it's not hitting the goal that they wanted it to hit. Part of that is the ridership time zone because people want it accessible to them, and as a city, we're not really prepared for public transportation. I think that's where SunRail has a consistent challenge.
Sheehan: I think it's around 1,500.
6. A tree is about to fall over outside your house, and it's on the city's part of the property. Who do you call?
Olivarez: The city, of course.
Ross: That's happened to me before. I have a number written down at my house that's for the Public Works Department, so I would call them and hopefully they would help me through the problem.
Sheehan: Andy Kittsley, the urban forester for the city. Or the Parks Department, if you don't know him.
7. Talk for a moment about the property tax rate. Is the current rate appropriate for the level of services the city provides?
Olivarez: It could not be, like for the homeowners and businesses that are suffering, but for people who rent apartments, I'm sure it's OK. It depends on who you're asking if it's appropriate. The homeowners may say it's too high, renters not so much. And that also depends on where in Orlando you live.
Ross: No. What I want to know is how do you get $52 million in the hole and need a 17.7 percent tax increase to recoup? That doesn't happen because you budgeted wrong. That happens because they projected home values to go a certain way and they didn't. If every two, three years we need to look at the millage rate and say it's not quite where it needs to be, then propose raising it slightly to let people digest it. I think it could have been done over periods of time, and the solution does not always rest with money.
Sheehan: Yes. There's no way to maintain an ISO rating of 1 for fire and a police response time of three minutes or less unless you have a fully funded police and fire department, and I'm proud of what we do. When we average it out, each citizen is paying about $40 a month, less than what they pay for their cable bill. I don't think it was too much, especially since people are now paying less than they paid in 2009. We need to be fair, but we also need to pay our fair share.
8. What is the status of the long-awaited Creative Village in downtown Orlando?
Olivarez: I've been seeing a lot of stories on that. The last thing I heard was people talking about the gentrification it could cause in the Parramore area.
Ross: Two articles came out recently, with one saying they were going to delay it, and the other said they were going to scale it back, so assuming the most recent one is the correct one, I think it's a great thing that UCF is going to become a part of downtown. Sheehan: Gosh, that's just been tough. By partnering with UCF, we thought that would be a way to really get it jump-started. There was a $15 million appropriation, and darn it if the governor didn't veto it. I mean, that's the difficulty in Parramore, getting those catalytic projects to start redevelopment, and Creative Village is intended to be one. The soccer stadium we were able to come back from because the owner said he would pay for it and do it privately. But you know, we don't have that kind of money lying around to help UCF.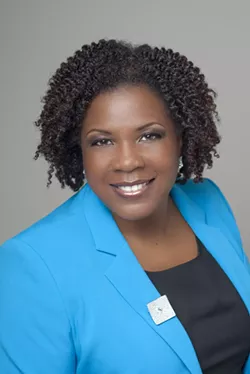 9. Who appoints the city's Citizen Police Review Board? How do you think the process could be improved?
Olivarez: I know for sure they're appointed by City Council, but they are looking at people who they have relationships with, people who they think will be fair. I think the process could be improved by asking African-Americans and Hispanics to be the majority on the board because we are the first ones to get our houses raided and the cuffs slapped on our wrists.
Ross: I've applied to one, so I know it's the commission. At the city and county level, I think it's jaded and dictated by commissioners' party affiliation, which only brings in people that keep their same ideas.
Sheehan: All of the boards are appointed by the mayor, and basically approved by the City Council. If there's something that's an issue, I'm certainly not aware of it. I think we should appoint good people and work on diversity.
10. Where does Orlando rank among the top 50 American metro areas in terms of median wage? How could your economic policies make life more affordable for the average citizen?
Olivarez: At the bottom. It's sad, isn't it? I think that we definitely have to increase the minimum wage. People have been talking about making the minimum wage $15, but we need to have stipulations so that the living wage is $18 or $19 by the time they finish. That's what I want to fight for, and hopefully City Council will agree to that. My policies can help by having more entrepreneurs start and grow their businesses here and asking bigger businesses to come here. I would also make sure that local contractors get the job instead of outsourcing the jobs.
Ross: I saw a report that put Orlando way down, like in the lower third. You have a city based on an industry of tourism and service, and those jobs don't necessarily pay as well as medical professions, law professions. I'm not going to be one to tell you I want to force a company to pay a certain amount of money, but at the same time, we can pay more. You can't live in downtown on a service-industry salary.
Sheehan: I don't know what our ranking is in there. I know there's been talk now of raising that, which I support. I don't think if you're working 40 hours a week you should be making less than $30,000 a year. The only groups that have come to me recently about pay concerns and stuff like that is our 911 operators, and I think we should be paying them higher and not losing people to Orange County.
BONUS: How many seats is the Orlando City Soccer Club's new stadium supposed to contain?
Olivarez: I'm not into soccer, so I'm going to take a wild guess and say it's in the thousands.
Ross: Originally, it was going to be 19,000 seats. I think now it's going to be between 24,000 and 27,000 seats.
Sheehan: I think it's around 30,000 seats.