Three loud bangs echo across the warehouse walls, each about a second apart. It's an unforgiving noise, reminiscent of a battering ram meeting a steel curtain head-on. Wham – one Mississippi. Wham – two Mississippi. Wham – three Mississippi. The ringing of firepower on metal stops and then starts again, a three-peat of loud clangs in a milieu of near stillness. The jangling of tools in a workshop chimes in between shots.
It's a sunny Monday morning in early February at the headquarters of Spike's Tactical, an Apopka-based gun manufacturer. Kit Cope, the company's marketing director, points to a red metal box that's neatly tucked into one of the warehouse's back corners. The box stands about a foot higher than the average American man is tall, and on its front face there's a small circular gap, into which one of Cope's colleagues is currently test-firing a freshly assembled AR-15. It's the same classification of weapon used in the recent massacre at Marjory Stoneman Douglas High School in Parkland.
The device is called a lead trap, Cope says. It's designed to absorb the momentum of a bullet. Every firearm that's assembled at Spike's Tactical – from handguns to the company's signature weapons, an array of semiautomatic AR-15-style rifles – is tested on site before they're put into the hands of consumers. Some of the company's AR-15 models, such as the "Crusader," even come with a Bible verse engraved on the firearm's lower receiver. (For instance, "Praise be to the Lord, my rock, who trains my hands for war, my fingers for battle.")
If not for the gunshots coming from the warehouse's back corner, the setting could be described as calm. But as of late at Spike's Tactical – in part due to the warming of our nation's political climate – day-to-day operations have been anything but calm. Front office phones ringing with recurring death threats or threats to "firebomb that place" are generally considered outside the realm of calmness.
"The girls up front," Cope says, "they took the brunt of it. Even Friday, somebody called up and said, 'Hey, is this Spike's Tactical?' And he said, 'Fuck you, you're all a bunch of Nazis; go rot in hell.' Click. We get that."
On Jan. 7, the folks behind Spike's Tactical made headlines after they posted a controversial advertisement across the company's social media accounts as part of its annual design and marketing collaboration with Pipe Hitters Union, a Texas-based apparel company. Pictured in the ad, which ran in Skillset magazine, a publication with the mission of "redefining the alpha lifestyle": four heavily tattooed men wearing bulletproof vests, backs turned to the camera and seemingly relaxed but ready for combat. Each man is holding his own semiautomatic rifle as he stares down a group of masked protesters clad in all black, some of whom are holding makeshift weapons like lead pipes and heavy-duty flashlights; none of whom, like their counterparts, are holding guns. Behind the protesters, you spot a crumbling, burning city for which the demonstrators are ostensibly to blame.
When your eyes drift across the ad, it tells a short, albeit sensationalized, story. A series of cities are listed in the top left corner – "Berkeley-Portland-Charlottesville-Boston" – all of which have experienced protests gone awry in recent months. Captioned below: a series of hashtags like "#liberaltears," "#thisisntaboutrace" and – the Internet's apparent favorite – "#hillaryforprison."
But in the top right corner, the text is more provocative, and very much meant to provoke; it reads: "NOT TODAY ANTIFA."
"Antifa," shorthand for "anti-fascist" protesters, is a term used to designate far-left activists who use what's called black-bloc tactics. While protesting issues like racism and economic inequality, they cover their faces and often dress in all black to make themselves less easy to single out.
Although there's no physical headquarters nor an actual hierarchy within the group, antifa, like most modern activism, proliferates via the web. The micro-movement's roots in the U.S. date back to the punk-rock era of the 1980s, then called "anti-racist action." Only recently have these protesters found their way back into the national periphery, at the same time that militia-like far right-wingers, including the groups affiliated with the notorious alt-right, have trekked their own paths into the American consciousness.
Last year, antifa demonstrators grabbed the nation's attention with their protests of President Donald Trump's inauguration and the "Unite the Right" rally in Charlottesville, Virginia, in August. White supremacists and neo-Nazis descended on the college town to protest the removal of a Confederate statue; by the end of a day full of gun-waving and violent clashes, an alt-right demonstrator had used his car to mow down a group of protesters, injuring 19 and killing one woman.
Even prior to Charlottesville, though, the Department of Homeland Security had formally classified antifa's activities as acts of "domestic terrorist violence." On paper, that means authorities view antifa protesters through a similar lens as, say, white supremacists, anti-abortion extremists and radical animal rights activists.
As a result, antifa quickly became a conservative boogeyman, and Spike's Tactical – the firearm manufacturer with the slogan "The Finest AR-15s on the Planet" – decided to use that boogeyman to sell guns.
Following the release of the two company's joint ad, publications like Vice News and Newsweek (and, yes, Orlando Weekly) criticized the companies' scapegoating of activists. While OW stopped short of directly referring to the ad as anything besides "completely insane," in Cope's words, reporters at Vice News and Newsweek went a little further in that the publications "straight-up called us Nazis." (They didn't.)
Because of that, during the sit-down interview that day in their warehouse, Cope told OW that Spike's Tactical was looking at pursuing a libel suit against at least one of the publications.
Cope says the company had already decided on the ad's general concept before deciding on a bad guy. "We could have put 'Not Today, Nazi Motherfuckers,' or anything," Cope says. In fact, Cope adds, he and two others in charge of the ad – Cole Leleux, general manager at Spike's Tactical, and Lincoln Osiris, president of Pipe Hitters Union – had initially wanted to show armed men facing off against neo-Nazis. They thought it would complement last year's ad, which depicted radical jihadists alongside a young blonde woman in an orange jumpsuit, with text reading, "They're already here ... Are you prepared?"
But putting Nazi symbols on any sort of advertisement, whether for firearms or anything else, has a way of complicating things with the customer base. So, instead, they settled on antifa, because, as Cope says, "now they're actually training in violent arts."
"There are so many gun owners who aren't going to stand for a bunch of loud-mouth, illegal ruffians marching down their neighborhood, breaking car windows and stuff," he says. "So what's going to happen? There's going to be a standoff – and it's not going to be between Nazis and antifa. That's happened."
Spike's Tactical, in other words, is selling safety, not a piece of machinery?
"We're selling firearms," Cope says. "We're selling guns. But we're also selling a culture." It's what he calls a "pro-American, pro-law enforcement, pro-veteran, pro-Second Amendment way of life."
But what does it mean to be pro-American, as Cope puts it? Selling weapons goes hand-in-hand with exploiting insecurities; historically gun sales have spiked following mass shootings. As Cope suggests, does a more heavily armed society actually make for a more polite society?
Tom Gabor, a Palm Beach County-based criminologist and the author of Confronting Gun Violence in America, says that's not the case, even if some have been led to believe otherwise.
"The United States, we have the highest civilian gun ownership in the world. We should be the safest advanced country [by that rationale], and we have the greatest gun violence problem," Gabor says. "So if we believe the argument that guns are protective, more guns would mean less crimes, right?"
Gabor continues: "What we see is that the states with the highest levels of gun ownership and the weakest gun laws" – such as Florida – "have the highest gun mortality."
But in America, that's what it takes – fear, anxiety, emotion, all in the name of floating the gun industry's bank balance, even if the facts say otherwise. That's how you sell an AR-15.
Much as the moniker of "America's Team" is reserved by many for the NFL's Dallas Cowboys, in a blog post on the National Rifle Association's website, the powerful organization proudly calls the AR-15 "America's most popular rifle."
It's not like that blanket statement isn't backed by numbers: According to estimates provided by the National Shooting Sports Foundation, between 5 million and 10 million AR-15 rifles are currently owned in the U.S., just a small piece of the gun-owning pie. More than 310 million firearms are legally owned nationwide – nearly one for every American – and that's not even accounting for the sprawling black market.
But the AR-15 has always been a tool designed specifically for war. In its purest form, as its history demonstrates, it's a legitimate killing machine.
In The Gun, a biography of the assault rifle, Pulitzer Prize-winning journalist C.J. Chivers writes that the AR-15's roots trace back to the arms buildup of the Cold War. The Soviets developed the Kalashnikov rifle in the late 1940s, now known as the fully automatic AK-47. By the time the Vietnam War began, the AK-47 had found its way into the hands of the American military's enemies in North Vietnam.
So in the early 1960s, Defense Secretary Robert McNamara ordered the Pentagon to design a gun to match the AK-47's lethality, and thus was born the Armalite AR-15 rifle. (After some modifications, the military dubbed it the M16.) A 1962 report from the Defense Documentation Center for Scientific and Technical Research (now the Defense Technical Information Center) describes the weapon's destructive capability: "At a distance of approximately [50 feet], one [Army Ranger] fired an AR-15 fully automatic hitting one [Viet Cong] with three rounds with the first burst. One round in the head, took it completely off. Another in the right arm, took it completely off, too. One round hit him in the right side, causing a hole about five inches in diameter."
Today, as a half-century ago, the AR-15 still uses a .223-caliber bullet. However, instead of being a fully automatic weapon (basically, a machine gun), the rifle is now designed for civilian use as a semiautomatic (meaning one pull of the trigger releases one round). In its simplest definition, an assault rifle is defined by Merriam-Webster as "any of various intermediate-range, magazine-fed military rifles (such as the AK-47) that can be set for automatic or semiautomatic fire."
Perhaps connected to the rise in violent crime and the crack epidemic, civilian ownership of the AR-15 increased through the 1980s. Hunting was declining in popularity, and the NRA saw a chance to harvest new demographics. Its marketing ploy was fear.
As gun writer Massab Ayoob explains in a 1993 article in Shooting Industry magazine: "Customers come to you every day out of fear. Fear of what they read in the newspaper. Fear of what they watch on the 11 o'clock news. Fear of the terrible acts of violence they see on the street. Your job, in no uncertain terms, is to sell them confidence in the form of steel and lead."
According to research from the Violence Policy Center, which advocates for gun control, "The National Rifle Association helped stoke sales with a series of sensational fear-mongering ads aimed at taking gun owners' rights down to gut level. The ads used garish photos, inflammatory copy and hyped headlines to push for the use of firearms for self-defense. Typical captions included: 'Should you shoot a rapist before he cuts your throat?' and 'If you're attacked on your porch, do you want your neighbors to be opposed to gun ownership or members of the NRA?'"
In 1994, due in part to the increasing use of assault weapons in inner-city street violence and a 1989 elementary school shooting in Stockton, California, that left five students dead and more than 30 others injured, Congress narrowly passed a federal assault weapons ban on a 52-48 vote in the Senate. As a subsection of the Violent Crime Control and Law Enforcement Act of 1994, the ban was set to last for 10 years, but only applied to weapons manufactured after the date of the ban's enactment. The law effectively made it illegal for firearm manufacturers to produce 18 specific models of assault weapons, including AR-15s and AR-70s, as well as any firearms that contained certain military-style amenities – like a flash suppressor, a bayonet mount or a grenade launcher.
But in 2004, the Republican-controlled Congress let the ban expire in accordance with its sunset provision. That year, about 107,000 AR-style rifles were manufactured. In 2015, that number ballooned to about 1.2 million.
When questioned, Cope is quick to admit that the company has seen a dip in sales since Trump took office. He's not alone: With the new administration firmly in its pocket, the gun industry could no longer gin up dire warnings that Barack Obama was coming for your guns.
"We've taken a hit, just like every other gun manufacturer since the election," he says. "It's a double-edged sword, you know? Like, we want this particular political ideology to have control, but as a company that means we're going to do way less business."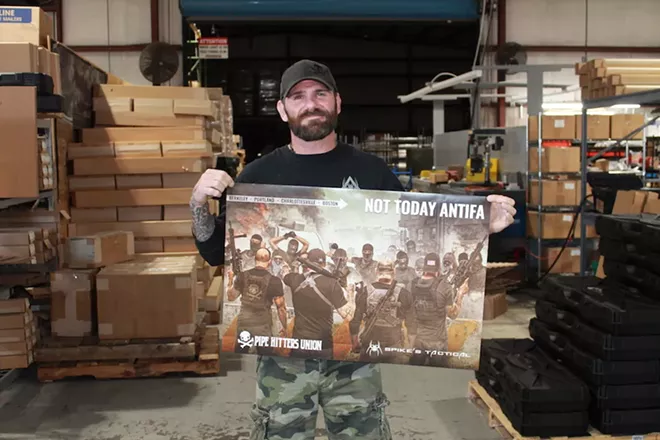 Annual gun production increased by 239 percent during the Obama administration, and the NRA saw its membership hit a record 5 million. But since Trump's election, gun sales have plummeted by as much as 9 percent. According to a news release on the website of firearm manufacturer Vista, which owns brands like American Eagle and Bushnell, the company witnessed profits tumble by 27 percent in the first three months of 2017.
Gun-makers Sturm, Ruger & Co. and American Outdoor Brands lost roughly a quarter of their market value shortly after Trump's win. And earlier this month, just two days prior to the shooting in Parkland, Remington Outdoor Co. – one of the nation's longest-running and most distinguished gun manufacturers – said it would seek Chapter 11 bankruptcy protection due to abysmal sales.
So, in light of those facts, it's easy to imagine a gun manufacturing company like Spike's Tactical feeling compelled to resort to marketing fear. But:
"You know, we actually don't attempt to sell panic at all," says Leleux, general manager at Spike's Tactical.
While Cope, with his Labrador-like personality, leans on lofty generalizations, Leleux is quick and straight to the point.
"I mean, last year we did a dual ad with Pipe Hitters, and it was of shooting at an ISIS guy, another terrorist group," Leleux says. "It didn't get much attention, but when we did it, we thought: This might offend some people. But that wasn't the intent. That's just how we feel."
Both Leleux and Cope bring up a man named Dwayne Dixon. Following the Unite the Right rally in Charlottesville in August, Dixon – a professor of Asian Studies at the University of North Carolina and member of Defend Durham, a leftist organization that fights white supremacy – posted a picture on Facebook with the caption: "I take perverse pleasure in having carried this Spike's lower [a part of the AR-15 rifle] in the defense of Justice Park on Aug. 12. I used this rifle to chase off James Fields [the alt-right demonstrator who drove his car through the group of protesters] from our block of 4th St. before he attacked the marchers to the south. Spike's needs a good lesson in ethics and antifascism."
A week later, Dixon brandished his assault rifle during an impromptu protest in downtown Durham, which took shape after local officials warned of a KKK demonstration that never materialized. He was charged with bringing a weapon to a parade or rally. That charge was dropped after Dixon's attorney argued the state law infringed on his constitutional rights.
However, that post by Dixon following the Charlottesville march, since deleted, proves that Spike's Tactical may be in the right, Leleux says. He and Cope both imagine that Fields could have simply been afraid when he drove his car into the protesters, murdering one.
"Someone's chasing you with guns. You get a block away. You're at a dead stop. All of a sudden you hear a loud bang, because – it's on video – someone hits your car with a stick, and it's a mob," Leleux says. "And he gassed it."
"We've saved him from spending his life in prison," Cope says, as Leleux casts a skeptical side-eye in Cope's direction.
"Maybe, maybe not," Leleux responds. "Maybe the facts don't go that way."
Leleux continues, backtracking subtly: "Is it possible he did it out of hate? Absolutely. Everyone deserves for the truth to come out, and if the truth comes out partly because of our ad, then that makes me really happy."
In fact, the truth did come out, but it wasn't due to their ad. Months before Orlando Weekly sat down with the fellows at Spike's Tactical, during a hearing in December for Fields (who was charged with second-degree murder), CNN reported that prosecutors played the surveillance video from a Charlottesville restaurant as well as a video from a Virginia State Police helicopter that was monitoring that day's events. According to the footage, Fields' Dodge Challenger stopped about a block and a half away from the protesters before he threw it into reverse and floored it. From there, Fields was reportedly apprehended about four minutes after the collision, about a mile away.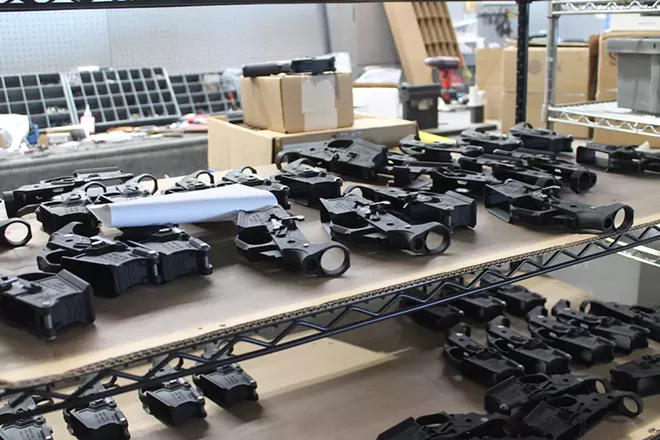 OW reached out to Dixon for comment, but Dixon waved off comment due to ongoing legal tension. But he did leave OW with one comment: In an email, Dixon writes, "I will say it's a Nazi conspiracy and relaying it only legitimates their attempt to paint Fields and their larger genocidal movement as a victim. ... It's revealing that Spike's sides with the white supremacists and thus they seek to justify Heather Heyer's murder."
Cast in their best light, the folks behind Spike's Tactical and Pipe Hitters Union's marketing campaign are just super-skilled trolls.
OW followed up with Cope on the lawsuit against Newsweek and Vice News he had mentioned. Several days later, Cope replied via email: "As far as the libel suit is concerned, we aren't currently pursuing it," he wrote.
"The verbiage [Newsweek and Vice News] used, while overtly suggestive, was strategically defensible on their part. So even being unscrupulous and unethical, it's just not worth our time to pursue."
It was similar language, although a tad more sophisticated, to what he and Leleux used in the Spike's Tactical office. "We're not Nazis. He's married to a Mexican," Leleux said, looking at Cope. "That's not Nazi values. I've dated nothing but Spanish women until my wife." They both laughed.
But outside the parallel universe that is Spike's Tactical, gun enthusiasts are becoming more of a minority than it would seem inside that universe.
According to a poll conducted by CBS News in 2016, following the Pulse nightclub massacre, only 36 percent of U.S. adults either own a firearm or live with someone who does, at the time a near-40-year low. Gun ownership is down at least 17 points from the highest recorded rate, in 1994, and nearly 10 percentage points from 2012.
What's more, just 3 percent of American adults own half of the nation's firearms, according to a Harvard-Northeastern survey conducted in 2016.
The NRA isn't blind to these trends in gun ownership, and it's done everything possible to avoid becoming obsolete.
"[The NRA] is waging this very aggressive, culturally based advertising campaign," says Gabor, the Palm Beach County-based criminologist. "Fear is basically the approach they use to try to sell guns. And not just to new people who don't have guns, but to the person who already has an arsenal."
That problem most recently came to a head on Feb. 14, in the school shooting in Broward County. Carrying a semiautomatic AR-15, 19-year-old Nikolas Cruz pulled the fire alarm in the hallway of his former school and began to gun down his former classmates. The Valentine's Day killing spree ended the lives of 17 students and faculty members, and more than a dozen others were critically injured.
During the senseless tragedy, several students pulled out their smartphones and began recording.
In one video, while blood seeps across the classroom's tile floor, the sound of the assault rifle bellows out. These shots, however, don't come within a second of one another (one Mississippi ... two Mississippi), and there's no lead trap to absorb the bullets' momentum. These shots came in bursts of three, four, sometimes more, with only bodies to absorb the bullets, like those in the Vietnam-era military reports.
Wham-wham-wham. Wham-wham-wham-wham. Wham. The ringing of firepower on flesh starts again and stops again. The sound of the students' screams chimes in between.