Page 4 of 5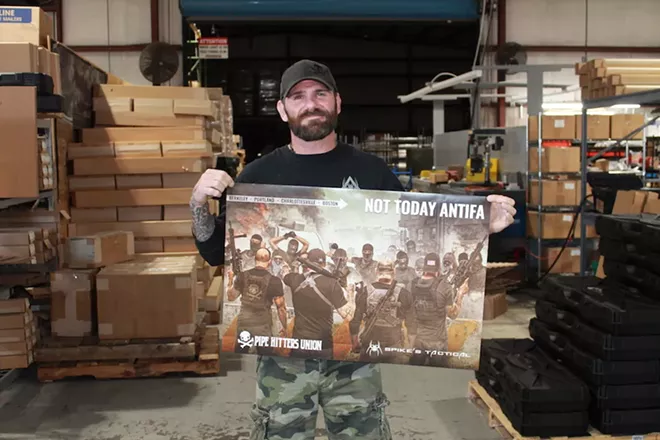 Annual gun production increased by 239 percent during the Obama administration, and the NRA saw its membership hit a record 5 million. But since Trump's election, gun sales have plummeted by as much as 9 percent. According to a news release on the website of firearm manufacturer Vista, which owns brands like American Eagle and Bushnell, the company witnessed profits tumble by 27 percent in the first three months of 2017.
Gun-makers Sturm, Ruger & Co. and American Outdoor Brands lost roughly a quarter of their market value shortly after Trump's win. And earlier this month, just two days prior to the shooting in Parkland, Remington Outdoor Co. – one of the nation's longest-running and most distinguished gun manufacturers – said it would seek Chapter 11 bankruptcy protection due to abysmal sales.
So, in light of those facts, it's easy to imagine a gun manufacturing company like Spike's Tactical feeling compelled to resort to marketing fear. But:
"You know, we actually don't attempt to sell panic at all," says Leleux, general manager at Spike's Tactical.
While Cope, with his Labrador-like personality, leans on lofty generalizations, Leleux is quick and straight to the point.
"I mean, last year we did a dual ad with Pipe Hitters, and it was of shooting at an ISIS guy, another terrorist group," Leleux says. "It didn't get much attention, but when we did it, we thought: This might offend some people. But that wasn't the intent. That's just how we feel."
Both Leleux and Cope bring up a man named Dwayne Dixon. Following the Unite the Right rally in Charlottesville in August, Dixon – a professor of Asian Studies at the University of North Carolina and member of Defend Durham, a leftist organization that fights white supremacy – posted a picture on Facebook with the caption: "I take perverse pleasure in having carried this Spike's lower [a part of the AR-15 rifle] in the defense of Justice Park on Aug. 12. I used this rifle to chase off James Fields [the alt-right demonstrator who drove his car through the group of protesters] from our block of 4th St. before he attacked the marchers to the south. Spike's needs a good lesson in ethics and antifascism."
A week later, Dixon brandished his assault rifle during an impromptu protest in downtown Durham, which took shape after local officials warned of a KKK demonstration that never materialized. He was charged with bringing a weapon to a parade or rally. That charge was dropped after Dixon's attorney argued the state law infringed on his constitutional rights.
However, that post by Dixon following the Charlottesville march, since deleted, proves that Spike's Tactical may be in the right, Leleux says. He and Cope both imagine that Fields could have simply been afraid when he drove his car into the protesters, murdering one.
"Someone's chasing you with guns. You get a block away. You're at a dead stop. All of a sudden you hear a loud bang, because – it's on video – someone hits your car with a stick, and it's a mob," Leleux says. "And he gassed it."
"We've saved him from spending his life in prison," Cope says, as Leleux casts a skeptical side-eye in Cope's direction.
"Maybe, maybe not," Leleux responds. "Maybe the facts don't go that way."
Leleux continues, backtracking subtly: "Is it possible he did it out of hate? Absolutely. Everyone deserves for the truth to come out, and if the truth comes out partly because of our ad, then that makes me really happy."
In fact, the truth did come out, but it wasn't due to their ad. Months before Orlando Weekly sat down with the fellows at Spike's Tactical, during a hearing in December for Fields (who was charged with second-degree murder), CNN reported that prosecutors played the surveillance video from a Charlottesville restaurant as well as a video from a Virginia State Police helicopter that was monitoring that day's events. According to the footage, Fields' Dodge Challenger stopped about a block and a half away from the protesters before he threw it into reverse and floored it. From there, Fields was reportedly apprehended about four minutes after the collision, about a mile away.