Page 5 of 5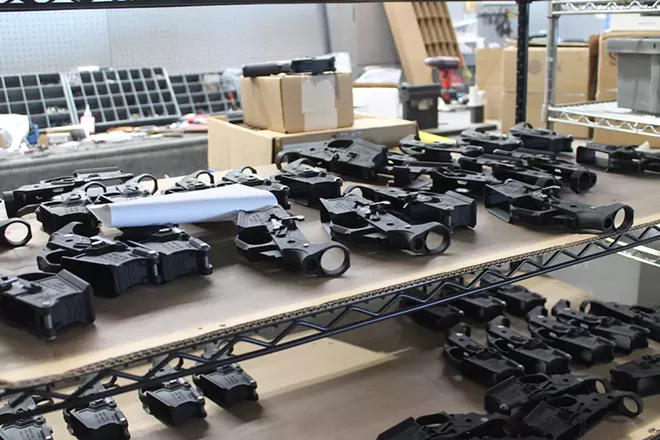 OW reached out to Dixon for comment, but Dixon waved off comment due to ongoing legal tension. But he did leave OW with one comment: In an email, Dixon writes, "I will say it's a Nazi conspiracy and relaying it only legitimates their attempt to paint Fields and their larger genocidal movement as a victim. ... It's revealing that Spike's sides with the white supremacists and thus they seek to justify Heather Heyer's murder."
Cast in their best light, the folks behind Spike's Tactical and Pipe Hitters Union's marketing campaign are just super-skilled trolls.
OW followed up with Cope on the lawsuit against Newsweek and Vice News he had mentioned. Several days later, Cope replied via email: "As far as the libel suit is concerned, we aren't currently pursuing it," he wrote.
"The verbiage [Newsweek and Vice News] used, while overtly suggestive, was strategically defensible on their part. So even being unscrupulous and unethical, it's just not worth our time to pursue."
It was similar language, although a tad more sophisticated, to what he and Leleux used in the Spike's Tactical office. "We're not Nazis. He's married to a Mexican," Leleux said, looking at Cope. "That's not Nazi values. I've dated nothing but Spanish women until my wife." They both laughed.
But outside the parallel universe that is Spike's Tactical, gun enthusiasts are becoming more of a minority than it would seem inside that universe.
According to a poll conducted by CBS News in 2016, following the Pulse nightclub massacre, only 36 percent of U.S. adults either own a firearm or live with someone who does, at the time a near-40-year low. Gun ownership is down at least 17 points from the highest recorded rate, in 1994, and nearly 10 percentage points from 2012.
What's more, just 3 percent of American adults own half of the nation's firearms, according to a Harvard-Northeastern survey conducted in 2016.
The NRA isn't blind to these trends in gun ownership, and it's done everything possible to avoid becoming obsolete.
"[The NRA] is waging this very aggressive, culturally based advertising campaign," says Gabor, the Palm Beach County-based criminologist. "Fear is basically the approach they use to try to sell guns. And not just to new people who don't have guns, but to the person who already has an arsenal."
That problem most recently came to a head on Feb. 14, in the school shooting in Broward County. Carrying a semiautomatic AR-15, 19-year-old Nikolas Cruz pulled the fire alarm in the hallway of his former school and began to gun down his former classmates. The Valentine's Day killing spree ended the lives of 17 students and faculty members, and more than a dozen others were critically injured.
During the senseless tragedy, several students pulled out their smartphones and began recording.
In one video, while blood seeps across the classroom's tile floor, the sound of the assault rifle bellows out. These shots, however, don't come within a second of one another (one Mississippi ... two Mississippi), and there's no lead trap to absorb the bullets' momentum. These shots came in bursts of three, four, sometimes more, with only bodies to absorb the bullets, like those in the Vietnam-era military reports.
Wham-wham-wham. Wham-wham-wham-wham. Wham. The ringing of firepower on flesh starts again and stops again. The sound of the students' screams chimes in between.