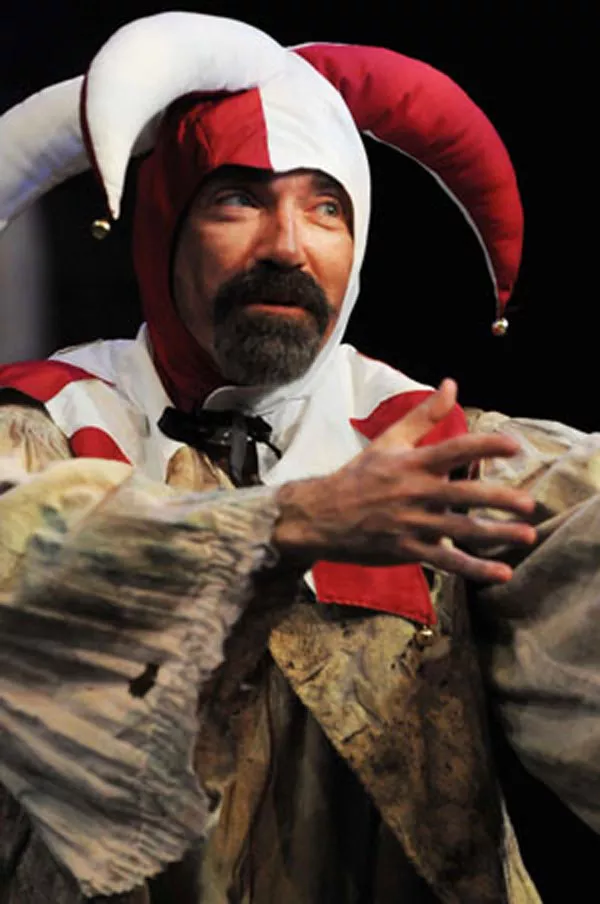 Putting on a Good Show: Orlando Shakespeare Theater staged a stellar performance of All's Well That Ends Well in early 2010.
Theater
Best Bets: The Mad Cow and Orlando Shakespeare theaters continue to offer the highest caliber of professional theater in town. Two of my favorite shows this past year were Rosencrantz and Guildenstern Are Dead at Mad Cow and All's Well That Ends Well at Orlando Shakes (directed by the theaters' artistic directors, Alan Bruun and Jim Helsinger, respectively). With Bruun exiting his spot as Mad Cow's head honcho, it remains to be seen whether the company will continue to maintain its premier status.
Best Bets, redux: With its 21st anniversary retrospective, Theatre Downtown proves that it still can compete with the pros. Frank Hilgenberg's ability to stage competent productions on a shoestring budget with amateur talent (only in the paying sense) is a testament to his tenacity and producing-directing skills.
Most Missed: The Orlando Theatre Project, a professional theater company that spent 24 years putting on shows in Central Florida, staged its last production in 2010. The departure left a hole in the theater community, still unfilled.
Most Likely to Succeed: The Garden Theatre in Winter Garden serves up its own shows and also hosts homeless companies' productions. Jay Hopkins' mounting of The Complete Works of Shakespeare (Abridged) was a hoot. If the depressed economy doesn't kill it, the theater should be around for many more years.
Most Inventive: John DiDonna, in addition to being the most peripatetic auteur in town, continues to be its most inventive. His Halloween show, Phantasmagoria, was a 
theatrical treat.
Least Inventive: Theatre Downtown's Lend Me a Tenor made the mistake of playing the farce as a comedy of words rather than a madcap rollercoaster ride.
Best Series: Mad Cow's Cabaret Festival continues to score with its intimate evenings of vocal pyrotechnics.
Longest-Running Series: I've attended every Orlando Fringe Festival since its inception, and I'm never disappointed. The Fringe is a theatrical gem in our city's cultural crown.
Best Show with a British Theme: Brandon Roberts and Brad dePlanche in Orlando Shakespeare's The 39 Steps, proved what prodigious clowns they are, giving Orlando's reigning funny man, Philip Nolen, a run for his money.
Worst Show with a British Theme: Conversely, Chaps, a Jingle-Jangle Christmas, at the Shakes, offered a cast of Americans trying to sound British, trying to sound American, all in order to sing a bunch of cowboy songs.
Best Political Drama: The gritty production of Top Dog/Under Dog, at Mad Cow.
Worst Political Drama: Mad Cow's The Cradle Will Rock, wasn't badly staged, but its "workers of the world unite" message was lost on a beaten-down and co-opted proletariat who lost its will to fight against corporate malfeasance decades ago.
Best Revival: Alan Sincic and Brett Carson in an independent production of Waiting for Godot showed why Beckett's bleak comedy still resonates.
Worst Revival: Alan Bruun's minimalist staging of Macbeth made a difficult work even more obtuse and unintelligible.
Most Newsworthy Exit: Elizabeth Maupin left her desk as the Orlando Sentinel's drama critic after almost a quarter century. Her commentary will be missed.
Most Newsworthy Entrance: Matthew Palm has taken Maupin's place and with the diminished staff at Orlando's daily, is getting more and more space in the paper's first section. So far, he has handled his new role 
with aplomb.
–Al Krulick
Art
Florida's economy swirled like a turd in a stopped-up toilet throughout most of 2010, worsened by the stench wafting down from Washington's politicians. The local art world, operating under the assumption that it is recession-proof, felt the trickle-down: Some galleries closed, including Bold Hype, Comma and Creative Spirit. Meanwhile, historic stalwart the Maitland Art Center merged with another local entity – the Maitland Historical Society – in an effort to streamline costs and upkeep. The number of eateries showing local artists dwindled, and some good local artists – specifically, Drew White and Brigan Gresh – left town altogether.
Despite the drumbeat of doom, however, there were a few bright spots in the scene during 2010: A handful of new galleries opened downtown, and some corporate lobbies (such as Innovative Data Solutions located downtown), started replacing the soulless dried-flower prints so often used to decorate office spaces with works by local artists on loan through corporate-art programs.
In January, indie curator Dustin Orlando briefly opened a space called Latitude Zero in Thornton Park, and it helped local street artists jump the curb into the gallery world. After Latitude Zero closed, he returned this spring and opened a new venue for the street-art scene downtown called Neon Forest. The gallery allows collectors to invest in artwork at affordable prices; its shows have featured the work of locals like Matt Curan and Dres13, as well as nationally known figures like Dubelyoo, whose tiny, beautiful portraits of righteous black women are inspiring. Not far from Neon Forest, in SoDo, another gallery called Realm54 opened its doors in December, and it promises to be a potent new art space. Realm54 operators Brian Demchak (Decoy) and Brian Heeter are paving the way for a new generation with the help of veteran Orlando street artist Robin Van Arsdol (RV).
Also downtown, the CityArts Factory and Avalon Island kept up the momentum, with some great exhibits: Avalon Island's Crime and Puppetment, held in conjunction with the Orlando Puppet Festival, featured masterfully crafted puppet-inspired pieces, while City Arts Factory's What Moves You show featured members of the B-Side Artists painting on easels set up in the streets, and installation artists – inspired by the concept of movement and transportation – who set up mixed-media pieces throughout the venue's gallery spaces. And in uptown, women artists made a strong showing. At the Cornell Fine Arts Museum on the campus of Rollins College, Out of the Shadow examined the work of women who were not traditionally trained in art, including painter Mary Cassat. At the Crealdé School of Arts and the Hannibal Square Heritage Center, "talking quilts" crafted by Lauren Austin combined personal and political messages in quilted portraits that brought narrative themes to visual arts.
A few major shows of national stature that inspired the artist in all of us to express our visions to the fullest passed through town as well this year: Works by Edward Gorey were on display during Halloween at the Orlando Museum of Art, and a unique show of works by Jasper Johns and Robert Motherwell was on display in the fall as part of the Poetic Works as Metaphor show that just recently closed at the Cornell.
Though the gallery world grew smaller in 2010, the quality of the artwork on display in the city seems to be improving. We can't say for certain why that is, but there's no denying the fact that in prosperous times, artists experiment less, choosing instead to try to replicate their successes. Freed from the tyranny of the market, though, they often blossom. With the new venues that opened in 2010 in SoDo, we dare to hope that competition for patrons will develop into a friendly art-world rivalry – the kind that brings creative tension to the scene and perhaps more outlier artists drawn by that energy.
If our recent crop of political leaders stay true to form, the official clampdown on culture should begin anytime now, and that could foment an underground movement. Things could start getting interesting. It's worth keeping an eye on the art scene to see what blossoms here in 2011.
–Richard Reep