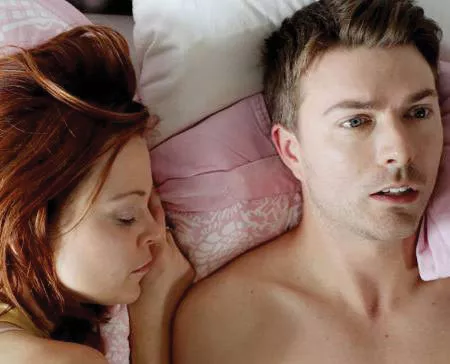 Orlando Film Festival
Wednesday-Sunday, Oct. 19-23
Plaza Cinema Café
orlandofilmfest.com
$5 per day
It takes an oddball sensibility to notice the fact that some types of emergency contraceptive (morning after) pills require two doses taken 12 hours apart and think, "There's a rom-com in that." Judging by his stealth-attack feature debut, The Pill, about a post-hookup couple attempting to navigate that crucial half-day, writer-director J.C. Khoury has that sensibility and a refreshing amount of sense, too.
The film opens at the tail end of the fateful night when an attractive free spirit, Mindy, played with blinding charisma by Rachel Boston, brings home a tellingly hesitant Fred (on-the-rise Noah Bean). The first giveaway that this is a special kind of film comes right off the bat: Rather than hop into bed straightaway, the two play a drinking game and laugh together and reveal tidbits that only heighten each others' mystery. It's the perfect chance for the characters and the movie itself to breathe before the shenanigans start, and for the stars' natural chemistry to emerge. It's an intoxicating scene, and it's a moment they'll need to hold on to.
Mindy, it turns out, can be carefree to the point of irresponsibility when it comes to sex; because she likes Fred so much, she later admits, she decides to subvert whatever implied social contract exists for one-night stands – essentially, "This is just for tonight, so whatever measures need to be taken to make sure we don't get pregnant should and will be taken" – and free him from the shackles of protection. The next morning, she blithely reveals that she's not on birth control and would rather leave such things to fate. So begins a kind of nightmare scenario for the single man, and the more they rationally discuss the situation, the more Fred understands that, legitimate claims of entrapment and genuine recklessness aside, rationality has no place in Mindy's life.
After a quick Google search rebuffs her assumptions about the morning-after pill – it's an "abortion pill"; it's against her religion; it'll make her moody, etc. – he manages to goad her into the pharmacy, and that's when Khoury and his crew achieve lift-off, effortlessly careening from modern matters (how do you politely ask to see a girl's tongue to make sure she swallowed her emergency contraception?) to scenes that evoke the best of Woody Allen or Ernst Lubitsch.
Khoury walks a cinematic tightrope between organic realism and a slick studio rom-com feel (at least as much as the film's low budget can manage), and throughout the film's first two acts, that works well. It's less effective when Fred's live-in girlfriend (In the Loop's Anna Chlumsky) enters the fray. Khoury's script resorts to the formulaic demonization of her character that filmmakers, for some reason, still find necessary to excuse the protagonist's cheating ways. Although Chlumsky acquits herself nicely, her character's presence unravels the subversion that came before, and the audience can feel the wacky rom-com engine churning.
Still, enough can't be said of the leads. Bean's shaggy timing and the way he checks people for their reaction to whatever he's just said like a handsome, New York version of David Brent has served him well in his TV career, but this film is an announcement of sorts. He's like Adam Scott's artsy younger brother. Similarly, Boston owns her dialogue and possesses a down-home, nearly guttural charm that captivates throughout.
The Pill is the absolute highlight of this week's marginally improved Orlando Film Festival, which kicks off Wednesday with Virgin Alexander, a mediocre, no-budget sex romp, and wraps up Sunday with the remarkable Marathon Boy (3 p.m.), which you should catch if you missed it at the recent South Asian Film Festival, and The Dead Inside, a fish-eyed look at an artistic couple who attempt to unleash their creativity and end up dealing with something much darker. The Pill, meanwhile, screens at 7:20 p.m. Saturday and 7:30 p.m. Sunday. All films screen at the Plaza Cinema Café.