Casual fans and film buffs can instantly recognize the pen of John Waters in the razor-sharp, witty and vile bon mots uttered from the mouth of the impeccable Divine in perverse classics like Pink Flamingos or Female Trouble, but deep-cut Waters obsessives know the increasingly iconic and seasonal line above from his now annual, touring holiday revue, "A Christmas with John Waters."
Yes, the dirty secret is out: John Waters adores the holiday season. For real.
It's not like the director-author-actor-art collector-commentator hasn't been laying out breadcrumbs and strong hints for years. His 1974 fashion-crimes gem Female Trouble kicks off with a Yuletide bang when Divine's Dawn Davenport enacts a seasonal revenge on her parents for not getting her the cha-cha heels she asked for by stomping their presents and pushing the Christmas tree over on her mother. In 2018, Female Trouble is recognized as an edgy-but-seasonal film and given late-night screenings in December at more adventurous art houses. Davenport's Christmas tree-pinning is up there with Dr. Seuss' Grinch stuffing Cindy Lou Who's tree up a chimney in terms of pop culture Christmas skullduggery.
Waters himself laid his own love of the season on the line with an essay – "Why I Love Christmas" – that first appeared in a 1985 edition of National Lampoon magazine ("after the magazine was way past its prime," quipped Waters to Orlando Weekly). It was nothing less than a manifesto, with Waters deadpanning: "If you don't have a merry little Christmas, you might as well kill yourself." A perfect mix of sincere and tongue-in-cheek, when the essay was reprinted in the essay collection Crackpot: The Obsessions of John Waters, Waters' place in the Christmas canon alongside Bing Crosby and Scrooge McDuck was cemented.
But it didn't stop there. In Waters' hometown of Baltimore, his annual Christmas party is the stuff of legend, with invites being coveted by the famous and infamous alike. And throughout the arts, film and literary (and probably crime, too) worlds, you know you've arrived if you get one of Waters' singular signed Christmas cards. Over the years these one-offs have featured Waters as a heavily tattooed, Riff-Raff-ish Santa, a genuine mugshot with Waters looking panicked in a Santa hat, and most famously Steve Buscemi in full Waters drag.
Waters compiled a Christmas album – A John Waters Christmas – in 2004, full of choice cuts from his own vast music collection that somehow the Christmas stations just keep overlooking year after year. A John Waters Christmas effortlessly segues the Chipmunks and Tiny Tim into obscure cuts from the likes of Baltimore cult DJ Fat Daddy singing about how he's the "reindeer boss."
But wait, there's more: The Vinegar Syndrome film company, inspired by Waters' paean to the unrecognized greatness of 1980 slasher Christmas Evil, asked him to contribute a commentary track to a deluxe Bluray reissue. Which is just as essential as it sounds.
Even your radio dial hasn't been spared the John Waters Christmas treatment, with NPR recording Waters reading sections from his "Why I ..." essay (ending with Waters whispering "What are you going to get me?" sneeringly). And the ever-game Scott Simon visited Waters in 2004, to watch the director and his comrades put up their Christmas decorations.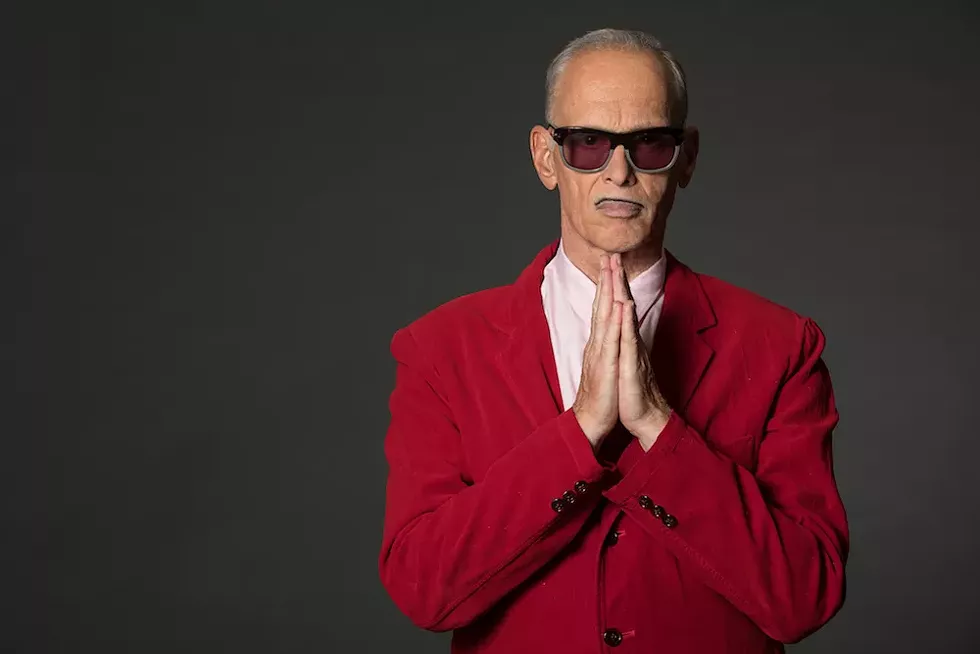 But in a fitting twist, when the big day finally arrives, every year the King of Filth has a quiet traditional dinner, with all the fixings, with his family.
Waters' Christmas tour, spun out of that initial Lampoon essay, is a madcap spiel, a breathless monologue of the obsessions of John Waters on that particular day, viewed through the sparkly red-and-green lens of the Christmas season. The festive quotient is high and the pop culture and sociological references are always thoroughly modern and in the moment. Waters as a showman is hard to top, an unstoppable force of rapid wordplay, genuine humanity and finding glee in the taboo. Waters spoke with Orlando Weekly amid a whirlwind of preparation for "the most wonderful time of the year."
How do you prepare for the Christmas tour?
I have to write a huge amount of material so I just throw ideas in my Christmas cubbyhole all year. This year started a little later because I just finished a book. So I write it, than I do all the different versions of it, then I memorize it and ... oh god how am I ever going to memorize all of this?
Do tour logistics mean you're going to have to start prepping for your own Christmas party and holiday cards early?
Are you kidding? I've been signing cards for months, there are stacks on the table! It's a big production. And my Christmas party is totally ready, the only thing that's not settled is the catering ... Christmas around here starts in July. It's Santa's workshop!
Where did the idea for this all come from?
There was a book I did called Crackpot with a chapter, "Why I Love Christmas," that's where it all started. The first time I did it live was at the Castro Theatre [in San Francisco]. I always thought of myself as belonging on the vaudeville circuit, being the baggy-pants comedian. Showing nudist camp pictures at the end of the night! That's where I learned how to do all of this! That was my main influence!
I used to hook school and sneak in. They would have burlesque and then comedians would come on with the worst, dirty stuff and they'd do 12 shows a day. I wanted to do the intellectual version of that!
I've seen the show a few times and I'm always impressed by how there are no pauses or "um"s or "like"s in your monologue.
I don't use notes and I don't even have my eyeglasses on stage. When you're at a Broadway play actors don't take out a crib sheet, they have to learn the lines! People paid good money!
How do you keep yourself so open to new interests and obsessions and topics to work into the shows?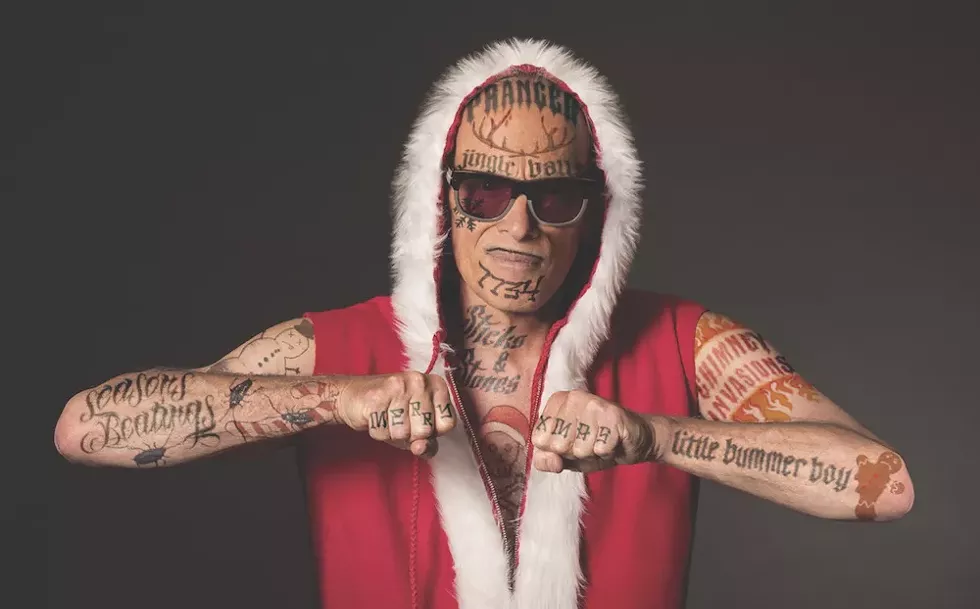 I get six newspapers delivered every morning. ... In my office I have 12 cubbyholes for different projects and I throw different ideas in there. So for the Christmas show, I just get out everything that's in there and then I ask my staff what Christmas crimes have happened in the cities I'm performing. I'm always trying to find out the worst things that've happened – nothing like terrorism, just ludicrous crimes. Or the name of the nearest jail, I always like to drop that in.
What do you think of Christmas in Florida?
Christmas in Florida is always weird, it's like Christmas in L.A.! I always like to look at the Scientology Center on Hollywood Boulevard decorated for Christmas. It's SO scary! Fake snow in Florida looks ... I love how it looks because it's impossible! It makes it even more ludicrous in a way to have Christmas in hot places.
I feel bad for the mall Santas. Sitting in those hot suits in a mall in 90-degree weather. I'm surprised that any children are allowed to sit on an old bear's lap! With the political climate of the day, I don't know ...
What do you want for Christmas this year?
I just want books, even though every bookshelf in every place I have is packed!
You love giving books as gifts as well – what did you give out last year?
I gave everyone that book about Princess Margaret that was so funny ... I used to go around saying to people, "What was your child's first word? Was it da-da? Mine was 'chandelier'!"
What kind of Christmas music do you want to hear this year?
I've always wondered why all the junkie jazz musicians in history didn't have Christmas songs. They could have sung about it, but they never did. "Jonesing Around the Christmas Tree!" An album of all junkie jazz Christmas songs.
Were you surprised that your story about the Christmas tree falling on your grandma was so relatable?
I didn't realize it until I started doing the tours and so many people came up to me and said that the exact same thing happened in their house! Usually the dog and liquor are involved a lot.
I think it's exciting when it falls over and everybody screams! I think they should invent a tree that falls over and you push a button and it goes right back up. And people could be pinned under it for the perfect Christmas photo op!
Do you ever get weird Christmas decorations in the mail?
I get great ones from fans! Definitely different kinds of Christmas balls with Divine. I got one that was a statue of Divine knocking over the Christmas tree with blinking lights and all that.
Does it ever seem strange to you that your tours are becoming a Christmas tradition in the way that singers like ...
I always said I wanted to be Johnny Mathis! I love him! He has a cult audience too. It's just that his wear Christmas corsages, and mine have shaved heads and Bettie Page bangs!
Any last-minute sales pitch you'd like to give for the show?
Even if you hate Christmas, I'll tell you things you can do to get through Christmas. No matter what your opinion is on Christmas – and you almost can't not have one, because it's coming right at you! How can you even avoid Christmas? I guess if you don't leave your leave your room and just sit on your computer closing down governments as a hacker. Actually it might be a good day to hack! There's probably less security on Christmas.