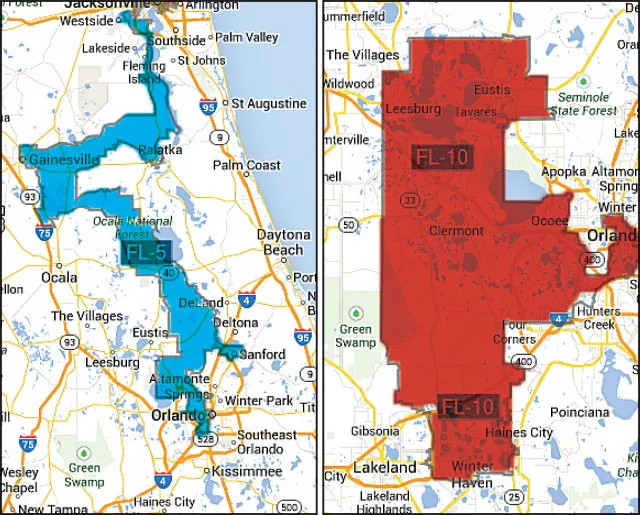 "The cure should not be worse for the patient than the illness. To develop a new map and hold a special election for some congressional representatives would cost more money, would place additional burdens on our election officials and might confuse some voters. On the other hand, to do nothing, when you could, means that you lessen the ability of many citizens to fairly elect representatives of their choice – which is the effect of political gerrymandered districts."
– Circuit Court Judge Terry Lewis in his Aug. 1 ruling on Fair Districts
JUST THE STATS
27
Number of congressional districts drawn in the state of Florida, allegedly keeping in line with the Fair Districts amendments passed in 2010
2
Number of districts that Circuit Judge Terry Lewis ruled unconstitutional on July 10, though the redrawing of the two districts will likely affect other adjoining districts
All mapped out
You remember all those summers as a snot-nosed kid rolling around in the back of a station wagon while your father tried to make sense of a poorly folded map – the very map that was intended to lead you to the vacation of your dreams? And remember how, despite said map, you typically had to stop and ask directions anyway? Well, that's sort of what's happened over the past month as the whole Fair Districts fight turned the page into its next uncertain chapter. Leon County Judge Terry Lewis declared on Aug. 1 that the 2012 redistricting maps approved by the Florida Legislature were tainted by political influence and two congressional districts in particular need to be redrawn by Aug. 15. Nobody seems to know exactly where that water flume is now. Summer is ruined!
Of course this all stems from 2010, when the public voted that the Legislature should not be in the business of drawing boundaries to protect incumbents, nor the incumbencies of their political allies in Congress. So when a traveling circus of legislators popped up all around the state to talk about redistricting (to, you know, give the appearance of transparency and to explain political cartography to a group of people who merely wanted to know they would have fair representation), it was supposed to seem like the public was being heard. Except we all know now that people weren't being heard at all, because there were secret consultants and Young Republicans managing the narrative just long enough to be thrown under a bus by the party when the mess came to light. A calamitous lawsuit filed by a group led by the League of Women Voters eventually pulled the teeth out of the Republican argument (basically "Who you callin' liars?") and on July 10, Judge Lewis ruled that the Legislature was really bad at lying. Specifically, Lewis pointed out, Congressional Districts 5 (Congresswoman Corrine Brown, D-the whole state) and 10 (Congressman Dan Webster, R-whites only) were products of gerrymandering and must be redrawn. Uh-oh.
His second ruling, on Aug. 1, came after the League of Women Voters drew its own, more fairly considered maps to present to the court. Lewis told legislators that they had until just Aug. 15 to come back with real maps for real people, and in the process, he may have just offset this year's entire midterm election schedule. Then he ordered that the Legislature call a special session (or maybe a drawing class), like, pronto, to get those maps finished in time for elections to happen. You can imagine that this had House Speaker hothead hottie Will Weatherford punching holes into his man-cave walls. Or at least covering his ass in an email to membership.
"We continue to maintain our strong objection to any attempt to disrupt the current election process," he wrote to membership on Aug. 3. "Florida's Supervisors of Elections have raised serious concerns over changing the elections process at this late date. The NAACP also pointed out in their response to Judge Lewis that 'in a special election, get-out-the-vote infrastructure simply does not exist. Voters who face challenges to political participation – be it financial, job scheduling, transportation or other impediments – will be irreparably harmed by conducting the election at a time where that infrastructure does not exist.'"
OMG, you guys! Weatherford cares about minorities? And he cares about voting rights or supervisors of elections? When did that happen? The Legislature will convene to start hating itself in public on Aug. 7. That, dear friends, is an inconvenience, Weatherford writes. He's totally got your back.
"I understand that calling a special session at this late date will require you to rearrange your schedules," he writes. "I have directed staff to provide you with detailed information tomorrow to assist you with your travel arrangements."
For its part, when the League submitted its suggestion for revised maps, it also offered several options for rescheduled election dates. Republicans, however, are predicted to try to stay the judgment so this year's elections can go on as scheduled – absentee ballots have already been mailed, so, uh, expensive. But Lewis could also rule that there be a later special election for the districts that need to be redrawn.
In his ruling, according to the Miami Herald, Lewis hopped on the side of the Legislature's legal team when he ruled that "there is just no way, legally or logistically, to put in place a new map, amend the various deadlines and have elections on Nov. 4 as prescribed by Federal law."
Meanwhile, in the background, the dinner-party namedropping game has begun in political circles. Everyone wants to make sure that there are candidates – on both sides – to run for whatever new districts the Republicans come up with. Confused? Looks like we all will be for a while. But that's not always a bad thing. Just ask League of Women Voters of Florida President Deirdre Macnab, who spent the past few years fighting the legal battle of her life.
"This is a champagne moment for Florida voters, who have waited too long for fairly drawn congressional districts," she writes in a statement released on Aug. 1. "Per his ruling, Judge Lewis has laid out a path that will allow all Florida voters, for the first time in decades, to elect their representatives in fair and constitutional districts. We believe that the restoration of legitimate, representative democracy is well worth one extra trip to the polls. … Judge Lewis has shown that legislative violation of our Constitution will not be tolerated, will have consequences, and that the will of the people will be enforced. This gives hope to other states grappling with the cancer of political gerrymandering and the League is thrilled to see that the people's voice has been heard."