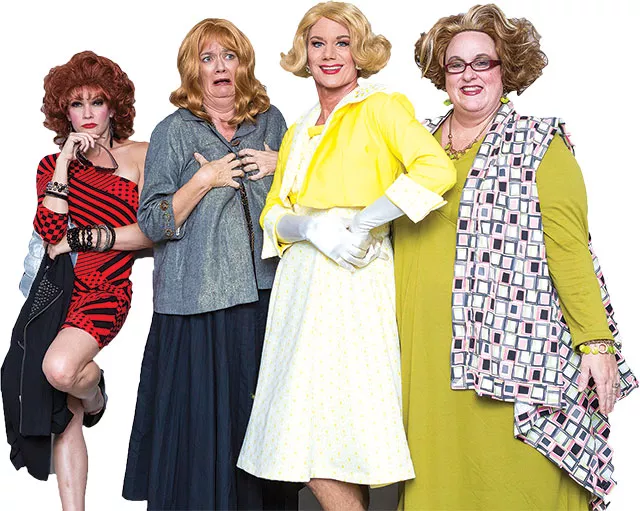 LADIES OF EOLA HEIGHTS
through July 28 | The Abbey, 100 S. Eola Drive | abbeyorlando.com | $30-$45
A decade after the first installment of Michael Wanzie's Ladies of Eola Heights quadrilogy debuted, the Locksdale sisters are at it again – this time at the Abbey, under the guidance of original director Kenny Howard. But the gals look a little different than you may remember, as the roles originally essayed in drag by Wanzie, Doug Ba'aser and Tommy Wooten are now embodied for the first time by three of Orlando's best biologically female performers.
Beth Marshall takes over Wanzie's part as Pearl, a QVC addict barely ambulating around the cramped Central Florida house she shared with their alcoholic father. Peg O'Keef plays Opal (originated by Ba'aser), a born-again bluenose with a pack of bratty grandkids, while VarieTease impresario Blue Star is initially unrecognizable in Ruby's red bouffant wig, re-creating Wooten's once-shamed black sheep of the sisterhood. The only one who hasn't changed is Miss Sammy's Jackson, the brother who was bonked on the head with a chunk of concrete and came out of his coma as a cross-dressing June Cleaver who communicates by lip-syncing songs. After years of estrangement, the family reunites for their father's funeral, clashing over cocktails and coming to terms with the dark inheritance bequeathed by their putrid patriarch. The explosive result is like Long Day's Journey Into Night as reinterpreted by John Waters.
Only about 10 words in the play were changed, mostly to update topical references, but it feels like it was custom-written for these actresses, who essentially play outsized versions of their public personas. Marshall is marvelously brash, milking every ounce of mirth from moving her Hoveround inch by inch, and O'Keef gives a master class in drunk-acting when stiff-necked sister Opal sheds her self-imposed inhibitions. Blue, in her first scripted starring role, stands toe-to-toe with the two veterans, delivering rapid-fire dialogue and showing great flair for physical comedy with an expertly executed spit-take.
Much of the fun of the original Ladies productions – aside from the entertainment value of seeing stocky men in dresses – came from the cast flubbing cues or struggling not to break character, like a classic Carol Burnett Show skit. But for this revival, director Howard has assembled a trio of polished performers who prove how strong Wanzie's script actually is. While I expected the hilarity, I was caught pleasantly off-guard by the depth and darkness that this reimagining explores. Shocking secrets hinted at in the first half come bubbling to the surface in the brief second act, and while the subject matter dances dangerously into "Lifetime Movies for Women" territory, the cast keeps their pain genuine and grounded beneath the camp.
Wanzie has enjoyed great success over the years at venues like the Parliament House and Fringe Festival with his loving lampooning of local culture, but Ladies of Eola Heights remains the best example of his gift for combining outrageous comedy with heartfelt emotion. There's a strong argument to be made that Wanzie is our best Orlando playwright; his shows reflect our town's crazy-quilt character like Mamet's do for Chicago or Neil Simon's for New York. Whether it's your first visit to the Heights or your fifth, this is one reunion you won't want to miss.