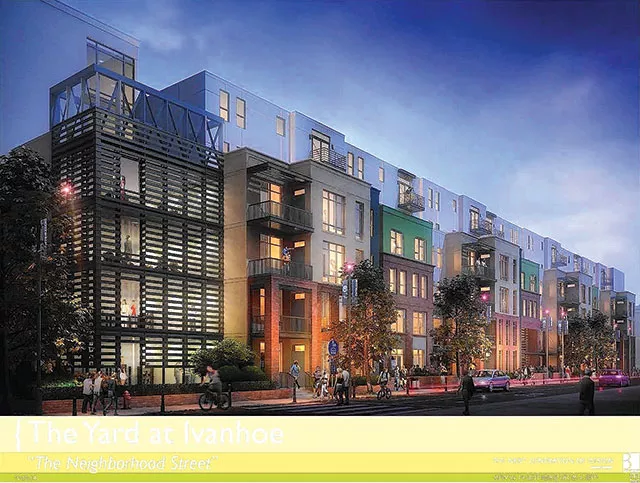 PHOTO COURTESY Real Estate Inverlad
IVANHOE
There goes the neighborhood. While I was away for a week, real estate revelations called into question the future of one Central Florida's most vibrant cultural corridors.
Let's start with Theatre Downtown, which announced Oct. 14 that, after 25 years at the corner of Orange Avenue and Princeton Street, they would be forced to relocate by January's end. I'd heard rumors (which I alluded to in my August review of Crimes of the Heart) that their landlord, Florida Hospital, not long after mandating $14,000 worth of electrical upgrades, was exercising a six-month option to terminate the theater's lease. Producers Frank and Fran Hilgenberg couldn't comment publicly at that time, but it turns out the whispers were correct; next month's Christmas Carol will be their 14th and last at that location.
It's somehow fitting that Killer Joe, Theatre Downtown's penultimate production, is the boldest, bravest work they've done in over a decade. I stage-managed the infamous "chicken wire" production of Killer Joe in 2001, and it remains the highlight of my theater career; I still can't see the show without hearing Rus Blackwell and Brook Hanneman in my head. So it's high praise when I admit that Daniel Cooksley – who has matured from OW's 2005 "Best Young Actor" to one of Orlando's best, period – made the murderous title role his own with chilling charisma, and that director Frank Hilgenberg (with fight director Jason Skinner, who also plays Ansel) staged the climactic bloodbath even more brutally than we did.
I wouldn't blame the Hilgenbergs for calling it quits – after a quarter-century, they've earned a break – but they promise they'll produce a 2015 season, albeit as a gypsy troupe at yet-undetermined locations; an entry in the Fringe Festival, for which they served as a venue only 18 months ago, is an option. Long-term, they're consulting with influential supporters to find a new home, hopefully near their existing audience base.
Whatever the company's fate, Theatre Downtown's physical address will eventually vanish, possibly to provide parking among a strip of Adventist-owned office spaces. The well-paid occupants of those buildings will need somewhere to sleep, bringing us to developer Chance Gordy's plans for Ivanhoe Village, as presented the contentious Oct. 21 Lake Formosa neighborhood meeting. As Erin Sullivan reported last week, Gordy's project would replace the warehouses along Alden Road with mixed-used multifamily properties, which will probably prove unaffordable for most artists and entrepreneurs currently inhabiting the area.
Area residents are riled up about traffic and density, but I'm most worried about the Venue's fate. Blue Star's black-box theater has quickly grown into an invaluable cultural hub, not only for dance shows like Emotions Dance's recent 7 Deadly Sins (which combined Larissa Humiston's choreography with artwork and spoken word in a progressive participatory format, providing the best-developed version of this recurring project I've seen yet); but also community events, like the recent 100th birthday party for Lutheran Towers' Downtowners chorus member Gin-Gin, featuring strippers and drag queens. The developer has suggested building Blue a new stage, but I wonder what the character of the neighborhood – currently among Orlando's most authentically creative – will be like once the nine-story apartment block rises.
Ironically, amidst all this upheaval, International Drive has become a beacon of stability for independent theater, thanks to Sleuths Mystery Dinner Shows. Not only has Sleuths outlasted competitors like Arabian Nights, but it has survived and thrived through the Mercado's demolition and the Orlando Eye observation wheel's erection. Through it all, Sleuths has provided steady employment for actors and opportunities for them to stretch their skills.
Last Saturday I spent more than six hours at Sleuths enjoying a triple-header of terrific entertainment for about $35. I started with the revival of Todd Feren's Zombie Monologues, again starring John Connon and Elizabeth Judith, with newcomers Kenny Babel and Robert Wright III. Feren's taut script is still as terrifying and tear-jerking as it was in 2010, made more relevant with parallels to Ebola and Trayvon. I followed that with more Feren, this time funny, as a member of Mama's Comedy Show. This twice-weekly improv troupe has earned five-star ratings on TripAdvisor; if you ever enjoyed SAK Comedy Lab but wished they worked blue (or Baloo), this is the show for you.
Finally, I finished with Wicked Designers' presentation of The Rocky Horror Show, starring Kevin Kriegel as Dr. Frank N. Furter. It's been 10 years since I directed Rocky at Theatre Downtown, and two since I retired from producing the Rich Weirdoes' interactive movie at CityWalk; last time I saw the film, I abandoned ship before "Sweet Transvestite." Many thanks to director Joshua Eads-Brown (who played Magenta in his Ginger Minj alter ego) for reminding me how entertaining Rocky can be with his energetic, effervescent production. Even if the landmarks aren't quite like you remember, you can go home again.