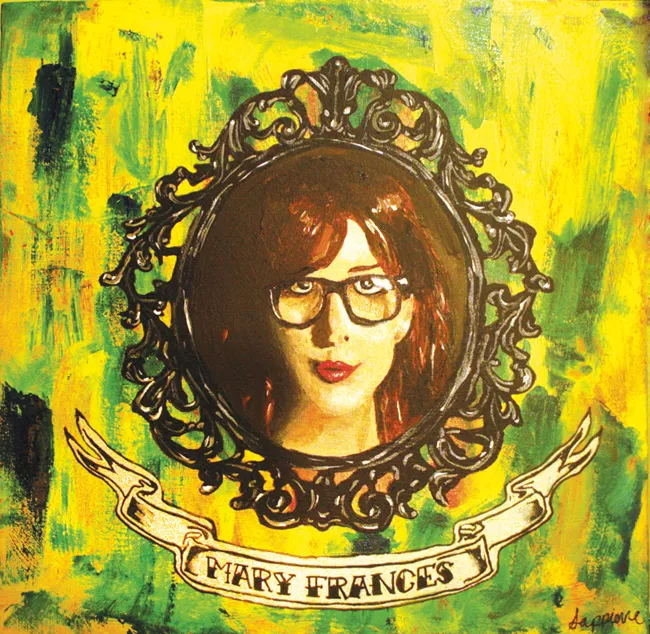 Last Call
through May 18
Opening reception
April 20 8 p.m.
The Falcon Bar and Gallery
819 E. Washington St.
407-423-2788
facebook.com/thefalconbar

Art's lens has been aimed at absolutely everything in the spectrum of human experience. So it's only natural that it be employed to formally honor one of humanity's greatest caretakers: the bartender. For most of us, they are givers of life, soothers of distress - yes, virtual mothers.

Noted Orlando artist Karen Russell conceived and curated Last Call, a portraiture showcase illustrating some of the city's favorite barkeeps. "The bartenders in this town have iconic personalities," Russell says. "Orlando is a city that loves its liquor and the people who pour it. I thought it would be a good idea to get artists to immortalize some of their favorite booze peddlers, through various artistic media. The artists are all local, some who have been shown before, and some who have not."

The monthlong exhibition is being presented by the Falcon Bar and Gallery, a hothouse for pop-culture art concepts. The show features 18 artists with varying styles, many of whom boast notable credentials. The roster of subjects is a pantheon of some of Orlando's most illustrious bartenders who tend at many of the city's hippest, most local-centric public teats, including Redlight Redlight, Will's Pub, Independent Bar, the Peacock Room, Stardust Video & Coffee, Bar-B-Q Bar and Lizzy McCormack's.

"These guys and gals get stuck listening to everyone's gripes, moans, drama, bullshit on a daily basis," says artist and scene activist Heidi Kneisl, aka the Naysayer, who is contributing pieces representing Brian Hanson (Lizzy McCormack's) and Martine Biladeaux (Independent Bar). "They have to kick out drunks, stop fights, get snapped or whistled at, hit on by a-holes, etc. It's about time that some of the cool ones are deified on a canvas or T-shirt."

Contributing artists were allowed to select bartenders they wanted to honor. "Brian [Hanson] happens to be a friend and my duplex neighbor," Kneisl says, explaining how she selected one of her subjects. "So, since there had been a visiting rat we named 'Big Black' that would hang out in my laundry room or go in his kitchen and hoard his dog's food, I decided to include him in the painting."

Artist Tammy Lynn Reep, who is portraying Emily Tamburro (Stardust Video & Coffee), says, "I've known Emily for years and I've always thought her face would be interesting to paint, so I chose her."

Curator Russell herself is more succinct about her reasoning. When asked why she chose Will Walker (Will's Pub) for her subject, she simply says, "I think he is funny."

Given the wide renown of the bartenders chosen for this simple but socially inspired exhibit, you'll probably find that you have your own interesting personal story tied to at least one of these portraits. Then again - hic! – considering the respective sides of the bar that you and they occupy – hic! – they are more likely have a personal story about you.