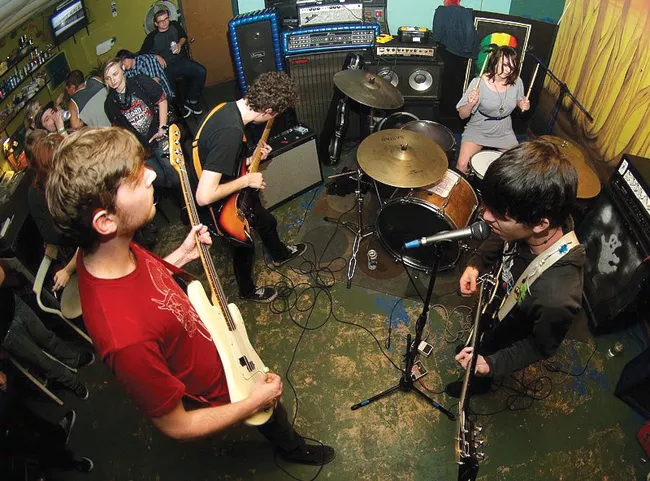 Flashlights
I'm Not Alone
(NK Tapes/Protagonist Music)

In DIY music circles, there have been some blips on the radar recently from the somewhat unlikely beacon of Florida's Space Coast. And standing as probably the brightest, most promising one so far is Titusville's Flashlights. Once local impresario Bradley Ryan of Norse Korea Presents got wind of them, their profile in this city went from total obscurity to buzz band. Now, Ryan's Orlando-based booking group is releasing Flashlights' new album, I'm Not Alone, on its fledgling label NK Tapes.

Popping with throttle, volume and total belief, this record lights up like a big box of professional-grade fireworks. Moreover, there's something very '90s about the way they work the alchemy between loud and lovely, occupying similar spiritual ground as Archers of Loaf and early Superchunk as well as contemporaries like the Thermals. Besides providing infallible foundation in itself, their sharp and shining pop-melody craft is wrapped in all the good stuff like groan and feedback. Their blissed-out, lo-fi punk attack keeps everything resolutely in the red, and that's exactly where they should be because the sheer spirit of these songs simply can't be caged or even adequately expressed by polite, conventional levels.

Like their sound, the astoundingly consistent I'm Not Alone is all meat and no fat. Highlights like "Mel Has a Problem," "Poking Fun," "Sleep In," "I Need My Things From Your Attic," "Shit Gets Rough" and especially the inspired "Choking," blaze through in a warm blur of beautifully overdriven melodies. The only time Flashlights slow down is closing track "Shane Swenson," in whose memory the album is dedicated, and that only underscores their core songwriting ability.

Explosive, jubilant and perfect, I'm Not Alone is one of the most breathless pleasures to come out of Florida in forever. It's direct and unfiltered joy captured on tape. And it's the sound of hearts bursting.