George Costanza, arguably the most neurotic character on the classic sitcom Seinfeld, had something akin to encyclopedic knowledge of Manhattan's public restroom scene – or, as he would have described it, its most "magnificent facilities."
But would you believe us if we said Orlando has its own washroom academic?
Enter Lisa Hardt, whose Instagram project, @theshittybeautiful, has inspired a series of local toilet tours.
For the last year, Hardt has chronicled the City Beautiful's loos, from the disturbingly wrecked to the quaint and elegant. It's less a crappy hobby than it is a way of recording some of Orlando's best and booziest nooks – and, to be clear, she's less the hysterical Costanza type than she is enagaging and quick to laugh.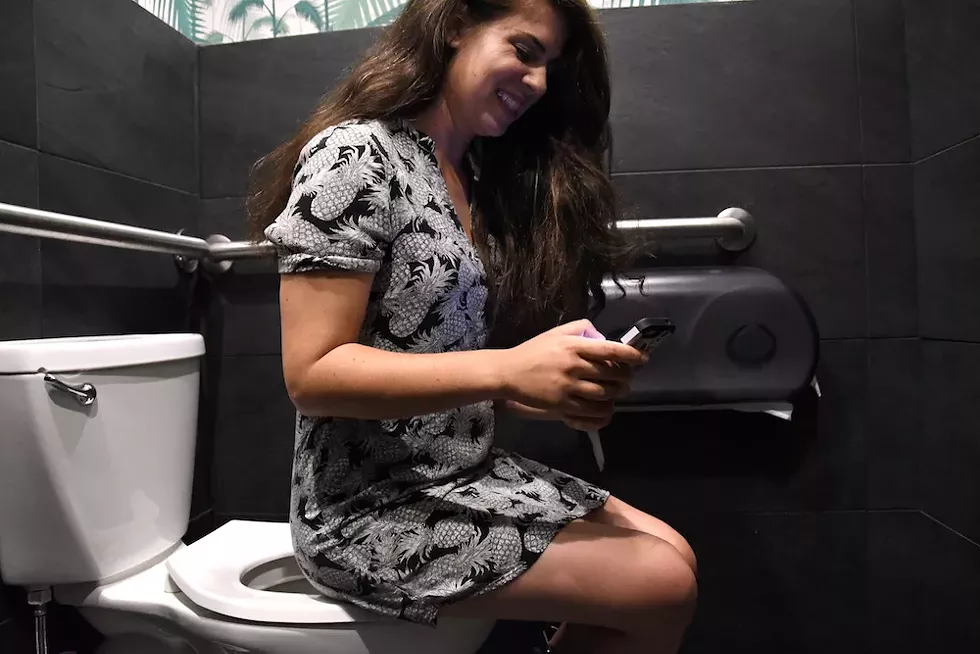 Her semi-regular outings now take place every month or two, but the idea behind presenting free toilet tours was born accidentally, springing out of a photo folder on her phone.
"It was a thing that kept happening when I was in bathrooms: I wanted to take photos of things, so I just started a weird folder on my phone that I always joked I would do something with," Hardt says. "And after making this joke for, like, six months, my friends encouraged me to actually make it into a thing."
But it's not exactly the type of toilet tour that you might expect – she doesn't drag fans from place to place just to poke their heads inside random restrooms – which, frankly, doesn't sound all that appealing considering the hazards that come with the territory. Really, it's more about finding an excuse to get to the restrooms once you're there – and by that we mean she and her @theshittybeautiful fans are pretty much just out to drink and be merry.
After all, is there no greater common denominator between us than nature's call?
"Orlando's great about having locally owned businesses and I think any time you can support that in your community, you're making your community a better place," Hardt says. "A lot of times when we do these tours, you might have been to one or two of the places, but there's a lot of places you haven't been to and you might find your new favorite bar, or you might just make some new friends – which is also good."
She continues: "I've definitely found some gems that I didn't know existed from doing research for the toilet tours, and I'd love to pass that on to other people."
So what makes for the best sort of public restroom? Let's take it from Hardt.
In the opinion of this bathroom bon vivant, there are two vital qualities when it comes to ranking the most lavish lavatories: cleanliness and appearance.
Sorted into two categories – the shitty and the beautiful – here are Hardt's 10 current favorite bathrooms in Orlando. (She means "shitty" in a good way, of course, because you can't appreciate the shitty without the beautiful, at least not in the City Beautiful.)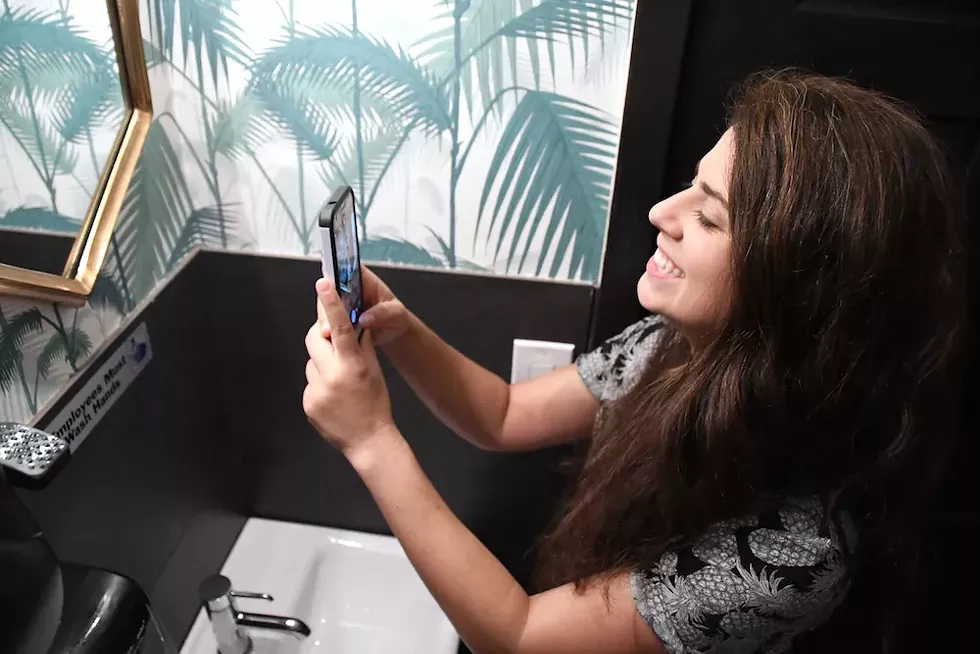 The Shitty
Will's Pub
Hardt says her favorite thing about the bathrooms inside Will's Pub is that they are so different every time you walk in, whether for better or worse – but that usually means something along the lines of new graffiti, stickers, etc. The bathrooms match the pub: punk rock, full of personality, one of a kind.
Stardust Video & Coffee
Similar to Will's, the bathroom walls of Stardust are an ever-changing landscape. They were smart enough to put clipboards on the walls for people to write and draw on, which makes the graffiti appear more artistic and intentional than it might seem otherwise. Her favorite part is the graffiti all over the baby-changing station, which seems to label this as a bathroom for cool parents only.
Tanqueray's
OK, so this bathroom isn't always at its cleanliest. In fact, it's usually pretty raunchy. However, what it lacks in cleanliness it makes up for in personality. Tanqueray's is a basement bar, which is already unique for Orlando, and to get to the bathrooms you have to walk up a few steps. That sounds easy enough, but Tanqueray's bartenders are pretty heavy-handed, so the stairs get exponentially more challenging throughout the night. Those factors do equate to the perfect formula when it comes to making friends while standing in line, though.
The Lucky Lure
Decked out with unpainted particleboard walls – and quippy signs with sayings like, "Save the Earth, it's the only planet with beer!" – the bathroom fits the vibe of the bar flawlessly: divey, grungy, beachy. There's also a very convenient shelf all around the perimeter on which to rest your beer, if the occasion calls for it.
Sportstown
There are multiple bathrooms here, but in this case, Hardt's specifically referring to the unisex one hidden in the corner. Finding this bathroom is an adventure in itself, but it usually smells better than others – so it's worth the search. Once there, you'll notice the eclectic paintings, including a cute yet terrifying cat portrait right above the toilet. It's also the only place where she's noticed ashtrays in the bathrooms, which could be a positive or a negative depending on who you are. Looking beyond these flourishes, the sink is surprisingly fancy, with a beautiful floral backsplash.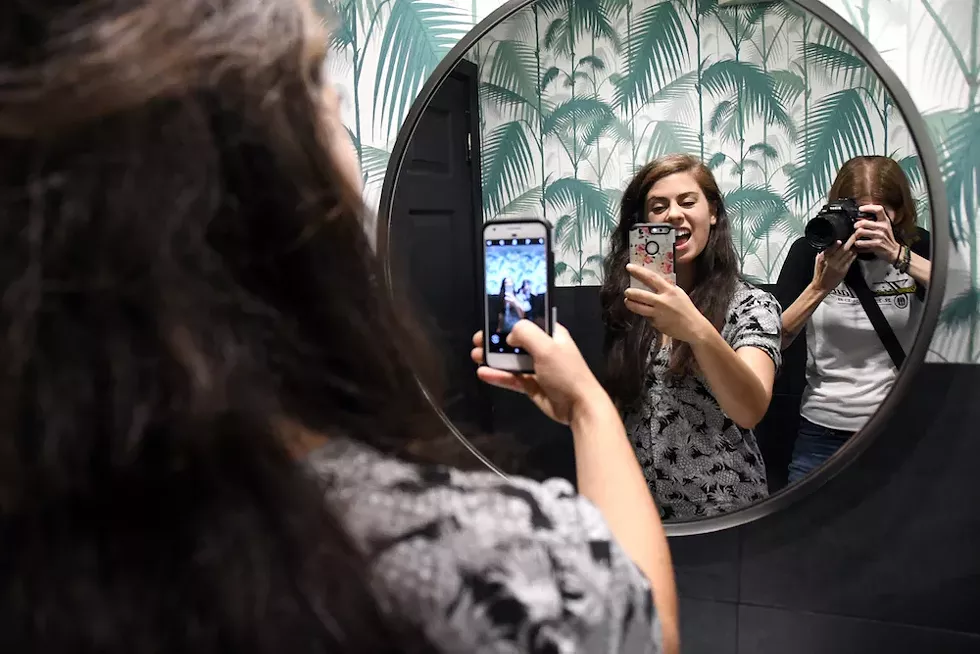 The Beautiful
The Guesthouse
Everything in these bathrooms is uber hip, which makes sense: The Guesthouse is definitely one of the most Instagrammed bars in town. But the palm tree-patterned wallpaper is what really sells it, making it oh so Florida. It's Hardt's favorite bathroom for a good mirror selfie, she says.
Collective Kindness
It's technically a boutique in Oakland, Florida, not an Orlando bar – but this one needs to be included, Hardt says. You can tell a lot of thought and love went into every inch of the new Collective Kindness home, and it doesn't start and end in the bathroom. From the hand-stenciled floor to the hand-painted walls by Jessa Bray, this bathroom is simultaneously chic and unique.
Tap & Grind
A hidden gem (and a 2016 Best of Orlando Writer's Pick winner) where the walls are covered in a beautiful tile mosaic. But the coolest part is the black light paintings, Hardt says enthusiastically – when you turn off the lights, you get a whole different bathroom experience. It's also usually super clean, which is a good thing because black lights aren't very forgiving.
The Glass Knife
The little details make this one incredible: live plants, eye-catching wall designs and excellent lighting. It feels like a bathroom at Walt Disney World without the high admission cost.
Harriett's Lounge at the Dr. Phillips Center
Named after one of Orlando's coolest philanthropists, the legendary Harriett Lake, this is the classiest bathroom in Orlando. All of the bathrooms are amazing at the Dr. Phillips Center, but this lounge, located on the first floor, is the definition of perfection. There are chandeliers, love seats, giant mirrors, the most perfect lighting for your selfie needs and – Hardt's favorite part – purse hooks by the sinks. Consider it a huge deal. Hardt says she never knew she needed hooks by the sink, and now she's pretty much forever spoiled.