Page 3 of 3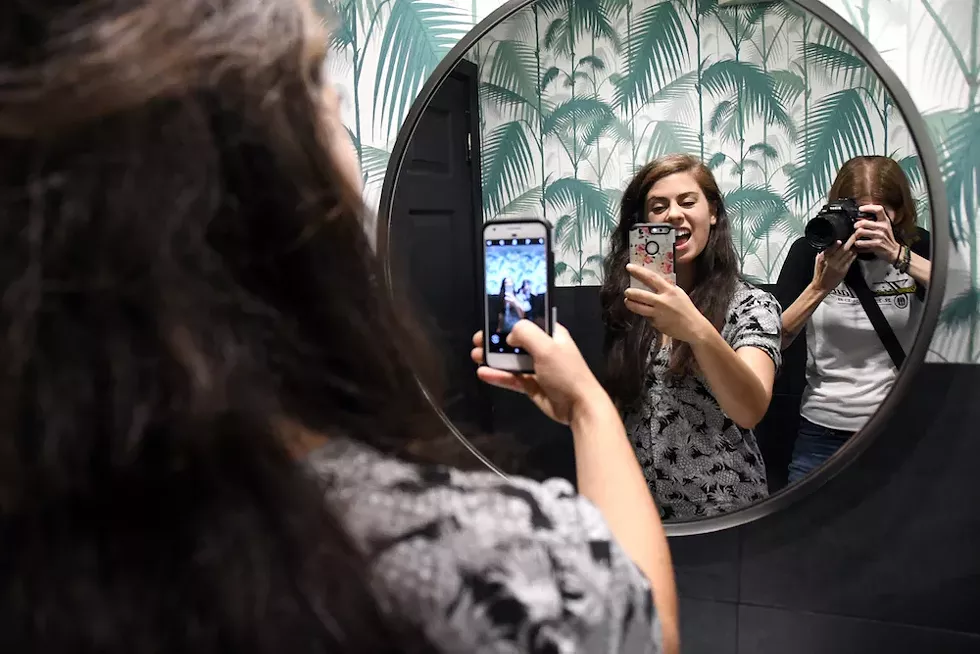 The Beautiful
The Guesthouse
Everything in these bathrooms is uber hip, which makes sense: The Guesthouse is definitely one of the most Instagrammed bars in town. But the palm tree-patterned wallpaper is what really sells it, making it oh so Florida. It's Hardt's favorite bathroom for a good mirror selfie, she says.
Collective Kindness
It's technically a boutique in Oakland, Florida, not an Orlando bar – but this one needs to be included, Hardt says. You can tell a lot of thought and love went into every inch of the new Collective Kindness home, and it doesn't start and end in the bathroom. From the hand-stenciled floor to the hand-painted walls by Jessa Bray, this bathroom is simultaneously chic and unique.
Tap & Grind
A hidden gem (and a 2016 Best of Orlando Writer's Pick winner) where the walls are covered in a beautiful tile mosaic. But the coolest part is the black light paintings, Hardt says enthusiastically – when you turn off the lights, you get a whole different bathroom experience. It's also usually super clean, which is a good thing because black lights aren't very forgiving.
The Glass Knife
The little details make this one incredible: live plants, eye-catching wall designs and excellent lighting. It feels like a bathroom at Walt Disney World without the high admission cost.
Harriett's Lounge at the Dr. Phillips Center
Named after one of Orlando's coolest philanthropists, the legendary Harriett Lake, this is the classiest bathroom in Orlando. All of the bathrooms are amazing at the Dr. Phillips Center, but this lounge, located on the first floor, is the definition of perfection. There are chandeliers, love seats, giant mirrors, the most perfect lighting for your selfie needs and – Hardt's favorite part – purse hooks by the sinks. Consider it a huge deal. Hardt says she never knew she needed hooks by the sink, and now she's pretty much forever spoiled.