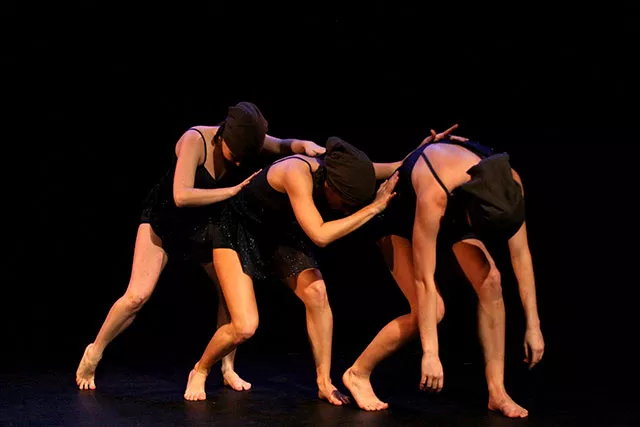 Photo by Tisse Mallon
EMOTIONS DANCE COMPANY PRESENTS 'UNTOLD STORIES'
If your preferred mode of artistic expression involves broadly smiling ingenues in tutus twirling carefree in romantic twosomes, Central Florida has plenty of theme park productions and dance companies ready to please you. But if choreography that comes from darker corners is more your cup of tea, check out Orlando's Emotions Dance Company. Abuse, illness, isolation and instability are just some of the serious subjects addressed by choreographer-producer Larissa Humiston and her corps of classically trained contemporary dancers.
Following last Friday's opening performance of Untold Stories, Emotions Dance Company's most recent show at Orlando Repertory Theatre, I sat down with Humiston to discuss the pathologies that prompt many of her movement pieces. "Untold Stories is inspired by my work as a therapist during the day," Humiston tells me. "It's things that happen every day that are difficult subject matter for people to talk about, so I wanted to tell the story. I want to inspire dialogue and hopefully change." Her choreographic inspiration comes from multiple sources: "Some of it is personal; some of it is stuff from my dancers; some is from my own personal experience with my clients."
However twisted her chosen topic, Humiston's method of making dance often begins with music. "My process is always:
I find a piece of music, and the music then helps dictate the movement for me. So I have the general idea but my process is very organic. I don't come into rehearsal with any preconceived notions of what I want … I see what the dancers are thinking and feeling, and I pull it all together and we tweak it, so it's more of a collaborative process."
When I ask her to detail that process, Humiston begins with the songs that propel her work. Much of the time, Humiston's muses are film composers, such as Ludovico Einaudi (Enlightened, This Is England) and Ramin Djawadi (Game of Thrones, Pacific Rim). "I think the reason I'm drawn to soundtrack music is because it actually has a story within the piece," she says. "Some pieces of music are saying something, but it's all one level. I find with soundtrack music, it starts off and then it build[s] and finishes, so that actually helps me tell the story a little bit more. But really, sometimes I'm just on the treadmill at the gym and I hear a song and I'm like, 'What is that? That sounds great!' And I see movement to it."
One of the more intimate pieces in Emotions' most recent production was "The Letter," which revolved around the reading of a suicide note. Humiston's inspiration "was actually my really good friend in college, that was the note he left me. I tweaked it – it wasn't the whole letter because there were some personal things there. But that was really kind of one of those things for me that was like 'my story.' And when I was creating that, it was the idea that he was in pain, but that he still missed me. So [dancer Megan Killer's] movements, she kept kind of going back to the grieving person [dancer Lorien McDavid], but then left again. At least I think that that's what he was struggling with. … And so that piece is really close to me."
On a less terminal note, the second-act opener, "We Will Prevail," emphasized strength and unity in fighting cancer. "I just know so many people who have struggled with all sorts of cancer," explains Humiston. "I used to work at hospice, and I ran a support group for those who are going through cancer. It was just really, really touching to me; it's something that I see all the time, so it was really important to me in that piece to show hope, and show support of each other. So there was a lot of connection with the dancers."
I appreciate the artistry and athleticism of Emotions' dancers (especially the powerful and versatile Taylor Shepherd), and would love to see Humiston create a cohesively integrated full-length work – as opposed to this series of short scenes separated by silent blackouts – to stretch their skills. If you want to financially support Emotions' steps toward that aim, a fundraising benefit is coming up: Flash and Lights Cocktail Benefit, 6 p.m. Saturday, March 22, at the Venue.
"It's hard when you're doing a show like this, because these are tough subjects," concludes Humiston. "But my ultimate message is of hope. Again, if we can draw more attention to these types of things, then I hope that we can change them, so that they're not these 'untold' things anymore."