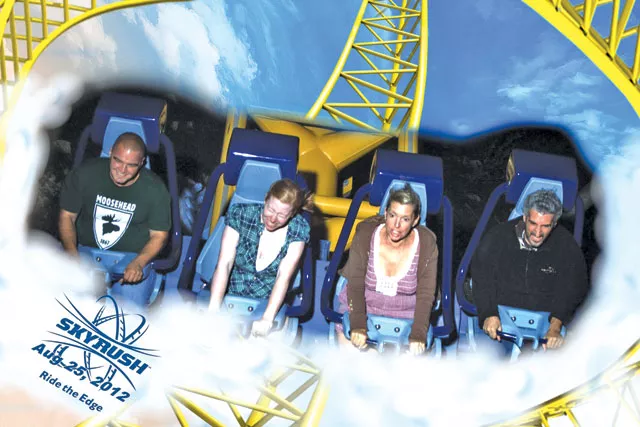 A two-week birthday road trip spent traveling the Northeast, from the Precambrian Gardens of Val-David (a fascinating forest full of found-object sculptures, hidden in the mountains an hour north of Montreal) to NYC's Chelsea Market (a foodie paradise; see my photo gallery on the Culture 2 Go blog) to the funky fringes of Philadelphia, exposed how enormous the cultural world is outside the Orlando bubble.
The eternal siren song of that greener grass seems to grab another member of our artistic community daily; Shannon Lacek, late of the Orlando Shakes, is the latest to leave. Still, each time I'm away, I'm reminded of the unique attributes that make our city livable. Topping the list: Orlando's talented performers. Less than 24 hours after landing at MCO, I was happily sardined into a standing-room-only audience for Sentimental Journey, Natalie Cordone's newest cabaret at the Winter Park Playhouse. With a set list of classics suggested by her audience ("At Last," "Whatever Lola Wants," "You Make Me Feel So Young") and touching between-song love stories, Cordone's serenade made for a perfect homecoming. Ironically, it also leads to another departure, as Natalie and her duet partner, Shawn Kilgore, will be taking their act on tour to New York cabaret bar Don't Tell Mama Oct. 8.
But more than any theatrical venue or art gallery, the attractions that lure me back to Orlando are themed. Whenever possible, I try to visit amusement parks outside the Disney/Universal orbit. Sometimes, as when I enjoyed Pennsylvania's Knoebels Grove, that effort is rewarded with positive insights. This trip, I had an opposite eye-opening experience. In fact, thanks to the newest mega-coaster at Hersheypark, I had what you might call a religious conversion. Skyrush accomplished what no other thrill ride has done before: It made this secular semi-agnostic Jew pray fervently to a brand-new God, one named "OH-MY-JESUS-EFFING-OW-IT-HURTS-MAKE-IT-STOP-CHRIST!"
Let's start with the good stuff. Hersheypark has some beautiful landscaping and vintage attractions, like the lovingly restored Comet wooden coaster, and if you arrive in the late afternoon you can buy a "sunset ticket" for less than $30. (Are you listening, Mickey?) The park has also invested heavily in the kind of intimidating "big iron" usually associated with Six Flags.
At 200 feet high with a top speed of 75 miles per hour, Hershey's newest monster, Skyrush, is only statistically outmatched in the region by Six Flags Great Adventure's Kingda Ka and Nitro. And even if it isn't the tallest or swiftest, Skyrush's unusual wing-style seating – outside seats in each four-passenger row are suspended alongside the track, with nothing above or below riders – made it this season's must-see on every East Coast coaster junkie's bucket list.
Unfortunately for thrill-seekers like myself, Hershey has invested their capital in steel structures and advertising, while cutting corners on niceties like employee training and guest comfort. As I got in line, I was apathetically informed that one of the ride's two trains was broken (apparently no one remembered to buy a spare), so the wait was estimated to be two hours. It turned out to be slightly less than that, because about an hour later, the ride stopped working altogether for roughly 30 minutes, prompting half of those queued ahead of me to abandon ship. That's more than twice as long as I'd ever wait for an Orlando E-Ticket; even Disneyland's über-popular new Cars Land boasts shorter waits.
At the end of that wait was the most painful and terrifying 70 seconds of my life. A well-designed ride uses centrifugal force and ergonomic restraints to prevent you from flying to your death. Skyrush's over-banked hills generate substantial "ejector air" negative G-forces, but the minimally padded lap bars (no over-the-shoulder restraints) viciously pinch your thighs just below the crotch, instead of resting on your pelvis.
The resulting experience, which felt like being a rag doll in the grip of Godzilla, is something I'll never subject myself to again. I've voluntarily re-ridden many infamously painful rides, from Vegas' Manhattan Express to Busch Gardens Williamsburg's long-defunct Drachen Fire, but I was so scarred by Skyrush that I had to buy the souvenir photo, just to have documentation of my agony. Now excuse me while I go ride the Incredible Hulk a few times to relax.