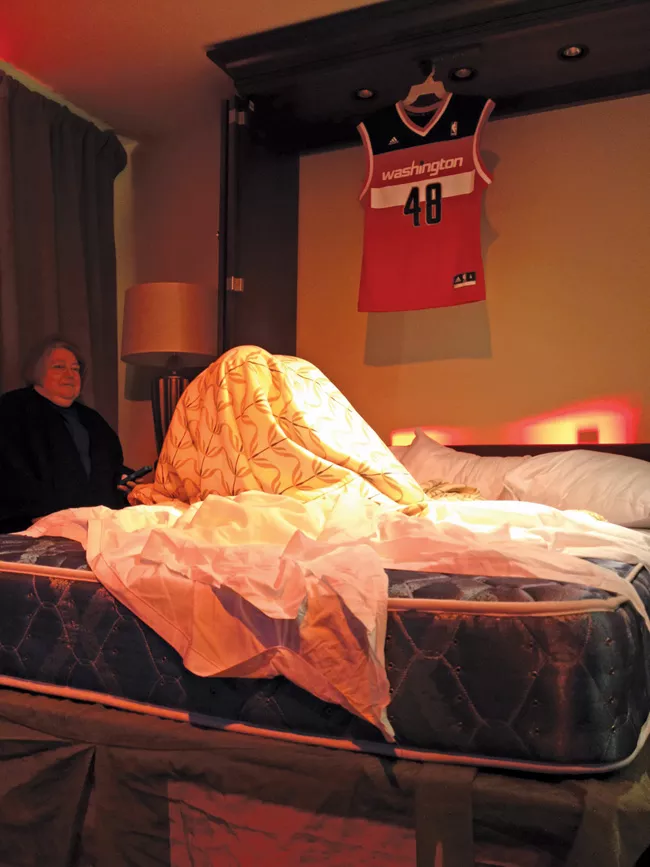 In this week's column, it's my sadduty to do something I never thought I'd have to – bid adieu to Brian Feldman. It's been more than half a decade since I first encountered Orlando's most original performance artist staging surreal anti-shows starring his equally eccentric family members. His escapades over the years – from falling off ladders and gorging on vegan Vietnamese to reading on the library roof and crawling inside a skill crane – have consistently charmed (and frequently confused) me with their inspiring "anything can happen in Orlando" attitude. Our city will undoubtedly be poorer without Feldman's world-class weirdness.
Alas, the siren song of our nation's capital is luring Feldman away from us. No doubt we'll soon see him again on CNN, pillow-fighting the president on the White House lawn. But naturally, he couldn't leave without a flurry of farewell performances. Brian's bon voyage week began Feb. 3 with his final local marathon show, #48hrYardSale. Just as the title implied, Feldman spent a full two days, from noon Friday through noon Sunday, selling his stuff on the lawn of a private home near the Shakes (coincidentally, once owned by John and Rita Lowndes). The motto: "Everything must go, even Brian Feldman."
I checked in on the yard sale around midnight of the first evening. Feldman was still fairly fresh, though famished enough to appreciate the onion rings I brought from Steak 'n Shake. There were only a couple other shoppers sorting through Brian's detritus at that hour. The serious yard-sale scavengers had apparently circled all morning and picked the place over by early afternoon. Amazingly, they had left the collection of ALF dolls untouched. Hannah Miller (whom you may remember as Brian's protest-wife) was also there, and made an amazing archeological discovery: a journal from 1990 in which 10-year-old Brian wrote sci-fi stories. I suspect it will show up someday in a spoken-word event at Urban ReThink.
I did snag some vintage vinyl records, a Splash Mountain poster and a spiffy set of Mickey Mouse bedsheets, obscenely overpaying by secondhand standards in order to support Feldman's relocation. But I lost out on his best Disney ephemera by mere minutes to Emily Woesthoff, general manager of the Babycakes NYC vegan bakery in Downtown Disney and possibly a bigger park nerd than myself.
I missed the "birthday" party Feldman threw at SAK Comedy Lab on Tuesday night to celebrate the one-year anniversary of his Skill Crane Kid performance. But I did make it to a different party: a surprise farewell at Stardust Video & Coffee, one of Brian's frequent haunts. The cryptic invitation came in the form of a press release for an "Unconference" discussion on the state of the arts, supposedly sponsored by Portland, Ore.'s Tribute Gallery. That turned out to be an elaborate feint (devised to keep the party a secret) by Brian's girlfriend, Sultana Ali, whose relocation to Washington, D.C., last year is the impetus behind Brian's current move. Feldman's family and well-wishers (including former Orange County Commissioner Bill Segal) showed up to toast him with tater tots. The universally repeated sentiment: Washington doesn't know what's coming.
It isn't often I go to Orlando International Airport without getting on or off a plane, but again, anything for Feldman. His final planned Orlando appearance was Saturday night's three performances of Under the Covers at the airport Hyatt. Or, should I say, non-appearance, as the show consisted of Brian in a hotel bed, singing audience-requested songs while writhing beneath the sheets like a hyperactive shmoo.
I attended the 6:30 p.m. show, and arrived at the hotel to find Brian's swanky balcony suite decked out with a formally attired bartender serving beer and color-changing lights that could be seen from the airport security concourse. A tuxedoed Steve Merritt tickled the ivories through an eclectic 45-minute set that ranged from "Working in a Coal Mine" (requested by writer Al Pergande) to "Right Here Waiting" (for his mom). Feldman fulfilled both my musical requests ("The Tiki Tiki Tiki Room" and "Great Big Beautiful Tomorrow" by the Sherman brothers), then emerged after the show wrapped in a sweaty bedsheet for final farewells.
As we exited, I chatted with the elderly couple who sat in front of me. It was their first-ever experience with United Arts' ArtsFest (which sponsored free tickets to the show), and they had no prior preparation for Brian's brand of bizarreness. "I figured either he was a dwarf, or has a unique sense of humor," remarked the gentleman as they shuffled away. I couldn't compose a better epitaph for one of Orlando's most unique arts exports. Good luck, D.C.!