In his own time, Charles Dickens wasn't the universally acknowledged master of English literature we think of today, but a struggling scribe pounding out serialized stories for a penny a word (not far off from today's newspaper pay scale). In 1843 a deeply indebted Dickens scribbled out his now classic A Christmas Carol, teaching all artists an essential lesson: Christmas = cash. Flash-forward 165 years, and you'll find our local theaters brimming with yuletide yarns. Before the secular humanists cry "bah humbug," remember that this annual ritual is an important element in many a nonprofit's ongoing battle to drive a stake of holly through the hearts of the ghosts of expenses past, present and future.
Unfortunately, with an overflowing cornucopia of seasonal shows this year, there's no way to cover them adequately (at least not without driving a sharpened candy cane into my medulla oblongata). In the coming weeks, watch for full reviews of some Noel notables — including stage adaptations of the Jean Shepherd film A Christmas Story at both Orlando Repertory Theatre and Gramercy Theatre Company, and Orlando Shakespeare Festival's revival of The Trial of Ebenezer Scrooge. In the meantime, here's a preview of some of the theatrical holiday happenings.
Let's start with the 800-pound reindeer of holiday theater, A Christmas Carol. Orlando, like nearly every town in the nation, boasts multiple versions of this beloved chestnut. If you are looking for a traditional, family-oriented evening with old Ebenezer, you can't go wrong with Theatre Downtown's perennial production. Dean Walkuski reprises the role of Scrooge in Christopher Rohner's faithful adaptation, under the direction of Frank Hilgenberg (look for his habitual hobo cameo). Since the cast and creative crew are largely unchanged, feel free to dig up my thumbs-up review from last year's Dec. 6 issue. (through Dec. 21; $18; 407-841-0083; theatredowntown.net)
If you're in the mood for a slightly more intimate (but equally long-running) Carol, David A. McElroy's one-man production may be the ticket. McElroy's self-penned adaptation, directed by Marylin McGinnis and produced through their Southern Winds Theatre, has been seen all over the region for the past 11 years. This season it settles in at Seminole Community College for a short one-weekend run. Thirty-seven different roles, from Jacob Marley to Tiny Tim, are essayed single-handedly by McElroy; no promises that it will "engage" as much as Patrick Stewart's celebrated solo show, but at least no one will shout "make it so" from the cheap seats. (Dec. 4-7; $12; 407-708-2040; www.southernwindstheatre.com)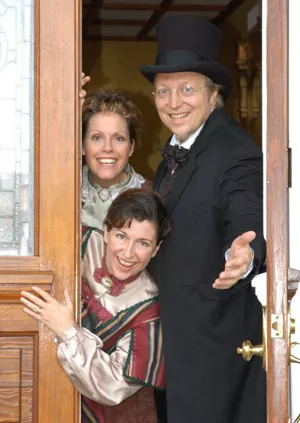 A third opportunity for Dickensian delight comes courtesy of Terry Olson and Robin Olson, aka RS&C Productions. Terry is best-known as the director of Orange County Arts & Cultural Affairs, and Robin is a familiar face on the stages at Mad Cow and the Rep; their annual Dickens by Candlelight: A Christmas Carol is a rare opportunity to watch the arts power-couple perform together. After a one-season hiatus, this three-performer presentation has returned for an 11th outing with SAK co-founder Morgan Russell rounding out the cast. You can experience this interactive ghost-story gloss on the classic with limited lighting and home-baked goodies at either downtown's CityArts Factory (Dec. 21-23; $40; tickets at www.redchairproject.com) or the newly restored Athens Theatre in DeLand (Dec. 17-20; $40; 386-736-7456; dickensbycandlelight.com)
Finally, this weekend is the last chance to catch a holiday perennial not written by a Victorian Brit. A Wonderful Life, the 1986 musical adaptation of Frank Capra's film classic (minus the "It's a"), features book and lyrics by Sheldon Harnick and songs by Joe Raposo of Sesame Street fame. In 2005 it received a one-performance-only Broadway outing with Brian Stokes Mitchell and David Hyde Pierce. In Mount Dora, the IceHouse Theatre's cast includes Kevin Rainsberger as the genial George Bailey and Mike Funaro as his guardian angel, Clarence. Don't let the drive dissuade you from checking it out. (through Dec. 7; $20; 352-383-4616; icehousetheatre.com).
P.S. To fellow members of the tribe: The Feldmans are taking a break from their Feldman Dynamic dinner show, but Brian Feldman is seeking a sponsor with a spare RV for his magical mystery tour, Chanukah in Christmas, Fla. (Dec. 21-28; locations TBA; brianfeldman.com). Chag sameach!