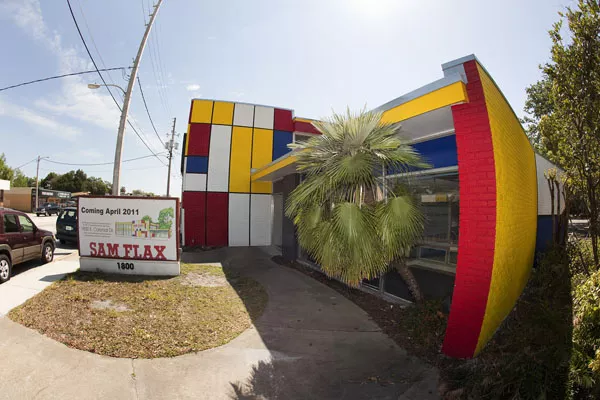 Photo by Aldrin Capulong
Hip to be square - Sam Flax Art and Design's new building is painted in homage to Piet Mondrian
Even on its prettiest day, the streetscape along East Colonial Drive is pretty bleak. Once you leave the little enclave of Asian markets and Vietnamese restaurants that make up Orlando's Little Saigon, there's not much to look at, much less be inspired by, until you hit the beach. (Or, depending on your aesthetic interests, until you get to where Colonial intersects with Semoran Boulevard and the screaming pink building that is Mister Sisters comes into view.)
But something about a nondescript, vacant office building that used to house a furniture store just east of Fern Creek on Colonial caught the eye of Michael Pendleton last year. "When I first saw this place, I just kept looking at the building," says Pendleton, general manager of Sam Flax Art and Design, an art supply store that's been doing business in Orlando since 1986. "It was just a white-grayish color, concrete." But the building's straight, minimal lines and the rectangular shapes sculpted into its facade reminded him of a painting by Piet Mondrian, the contemporary artist whose primary-colored grid-style paintings have inspired everything from mod miniskirts to modern furniture to Nike sneakers.
Sam Flax had long ago maxed out its retail space at 1401 E. Colonial Drive, just a few blocks away, Pendleton says; for years the business has had to rent warehouse space to store its inventory. Pendleton and store co-owner David Flax had been looking for a way to expand, and Pendleton says that when they saw the space at 1800 E. Colonial Drive, former home of World Imports Half Price Furniture, its mid-century features and formal exterior appealed to them.
"It was built in 1959, and it still has that flair," Pendleton says, pointing out the floating staircase in the center of the main floor, the street-level sunken display areas and the nearly 
mint-condition decorative tile mosaic work.
The building's sprawling space (at some 16,000 square feet, it's double the area of the current Sam Flax retail location) meant the store could not only expand its retail offerings - furniture, paint, canvases, framing, gifts - but also bring the warehouse on location and still have room for art classes and demonstrations.
At the end of December, they signed a lease to rent and renovate the space. Pendleton says he sat down with some paper, sketched out what they wanted done to the building and they hired Metro Finishes Art & Design, run by local artists Charles Marklin and Andrew Spear, to adorn the building with the reds, yellows, whites and blues that are hallmark Mondrian.
The theme carries over inside, where on a recent afternoon store employees - many of whom are also artists - are rolling primary colors onto grid patterns on the floors.
"I'm not a big modern art fan, but there's just something so basic about Mondrian," Pendleton says, watching his step to avoid trampling through wet paint. "And we want to be colorful and eye-catching and fun. And we want people to be able to find us."
The goal, he says, is to be in the new space by April 27 for a soft opening and ready for a grand opening the first week in May. If they can get all the finish work done in time, that is.
"I found out it's a lot harder than I thought," he says of imitating Mondrian's style. "It's not really just laying down solid colors next to one another. I don't think people realize how much work goes into what he was doing. It's like, if you decided to just go out and do a Pollock. It would be a lot harder than you'd think."