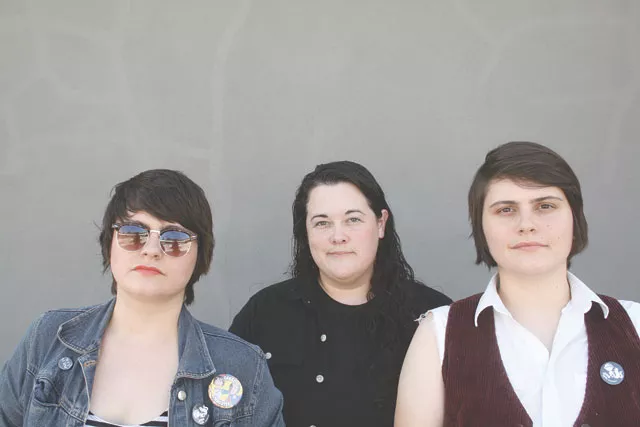 As their band name suggests, Orlando punk band Wet Nurse is all about supporting ladies in need. First, they lent their talents to last summer's successful Rock 'n' Roll Camp for Girls, playing a show for the young'uns and answering their most ardent questions about developing and honing their music abilities. And now, they're using their powers of rock to properly celebrate the 40th anniversary of Roe v. Wade, the contentious Supreme Court decision that bestowed upon women the right to privacy when making medical choices and overrode existing anti-abortion laws.
Wet Nurse will perform at Rock 'n' Roe, a benefit concert put on by Planned Parenthood of Greater Orlando that will be held at the musically underutilized local spot known simply as the Venue. In addition to Wet Nurse's set, there will be performances by the Grizzly Atoms and the Getbye, along with remarks about Roe v. Wade delivered by the Rev. Kathy Schmitz of First Unitarian Church of Orlando, Joyce Hamilton Henry of the American Civil Liberties Union and former Congresswoman Patricia Schroeder, who was the first woman to be elected to Congress from the state of Colorado.
"I really believe it's very important that women have the right to choose, and … we're all pretty excited that we have this right now, but it's always on the fence, every election, it could be taken away," says Nina Chaplin, Wet Nurse guitarist-vocalist. "So, we're just really happy that it's not in danger, and we want to celebrate it, just because we know that it's a really fragile thing that could go away. It almost did. We're really thankful that we still have the right to choose."
Wet Nurse, which also includes Susana Chaplin (on bass and vocals) and drummer Vanessa Brewster, is not exactly known for being overly political in their songwriting. Lyrics from the title track of their 2012 album Daily Whatever liken life to a mess and a jigsaw puzzle and include 'fessing up to not always saying the right thing – but when it comes to the issues, Nina says they're always ready to speak up or lend their band's music to promote a worthy message or support a noble cause. This was the case when organizers from Planned Parenthood invited them to participate in the benefit.
"Our music isn't, like, super political," Nina says. "It's not all about the cause or anything. But we do have stuff to say about the issue, and our music might just be about being a girl or hanging out with your friends or getting into relationship issues, but I'm glad that we can be a part of this event and put our two cents in."
So, while pro-lifers march on Washington for yet another year, local pro-choicers can join PPGO supporters like Wet Nurse in toasting, long live Roe v. Wade.
"We're one of the only all-female bands in Orlando," Nina says. "And I feel like we can get a lot of people out and help spread the message."
ROCK 'N' ROE
6:30 p.m. Thursday, Jan. 24
The Venue
511 Virginia Drive
407-412-6895
ppgo.org/rocknroe
$15-20