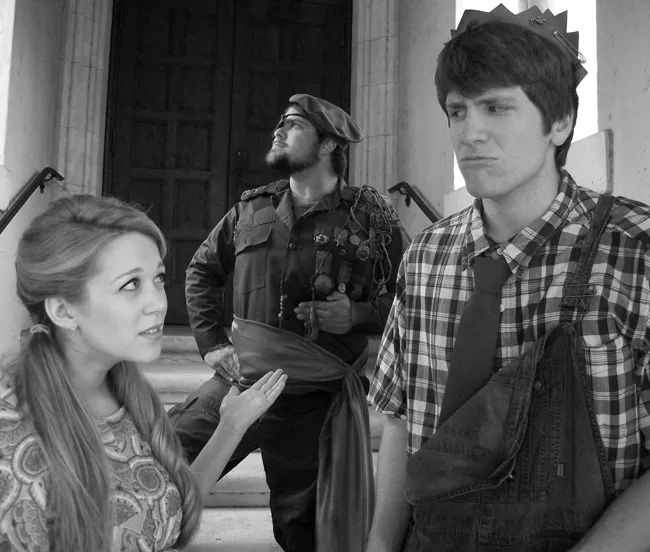 Love's Labour's Lost
through April 28
Annie Russell Theatre, Rollins College
1000 Holt Ave., Winter Park
407-646-2145
rollins.edu/annierussell
$20
Next time you're picking up produce at the weekly Winter Park farmers market, step inside and sneak past the bread vendor. Down a narrow hallway, you'll discover a diminutive but delightful museum documenting Winter Park's history. The current exhibit features photographs from the 1960s, when the peace-and-love generation paraded down Park Avenue. Director Eric Zivot has managed to evoke some of the fashion and passion of that era in Rollins College's groovy new production of Shakespeare's Love's Labour's Lost.
Ferdinand (Matt Striegel) is lord of Navarre, which bears a suspicious similarity to a certain small Central Florida school. He talks his pals Longaville (Tuquan Smith), Dumaine (Peter Ruiz) and Berowne (Brian Hatch) into forswearing women for three years in favor of solemn academic study, and bans women from his grounds. The Princess of France (Kaitlyn Schirard) appears to parley with Ferdinand, with her wooable attendants Maria (Emily Steward), Katharine (Shannon Lynch) and Rosaline (Jaz Zepatos) in tow. Naturally, the boys each fall in love, and have to don silly disguises to circumvent their vows.
Simultaneously, stumbling Spaniard Don Armado (Ryan Bathurst) is aided by jovial jughead Costard (Ryan Lambert) and Little Leaguer pageboy Moth (Anastasia Herbert) in his pursuit of Jaquenetta (Stephane Leone), a Daisy Duke coquette whose every entrance cues a clip of "Whatever Lola Wants." The final strand involves hippie Holofernes (Ricci Prioletti) and square Sir Nathaniel (Chris Sutter), two schoolteachers who snack on space cakes and corral corpulent cop Dull (Matt Hendry) into performing a play-ending pageant. This is a comedy because none of the leads die at the end, but unusually for a Shakespeare comedy there's no wedding either.
Zivot, a veteran of Mad Cow and Orlando Shakes, said at last Sunday's post-performance talkback that the mid-60s had a "magic quality" that made it "pretty easy" to adapt his production to the time period "from Camelot to Woodstock." Indeed, Bill S. helped out by seeding a Stones reference in the script. Hendrix sets the sonic stage before the curtain rises, and imagery of the age is apparent from the opening Abbey Road homage. Wayne Fowks' mod costumes and Holly Stallard's trippy lighting (complete with digitally rear-projected backdrops) really make the scene, man.
Concept aside, Shakespearean success lies with the acting, and this cast's efforts greatly exceeded my expectations for undergraduates. Almost without exception, the ensemble handles the difficult language with deftness belying their ages. Hatch (looking like Brian Jones circa '66) is the clear star as Berowne, dynamically delivering the bulk of the show's soliloquies, dancing on the edge of "over the top" without tumbling. Chelsea Swearingen also stands out as Boyet, the Princess's hard-nosed helpmeet, as do Lambert and Zepatos as the foolish foil and female co-lead.
A few missteps keep this production from achieving its full potential. Zivot cut almost a third of the text, but even at an hour shorter it still sometimes feels slow and lacking in comic snap. The cuts also muddy the dramatic arc, leaving us with four pairs of dueling protagonists, and no identifiable antagonist other than the characters' own arrogance. The weighty issues of the '60s unfortunately never intrude, aside from a hint of feminism in some cross-gendered casting. Attiring Don Armado as Fidel Castro on "Dress Like a Pirate Day" may have been intended to evoke the Cuban missile crisis, but his overly broad buffoonery quickly became boring. And while Herbert has a fine voice, the two songs she sings stop the show's momentum cold.
Though I may not have laughed quite as hard as I'd hoped, overall I'd say these students' labors were far from lost.