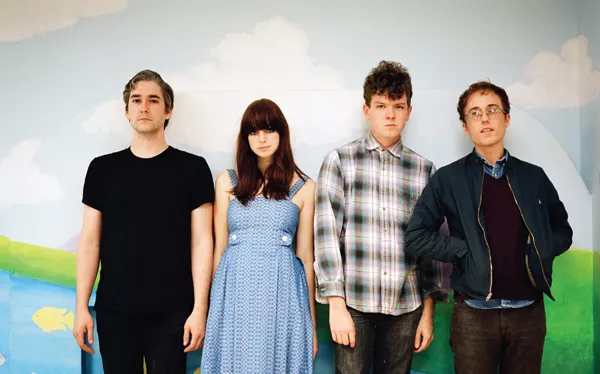 Ringo Deathstarr
with Fever, Alias Punch
9 p.m. Saturday, July 9
Will's Pub,
407-898-5070
willspub.org
$5
Despite their provenance, Austin, Texas' Ringo Deathstarr is one of today's purest reincarnations of shoegaze's origins. Among the surfers of the radiant neo-shoegaze wave, they're among the revival's strictest constructionists. From this debut album's cover art, its British title and even the fact that they're making inroads in their native indie scene via heavy U.K. buzz, this is a band of specific inspiration.
Indeed, Colour Trip plays like a greatest hits of the dawn of the '90s. Between the Ride-taking mist of "Two Girls," the gauzy My Bloody Valentine cotton of "Day Dreamy," the Lush-esque dream-pop swirls of "Imagine Hearts" and the copious Jesus & Mary Chain nods throughout, this album packs all the haze, swerve and fuzz a gaze-head could ever want. Say what you will about the creative merit of such direct rendition, but Ringo Deathstarr draws lovingly from such a rich well of distortion-pedal heaven that this record very nearly blinds with golden-era brilliance.
All of the album's highlights are bathed in the warm, wooly glow of yesteryear. "Tambourine Girl" is essentially a head-on collision between MBV and the Mary Chain, while the alt-romance of "Kaleidoscope" is wrapped in the kind of swooning corrosion that would make even Yuck jealous. Amid the victorious fuzz of "Do It Every Time," guitarist Elliott Frazier finds his best William Reid voice and bassist Alex Gehring flanks him like Sister Vanilla. Whether it's barreling through a windstorm ("Never Drive") or reaching for the spires ("You Don't Listen"), Colour Trip is an awfully lovely ride.
At its core, Ringo Deathstarr (who plays here a week after headlining Shea Stadium) is a pop band, and therefore glides on the sweeter edge of the storm. Even with the bent, swerving drones and lusty feedback, their melody-forward outlook is steadfast. It's as literal of an interpretation as they come, but it's one of the more immediately gorgeous captures of near-term nostalgia.