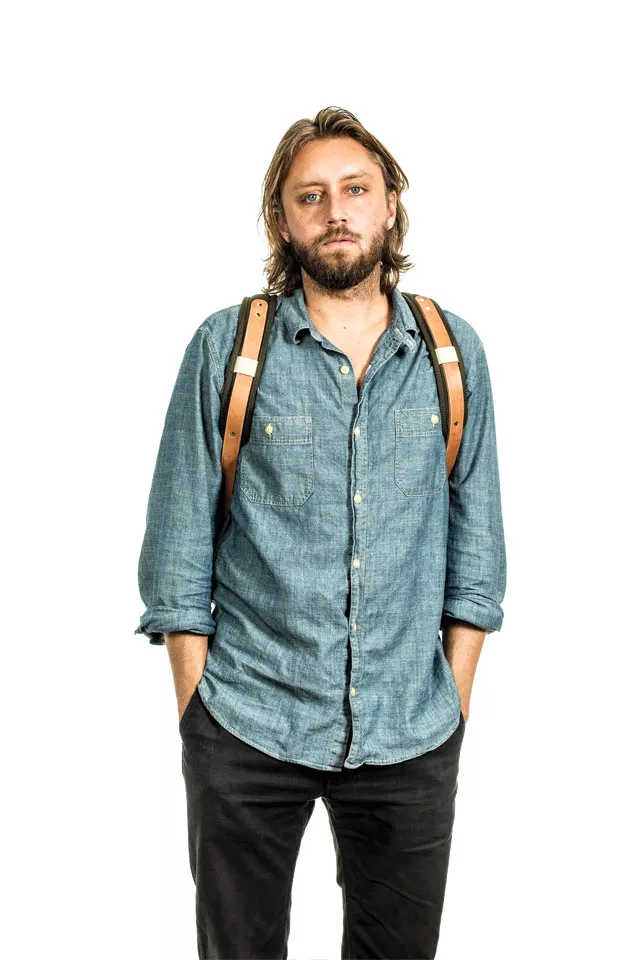 Over the course of just 90 minutes on a recent afternoon in their light-filled, leather-scented Winter Park studio, Makr employees fielded a last-minute special order from the NFL, debated last touches on iPhone cases (the new iPhone 5 form factor had been unveiled the day before) and juggled logistics for a rush special order of 1,700 bags for the upcoming Leonard Cohen tour. Designer and ringleader Jason Gregory handled each question from a staffer calmly, with no sense of rush or angst. "I don't want urgency in my life," he says. He may work 70 hours a week and be obsessed with personally making "a zillion prototypes" for each product, but each problem gets solved in a considered way.
Makr goods are a study in contradiction: vintage-styled yet pristinely new, evoking a sense of the hand of the designer yet manufactured with hyper-modern processes. "As much as it seems like the energy of the company is somewhat craft-based, and it is, the only way we'd really be able to do the things that we do is using all of the available tools to our benefit … designing towards those processes to make them more human." Despite the use of a laser cutting machine and computer-aided design software, each piece is cut and tested by and on humans, right here in Winter Park.
Look closely enough at a Makr product, take in the thoughtful design ethos, and you'll be spoiled for cheaper bags, with their sloppily finished zippers and inelegantly bunchy corners. Whether it's a coathook, a wallet or an enameled drinking cup, Gregory has deliberated on each detail, from ease of use to efficiency of manufacture.
Gregory started out as a photographer and spent some time working in architecture before he founded Makr. What explains the left turn into making bags? "I don't know. I don't even carry bags. … It's like an architectural problem," Gregory says. "Bags are harder than furniture … [they're] affected by gravity and stresses, folds and turns and material thicknesses and the human body."
FOUNDED: 2007 or 2008
"I forget when it started because I've been doing it forever. It was just an art piece for a long time."
FIRST PIECE MADE: The One Wallet
"'One' because it's a single-pocket wallet and the first thing we made. I always hated wallets, so I wanted a better solution."
TIME SPENT EACH WEEK: In the office 60 or 70 hours a week, and thinking about it when he's not there. He works less now than when he started, though: "At the beginning it was nauseating how much I was working. It made me go insane … I think it ruined a relationship."
EMPLOYEES: Seven
"What I do now is I get to design now and I get to think. Everyone here is supporting a design vision, helping choose materials or giving feedback on details of construction … everyone has input."
CUSTOMER:
"Obsessive Japanese kids, surfer guys, old guys who want a slim wallet. Anyone." (Skate photographer Raymond Molinar is a fan; his sponsor Stereo recently released a deck with photos of his favorite things, including a couple of Makr products.)
INDISPENSABLE TOOL: CAD
"Sketching is just thinking; I need the computer to work. I'm better at CAD than anything else. I'm better at CAD than –
walking. I don't know why."
SOME COLLABORATIONS:
Heath Ceramics, Geoff McFetridge, Fort Standard, Unis Menswear; locally, provided the stools for Cask & Larder and currently designing interior of the new Black Bean Deli
FUTURE GOALS:
"I like making stuff – I want to keep making stuff … [but] we want to have our own stores eventually."