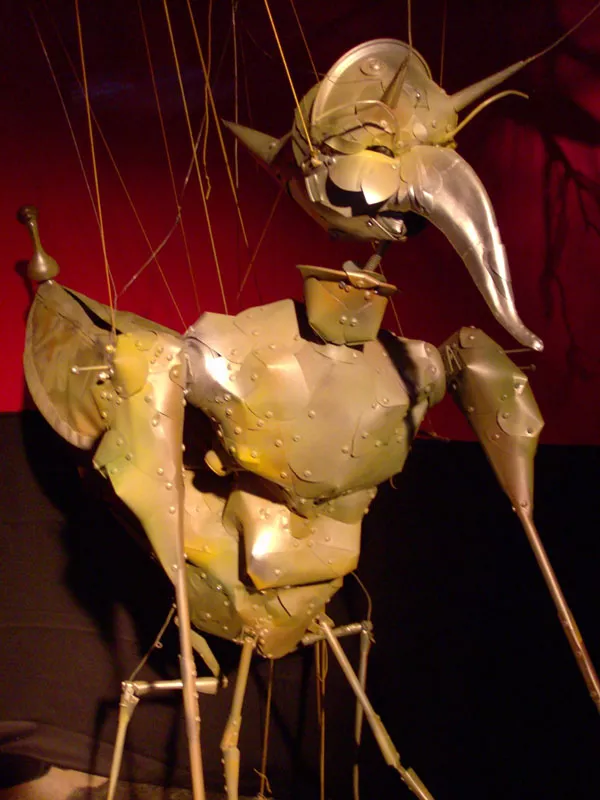 Stringers: Puppets are elevated to high art in this show at the Gallery at Avalon Island
Crime and Puppetment
Through December 10 at the
Gallery at Avalon Island
39 S. Magnolia Avenue
407-312-0708

galleryatavalonisland.com

Free

The Gallery at Avalon Island is teeming with puppets. They're represented in paintings, sculpture, drawings and film – they're also on display as works of art themselves.

Ostensibly a children's medium, puppetry is transformed into a high art form in Crime and Puppetment, one of the season's most captivating shows.

The exhibit, sponsored by Orlando's IBEX Puppetry (an entertainment company dedicated to the fine art of puppetry, run by Heather Henson, daughter of Muppets creator Jim Henson), coincides with the Orlando Puppet Festival, an annual fall event featuring puppet-inspired artwork, performance, film and more. Crime and Puppetment features both local and national puppet artists; their posse of puppets tell so many stories that at times it can be a bit overwhelming – but wade in, for miniature allure awaits.

Artist Lyon Hill's inkwashes 
on discarded paper form a writhing, twisted world of old houses in grand shambles and bodies caught in dramas. His "Junk Palaces," displayed in the front of the gallery, mix layers of images to create narratives, and a film sponsored by IBEX featuring his work accompanies them. Nearby, viewers can look at puppets created in 1948 by early stop-motion animator Lou Bunin for a film version of Alice in Wonderland. Bunin's puppets are a little piece of historic controversy – when Bunin was creating his version of Alice using both live actors and puppets, Disney was working on its own production of the Lewis Carroll story. Disney used its power to prevent Bunin's film from com-
peting with its film by discouraging distributors from carrying it. Look for the creepy Ernie Kovacs glove puppet hiding near the Lewis Carroll figures in the right-hand display case.

Paintings and sculptures by artist Tamara Marke-Lares occupy much of the wall space; the front corner of the gallery holds her installation, "Icabod with Caged Canaries," a 7-foot tall, feathered metal bird. Her paintings and wood sculptures are mature and earthy and reek delightfully of fetishistic overtones. "Show me Your Buttons" and her other abstract paintings harbor emotional joy, not quite obscured by darker motifs, red drips and deep, sad colors.

Pablo Cano's garbage marionettes, including the aptly named "Busty Galore," are a splashy presence in the center of the gallery. They seem to stand proud with glitter and self-satisfaction. Pady Blackwood's Hansel and Gretel puppets lend an air of familiarity to the unfolding carnival-like scene in the gallery, but these old European characters are uncomfortably squeezed between Sam Koji Hale's marvelous mechanical fish and Orlando artist Tom Blasco's surprised-looking puppet version of Count Carl von Cosel.

More surreal puppet artistry – Carl Knickerbocker's colorful dinosaurs, Kevin McTurk's gothic-looking "Victor Karloch" and Bill Lorenzen's punk-haired, velvety red "Devil" – is on display as well. The effect of this mass of puppet figures from various theater productions and films is that of quasi-Victorian puppet overload.

Reducing the number of artists and puppets in this show by about half would probably allow the quality of the work to spring forth and give the stories behind these creations a chance to expand. While many of the puppets in this throng are innocent 
storytelling creatures, many tell more foreboding tales as the artists exploit the dark side of the hand-operated dolls.

Still, the unique intersection of visual and performance art in puppetry is extremely well represented here, and the show bristles with implications for the puppet as more than just a toy. Not only can puppets entertain – they can inform, enrich and help Orlando define its boisterous art scene and connect it to the national stage.