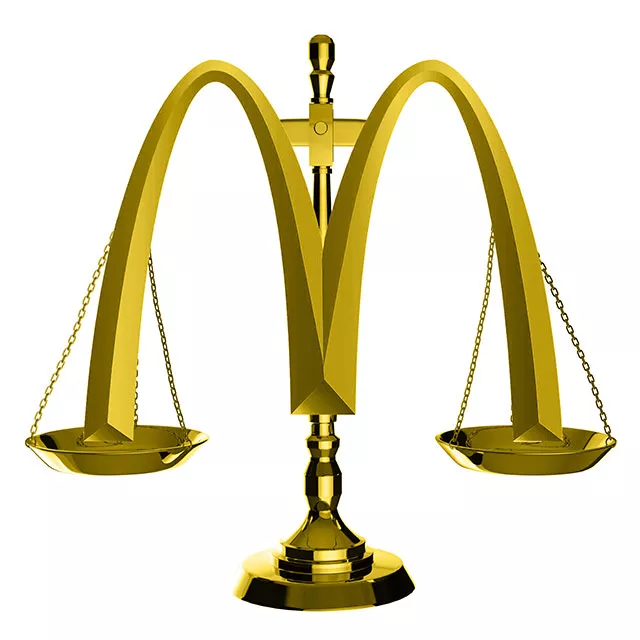 JUST THE STATS
$28 BILLION
ESTIMATED REVENUE FOR FAST-FOOD GIANT MCDONALD'S IN 2013; GROSS PROFITS WERE NEARLY $5.6 BILLION
$13.8 MILLION
REPORTED ANNUAL COMPENSATION FOR MCDONALD'S CHIEF EXECUTIVE OFFICER DON THOMPSON AS OF 2013
15 PERCENT
ANNUAL AMOUNT AVERAGE LOW-WAGE WORKER LOSES TO WAGE THEFT – APPROXIMATELY $2,600
"WE ARE TIRED OF MCDONALD'S ABUSIVE BEHAVIOR. THE COMPANY CONTINUES TO TAKE ADVANTAGE OF ME AND MY CO-WORKERS. WE CAN'T ALLOW THEM TO PLAY BY A DIFFERENT SET OF RULES JUST BECAUSE THEY'RE BIG. THEY NEED TO RESPECT US AND THIS SUIT WILL HELP THEM DO THAT."
– GUADALUPE SALAZAR, CALIFORNIA MCDONALD'S EMPLOYEE
SOURCES: USA TODAY, NEW YORK TIMES, NATIONAL EMPLOYMENT LAW PROJECT
NOT LOVIN' IT
So, would you like some fires with that shake? For the last year or so, nugget and beef-curd behemoth McDonald's has been facing all sorts of bad press – the walkouts, the employee strikes, the pink-slime incident – while still retaining its firm grasp on the lowest common denominator, because, well, it's basically the new soup kitchen where a dollar-menu stomachache counts as a meal. But, just like that one time when that lady sued over hot coffee and got $3 million, McDonald's is once again facing litigation, only now it's of the class-action variety and it's the employees and low-wage activists waving the papers.
On a March 13 press call, lawyers and some plaintiffs laid out their cases, which have been filed in Michigan, California and New York. The short version is that McDonald's as a corporation and its numerous franchisees have been complicit in "systematically withholding pay" from some of the nation's most vulnerable workers. You don't say!
Here's how it works: McDonald's managers are equipped with labor-to-profit ratio numbers on their computers as a means of maximizing everything that makes McDonald's CEOs wealthier than the Monopoly guy. When the numbers get too close, certain employees are instructed to clock out – not leave, but just clock out. Also, even if they could leave, many McDonald's employees (especially in the states in which the cases are filed) rely on public transportation, and it's not terribly efficient to leave just to come back when it gets busy enough for the store to want you back on the clock. It even happens here.
"I have eight kids to support and it's a slap in the face when I have to take three buses to get to work just to get sent home early," says 32-year-old Orlando McDonald's employee Iola Tullis through a spokesperson for the local arm of the national Fight for 15 movement to raise the minimum wage.
In fact, McDonald's employees have been complaining about this treatment for some time: the whole sitting in the break room and waiting bit; the no overtime payment; the working off the clock component. It's what caused masses of them to walk out last year and walk on to national news programs to complain. Nobody really expects a McJob to be a big moneymaker, but somehow everyone expects that an international conglomerate with bright golden arches would at least play fair with the folks it's systemically victimizing, right? We'll just leave that hanging there for now.
Also rarely mentioned is the fact that many minimum-wage McDonald's employees aren't actually making minimum wage if you factor in the expense of buying and maintaining their uniforms. The same McDonald's that made a joke of itself for suggesting that its workers keep several jobs in order to maintain a reasonable budget won't even provide its employees with uniforms which are clearly just walking advertisements for its brand? Nope.
On the call, plaintiff Jason Hughes, who works for McDonald's in Fremont, Calif., and makes just a quarter over minimum wage, said that he "used to think McDonald's grew so big because of quality," but now, "McDonald's can count on us to keep silent. It's time that McDonald's live up to its promise."
The reason this matters here in Happytown – beyond the fact that we play host to the second-largest grossing McDonald's in the country, over in Touristan – is that while these suits are being filed in other states to try to force a modicum of fairness, legislators in the state of Florida (backed, of course, by Republican lobbyists from the Florida Retail Federation, among others) are presently forcing through legislation to streamline wage-theft regulations in Florida's 67 counties, just like pre-emption did with sick-time last year. Yep, the word "patchwork" is back in the legislative lexicon, and it's only the beginning of session.
Here's the latest scheme: Legislators want to model the state pre-emption law on wage theft after the toothless version drafted in Palm Beach County, wherein complaining employees can use the Legal Aid Society in order to settle their claims in court. Who pays for that? Taxpayers.
"If you look at Miami-Dade, where they have created a small, simple, cheap administrative practice, that is working amazingly well," AFL-CIO political director Rich Templin said, according to news outlet WJCT. "And, if you compare it to Palm Beach, which is spending over $100,000, and so far to a less result, this is putting an increased burden on tax payers. This is telling local governments, 'Hey, you can deal with this problem in your community, but we're going to make you spend as much money as possible.' Now, to hear that coming out of
the Florida House is kind of surprising."
But not really all that surprising. The Florida Legislature has been trying to disempower and bankrupt local jurisdictions for years. This is the fourth year they've been trying to push this through.
"The inspiration for this bill is – since we have 67 counties in Florida – there is, although not likely anytime soon, the chance for 67 different wage theft ordinances," state Rep. Neil Combee, R-Polk City, told WJCT, adding, "So, when you're trying to conduct business in a number of counties, it would be helpful from an economic development standpoint, from a business standpoint, to have a consistent application of the law, and that's exactly what we're trying to do here."
Hmmm, that sounds familiar: Let's make sure we're working to make life easier for businesses than we are for their employees, who wear their logos on their self-bought shirts. Which is why groups like the National Employment Law Project are backing these suits, and why Fight for 15 held press conferences at McDonald's across the country – including in Orlando, Tampa and Miami – on March 18.
"McDonald's requires its workers to work off the clock, show up for work without consistent shifts, and deducts expenses from their already meager pay, chiseling wages while earning billions in profits," NELP general counsel Catherine Ruckelshaus said in a statement. "These violations can run into the millions of dollars quite quickly, and as one of the largest low-wage employers in the country, McDonald's should be setting the standards, not undermining them."
Uh, that goes for just about every other employer in Florida, too.