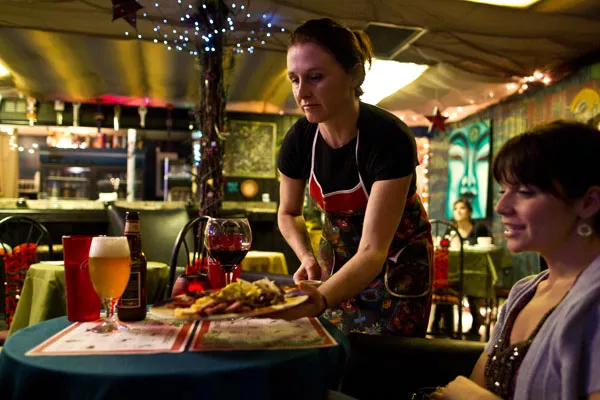 Jason Greene
Multicultural meals: Indian influences and Deep South flavors meet on the plate at Spooky's
Spooky's Black Cat Café

207 N. Primrose Drive

407-896-2377

www.themilkdistrictmarketplace.com

$

Just call Bret Ashman the Milk Man. The enterprising local restaurateur has been a godsend for the burgeoning boho stretch of East Robinson Street known as the Milk District. After opening the Social Chameleon, a beer-and-pizza joint across from the T.G. Lee Dairy, then the Milk Bar just a few doors down, Ashman delivered his latest venture – Spooky's Black Cat Café – a block away in the former Sandwich King locale on Primrose Drive. In keeping with Ashman's aesthetic, the joint is purposefully eclectic. Random music selections and an Indo-mystic-hoodoo décor lend to the relaxed mood, and some of that Eastern influence seeps its way into a bill of fare presided over by 
Ashman's wife, Serena.

Naan, baigan bharta (eggplant curry) and patra (veggie rolls) all have their place on the menu, but we were intrigued by one of the evening's specials – a sweet chicken curry stew studded with raisins and served over couscous ($6). I'm not so crazy about sweet curries, but the flavors in the bowl meshed well together. The texture, on the other hand, not so much. After about five minutes, the concoction deteriorated into mush. Attempts to sop it up with a side of wonderful cornbread, a nice Southern twist, failed. If anything, the cornbread had us waiting in quiet anticipation for some of the comfort staples we had ordered. When the hefty meatloaf sub ($6), sided with roasted potatoes, arrived, we marveled at its smoky barbecue essence. (We even enjoyed it cold the following day.) Dubbed the "Best Meatloaf Sub in Town," the saucy number certainly warrants the label. The pulled pork proffers even more Southern comfort, whether enjoyed on garlic French bread ($7) or a waffle ($7.50). The latter offers a little novelty to the proceedings; the sauces – a chimichurri and sweet-spicy barbecue – were stellar. The Flying Dog Gonzo Imperial Porter ($5.25) made for a harmonizing quaff, though there are more than a dozen brews on tap, about 100 more available in bottles and a decent selection of wines to keep you fluid.

Less-filling items, like minty grape leaves ($3.75) stuffed with organic rice, showcased the kitchen's precision. The lemony, bite-size slivers were served with a balancing curried yogurt sweetened with honey. Umami flatbread ($8.50), a toasted naan topped with a savory mix of mushrooms, spinach, sun-dried tomatoes and shaved Manchego cheese, was delicious in a not sweet, sour, bitter or salty way. A good number of the desserts in the display case are homemade, and we were a little surprised by how quickly we devoured the moist Boston cream cake ($3.75). A double shot of espresso would've gone perfectly with the cake, but their machine wasn't in working order as yet. While not made in-house, the sweet potato pie ($3.75) satisfied us, even if the crust left much to be desired.

Service, while unquestionably friendly, 
was noticeably harried. The lone server seemed overwhelmed at times, but none of the patrons, thankfully, appeared to be in a rush. Nevertheless Serena appears to have her kitchen in order, and Bret himself pops by every now and then to restock items and ensure his operation purrs along the way Spooky's Black Cat Café should.