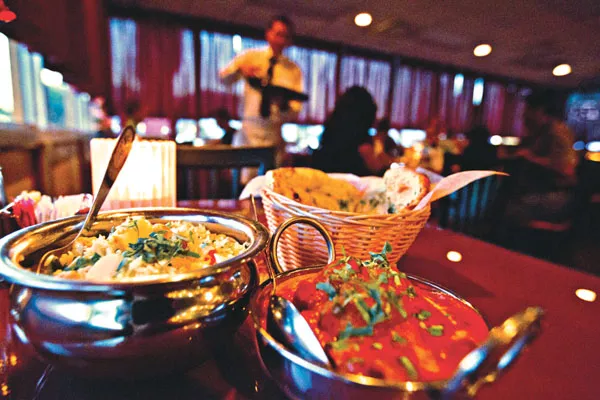 Photo by Jason Greene
Lassi, come home - There's nothing innovative here, just the curries and naans you know and love
Moghul Indian Cuisine
401 N. Semoran Blvd.,
Winter Park
407-599-9001
moghulindiancuisine.com

$$
In this town, Indian kitchens (particularly ones serving Northern, or Mughlai, cuisine) suffer from a prevailing "if it ain't broke, don't fix it" mindset. Getting a Desi chef to test the boundaries of his native cuisine is about as difficult as taking Indian batsman Sachin Tendulkar's wicket. (If you're not a cricket fan, believe me, that's no easy feat.) When Tabla Bar & Grill first opened, I wrote about how its brand of Indian-fusion cooking transcended the humdrum, but the bar they worked so hard to raise has since been lowered. I-Drive's India Blue turned out to be an imposter, with its so-called gourmet fare, and closed its doors promptly. So until nouvelle Indian cuisine makes its triumphant return, we'll have to make do with the tried, true and tired standards we're all so familiar with.
Over in Winter Park, in the spot on Semoran where Krystal stood for many years, Moghul - a gem of a different sort - has taken hold, much to the chagrin of half-baked college students jonesing for a late-night sack of square-shaped meat. Moghul's interior may not be as sterile as Krystal's, but it's not going to make the pages of Florida Design either: Red tablecloths, curtains and carpet are typical Indian restaurant drag, as are the few ornamental pieces on the wall. Red lipstick on a teacup offered an unexpected burst of color that managed to ruin my dining companion's enjoyment of her chai ($2.50). My salty lassi ($3.50), conversely, was creamy, tart and smooth.
Having spent the better part of the afternoon at the Winter Park Art Festival, we were hungry enough to indulge in the special appetizer ($10.95) platter. Of note were the superb seekh and chicken tikka kebabs, as well as a couple of yogurt-and-cream-marinated malai kebabs (not listed as part of the starter). The samosas passed muster as well, but were almost too fragrant, while not-crisp potato, vegetable and chicken pakoras were all failures.
The delivery of my boti kebab ($15.95) provided the evening's most amusing moment; the intoxicating, chili-saturated vapor trail emanating from the sizzling lamb dish caused numerous diners in its path to break into coughing fits. Word of warning: If you order a dish "Indian hot," you'll get what you ask for. If the lamb morsels hadn't been tough and overcooked, this would've been a mighty fine dish. Chicken xacuti ($12.95), chicken chunks and potatoes in a coconut gravy, was ordered "white-person mild," but what we got had a fair bit of heat to it. Raita was offered to my companion as a palliative, but it underscores how oft-used terms like "mild," "medium," "hot" and "[insert ethnicity here] hot" are all relative terms.
"Outstanding" is one term to describe the peshawari naan ($3.50), at once buttery, nutty and sweet. The bread would have made an ideal ending along with a (stain-free) cup of chai. There was plenty of ghee-slicked goodness on the regular naan ($2.50) as well - no skimping on clarified butter here. Being denied gulab jamun ($3.95) as our dessert of choice, we settled for the ras malai ($3.95), a sweet cottage-cheese cake drenched in rose-flavored milk. Dessert isn't the calling card of Indian cuisine, and this blah ending 
proved that.
Moghul's dishes aren't exactly fit for a prince, and they certainly won't veer beyond the Indian frontier, but a commoner's palate can get the royal treatment.