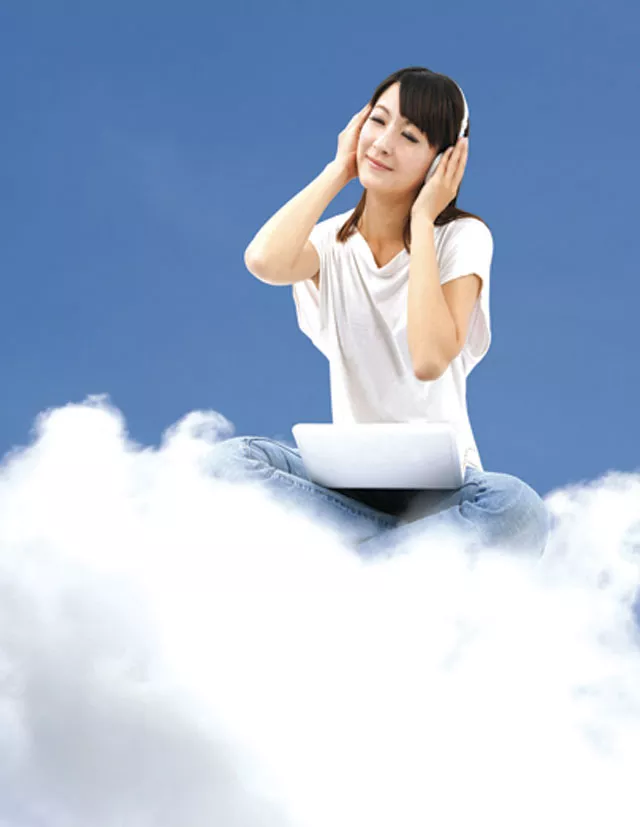 Standing amid the jostling throngs of South by Southwest, Quiet Company doesn't draw much attention against the blasts of noise and marketing that swirl around them. The Austin, Tex., quintet is unassuming save for a cardboard placard that announces "Free Hugs From Quiet Company."
Most of the crowd rushes by, tactfully immune to the maze of street teams, fliers and reverse panhandling flooding the band's home turf for the annual festival. The young group draws a few ebullient individuals into its arms, inviting them to free shows that week and encouraging them to check out the group's music online.
Eminently notable about the scene this particular Thursday morning is that the band hustling to create fans one hug at a time is the newly crowned most popular act in Austin. The night before, Quiet Company took home 10 Austin Music Awards, including Band of the Year and Album of the Year.
"The actual song is becoming worthless," says Quiet Company frontman and songwriter Taylor Muse. "As an artist, I just can't see caring about how much I make per song, so it's kind of weird to think of music as really even a stream of revenue for the music business anymore.
"At the same time, it doesn't cheapen it or make it less important because we all know at the end of the day that music is the engine that's driving the ship."
That fatalism regarding the lack of revenue from recordings has increasingly taken hold among artists. As the initial wave of post-CD-crash download sales began to slow, with payouts still far below previous industry watermarks, streaming services like Spotify, Rhapsody and Pandora have served as lighthouses by which the music industry might navigate. For artists, the new streaming economy has yet to provide more than a trickle. Across all the streaming services currently paying royalties, Quiet Company has garnered over 60,000 song plays since October. For those 60,000 streams, the band has earned $342.
"Are you going to get rich off that?" asks Quiet Company manager Paul Osbon. "No. Can you tour off of that? No. So it's not worth counting on. You can't really budget it. It's a nice bonus. It's the difference between having $5 and no dollars, but are we going to pay our rent with that? No."
By any standard, streaming services must be understood as still in their formative stages. They account for only a small fraction of music consumption, but they're also the fastest-growing format.
The 2012 Annual Music Study from market researchers NPD Group, released in March, found that online radio streaming via non-interactive services like Pandora increased to 43 percent of U.S. web users. This remains a small portion of the discovery and consumption spectrum, with AM/FM radio remaining the dominant medium cited. Tellingly, free models still far outweigh subscription services for web users, with only 3 percent converting to paid, on-demand entities.
Although the shift is small, it's important. With the U.S. launch of Spotify last July and the service's integration with Facebook, conversation about streaming evolved from speculation on so-called "cloud" services to deciphering their effect on the industry.
"With all these new technologies, people's memories are short from when they had the same experience with CDs and cassettes," says Gary Churgin, president and CEO of the Harry Fox Agency, a licensing, royalty collection and distribution firm. "Revenue's just starting to flow in from these new consumer experiences, and I think what you're going to see over time is that the economic consequences will become more and
more positive.
Much of the confusion surrounding streaming royalties stems from the complexity of adapting previous copyright and payment models to new formats. Increasingly Byzantine formulas are being deployed to anticipate new services. Further, royalties and rights differ between non-interactive web radio services (Pandora) and on-demand interactive services (Spotify).
"In general, people don't find the licensing process to be a very pleasant experience," Churgin says. "When Spotify launched this past summer, it was 10 million licenses they needed. The process was not designed with those kinds of volumes in mind. So it's not that people don't want to do it, it's that everybody's world has been turned upside down."
The traditional "mechanical" royalty for the physical reproduction of a song was established by the government, a rate currently set at $0.091. Every time the song is reproduced on a CD or downloaded, the songwriter receives just under a dime. Streaming royalties work on a different business model defined by three key differences.
First, there's an additional royalty alongside the mechanical royalty: the right to public performance. Streaming services require both the mechanical rights and performance rights to a song. For interactive services (Spotify), performance royalties are commonly collected through performance rights organizations (ASCAP, BMI, SESAC). For non-interactive streaming services (Pandora, webcasts, Internet radio), performance royalties are collected/distributed by nonprofit government agency SoundExchange.
Second: Royalties for streaming play are much less than the traditional download or purchase, the reasoning being that instead of a one-time royalty payment per download, there are now multiple payments for a single song as plays accrue over time.
Finally, royalty rates are contingent upon overall revenue generated by streaming services. The current mechanical rate for these sites is a statutory rate set by the government: 10.5 percent of the services' gross revenue, minus the performance royalties. This pool is divided among songwriters based on the number of streams for their songs. In other words, royalties fluctuate not only on the number of times a song is streamed, but also on the gross revenue generated by the service itself every month.
Take Quiet Company's Austin Music Awards song of the year, "You, Me & the Boatman." Since the group retains all rights to the song and is the performer, it's due money for both the performance royalty via ASCAP and a mechanical royalty, collected in this case through TuneCore, a distribution service that placed the song on streaming sites in lieu of the band having a label. TuneCore also collects money from SoundExchange for non-interactive digital plays.
How much each play of that song pays Quiet Company is different from month to month, depending on the services' revenue and rates defined by what kind of streaming service it is. Not all streams are created equal, but QC manager Paul Osbon's aforementioned bottom line may be: "It's not worth counting on. You can't really budget it."
If it seems complicated, it's only going to become more so as new digital services enter the mix. Last month, an agreement was reached among labels, publishers and the digital services that, when approved by the Copyright Royalty Board, will create mechanical royalty rate formulas for five new digital music models.
"This is really a brand-new income stream for artists and songwriters that they didn't have before," emphasizes Rhapsody's senior director of music licensing, Adam Parness, of streaming royalties.
"We've had examples in Rhapsody where once streaming rights were enabled for a track, people were actually downloading tracks from the album more than they were before. So streaming encourages permanent downloads and certainly doesn't take away from it."
Whether that trend continues as streaming services grow is a point of contention for the industry, especially as major labels have taken a vested interest in the future of streaming music. Rather than be backed into licensing deals for their catalogs, as they were forced to do with iTunes, major labels and music corporations have seized upon the nascent competitiveness of the new models to leverage greater control and revenues.
Deals that major labels have struck with the streaming services remain tightly guarded black boxes, rightly raising concerns among independent factions in the music industry. That lack of transparency is exacerbated by the revelation that major labels have negotiated for equity with some services, as much as a combined 18 percent from Spotify alone, which is reportedly seeking a current valuation of up to $3.5 billion.
"The traditional music industry now has a new income stream that's based on other people's music and copyrights being exploited and sold," argues Jeff Price, founder and CEO of TuneCore. "It is complex, it's complicated and nobody wants to talk about it, but as major labels and record companies sell less music and make less money off of selling music, they make more money off of other people's music that aren't even tied into them."
All this leaves independent artists like Quiet Company with few options and little recourse. "It's a battle now for exposure," Muse says. "I guess it's good that we're making some money from it, but someone's making a lot more somewhere [else], obviously."
For its part, Quiet Company looks to capitalize on streaming in other ways, forming a promotional partnership with Grooveshark, one of the largest on-demand streaming services with over 30 million users. Grooveshark has recently come under fire because it hasn't secured any rights or licenses to the songs, instead operating in a gray area of copyright law that allows services to host user uploaded content without penalty, provided they remove it if asked by the rights holders. (See "Eagle vs. shark," Feb. 2.)
"For me, streaming isn't any kind of future for making money for this band," acknowledges Muse. "But it is enabling everything else that we want to do, looking at licensing [for film and television] and that kind of stuff. It's a huge part of how our band operates and our marketing plan, even if we're not banking on our Spotify check."
Either way, the promise of the celestial jukebox generating meaningful revenue for artists is quickly crashing to Earth.
A version of this story first appeared in the Austin Chronicle.