Anyone who has ever seen the Groove Orient would easily guess the band's highly musical background without ever knowing the members all met casually attending Rollins College while pursuing focused music studies. The group coalesced by happenstance, really, when David Vanegas (percussion, bass, vocals) and Chuck Magid (guitar, vocals) became mildly obsessed with performing at WPRK's Fox Fest in spring 2013 and made a bid without even having a band to book. Remarkably, they got the gig, which was quickly followed by a chance invitation to record at Full Sail University, and they've been keeping it adventurous (yet tight and tasteful) ever since. This summer, the band embarks on a Southeast tour, so we caught up with the Groove Orient for an Off the Avenue session at North Avenue Studios. Watch two new music videos for the Groove Orient's hypnotically textured and crashing "Generation Y" and frantic, funk-paced "David T. Walker Jam" (below), plus read a full profile on this class act here.
A big part of Ralphfest's local legacy emerges quietly after the loud music festival fades out: The Ralph Ameduri Jr. Music Scholarship handpicks promising young musicians to equip them with professional instruments that ostensibly position them to become the backbone of the future generation of badass local players (and, if we're thinking bigger, beyond). This year, the scholarship was awarded to two students: Jeremy Bianco and Symone Smith. Bianco, a bass player, received an LTD bass to continue his music education and sustain that rhythm that makes him tick. Smith's instrument, however, was a little less straightforward to order. Ralphfest organizer Jeff Sweat says it took him three weeks to track down a 1960 ("the golden age of clarinets") Buffet Crampon R-13. After that, he worked with local music shop Underwood Music to fix it up to a point he says ensures she will never need to buy another clarinet. Congratulations to both scholarship winners – now get to fine-tuning your instrument!
We reported last year that former OBT gay bar and venue Full Moon Saloon was being relaunched as Woodstock, but other than a trial run during last year's Gay Days, we didn't hear much about the project. Fast-forward to this year's Gay Days, when Woodstock again held a soft opening to test the waters on their rad space, which features gazebos and an outdoor stage. They still have not announced an official opening date due to continued construction efforts, but you can sign up for email updates by texting "WoodstockOrlando" to 22828. Caution: Be sure to text the full phrase, or else you'll get updates from a pretty granola farm company in New Jersey.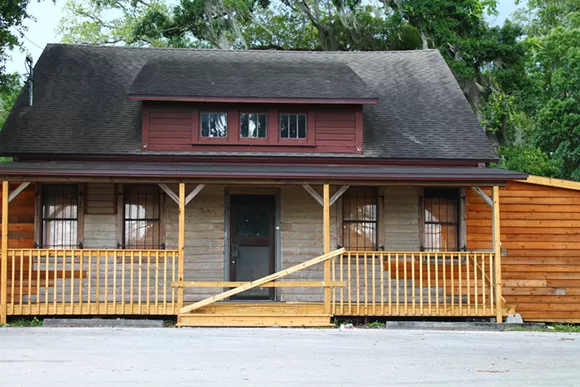 Ashley Belanger
Woodstock
Reminder: Best of Orlando voting ends on Sunday, July 12. There's a ton of great local bands already nominated on the ballot in categories spanning multiple genres (rock, electronic, hip-hop, singer-songwriter, country, jazz, metal, pop, punk, etc.), but every band is still in the running thanks to the write-in option. Head here to, um, rock the vote? (Genuinely sorry I went there.)