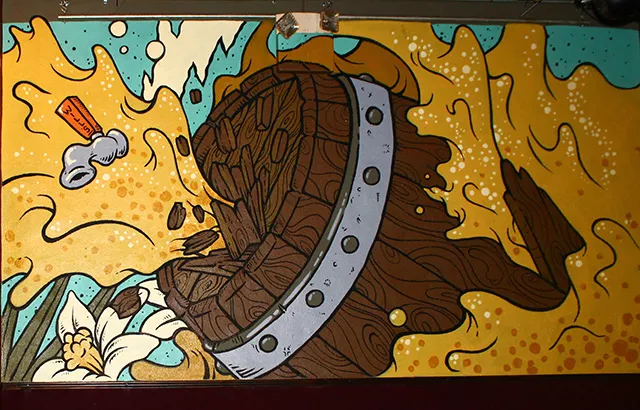 I know it's still fall, but it seemed like everyone in town got twitterpated Bambi-style about that John Vanderslice show at the Acre (Nov. 12), to the point where I heard multiple musings about "the next show" there. While I hate to be a downer, the Acre isn't primarily intended as a music venue (although they do welcome certain concerts, promoters!), so don't expect that sweet show experience to be replicated regularly. Instead, events at the multi-purpose venue run the gamut from weddings to fashion shows, art camps to yoga retreats. So for now, treasure the memory but don't necessarily bookmark their events calendar, unless you're a seasoned wedding crasher.
Speaking of crashing parties, the new occupants of the former laundromat by Will's Pub have reclaimed that lot, and now there's a rogue tow truck driver who's seriously policing Mills 50, so for those who got used to parking without checking for tow-away zones: Be aware. You will get towed. As we reported earlier this month on Orlando Music News ("Will's Pub/Lil Indies combats intensified towing in the Mills area," Nov. 18), pub owner Will Walker did some negotiating to ensure his patrons have ample parking options. After 6 p.m., it's safe to park in the lot behind Track Shack (1104 N. Mills Ave.) and after 9 p.m., the J. Bauman lot (1043 N. Mills Ave.) opens up for the night, too. To be safe, never park in the lot directly adjacent to Will's Pub on Canton Street or the dentist's office across the street, also on Canton. Next, and I apologize for all this negativity, but this absolutely has to be said: If you are littering in the yards of the houses behind Will's Pub, you need to make better choices in life. Finally, let's end this update in a happy place: There's a new mural of a smashed keg in the music room that's pretty rad and definitely appropriate.
**UPDATE** It seems the tow truck driver in question in the Mills 50 district is operating illegally, so if you've been towed by I Got U Towing, you should contact 407-573-0474 about a refund.
It seems like ages ago at this point, but I'm still nodding my head remembering the last free show at Bar-BQ-Bar I made it out to, featuring Teen Agers, the New Lows and Tanner Jones (Oct. 22). Now here's an underutilized venue in town that is capable of awesome shows, however infrequently they come up. It was definitely among my favorite local shows of the year, with a great crowd (even though it wasn't a packed house), because everyone who showed up came to party, and the lineup was perfectly cohesive and conducive to that vibe. Whoever books a show at Bar-BQ-Bar next, keep me in the friggin' loop, please.