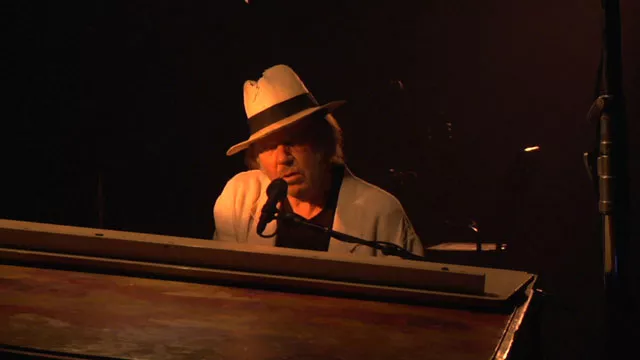 ★★★★ (out of 5 stars)
Neil Young Journeys
Dir. Jonathan Demme; feat. Neil Young (PG)

Neil Young Journeys completes director Jonathan Demme's trilogy of concert films centered on Neil Young. While 2006's Neil Young: Heart of Gold featured the singer in Nashville returning from a bout with an aneurysm, and 2009's Neil Young Trunk Show featured concert footage in Pennsylvania during the Chrome Dreams II tour, Journeys, a solo performance by Young, is the most personal yet experimental of the three.
The movie combines terrific 2011 live footage from Toronto's Massey Hall (where Young returned 40 years after his landmark 1971 concert, which was finally released on CD in 2007) and scenes of him driving through his hometown of Omemee, Ontario, and telling largely irrelevant tales of his upbringing. As a documentary, the movie is superficial and reveals little about one of the most brilliant and uncompromising figures in the history of rock. As a concert film, it doesn't get much better than this.
Demme (who won a Best Director Oscar for 1991's The Silence of the Lambs) is an expert at capturing artists onstage in daring, imaginative ways. In Spalding Gray's Swimming to Cambodia, he made a gripping 85-minute film of a man sitting at a table. In the Talking Heads' Stop Making Sense, Demme puts you right in the middle of the action (or David Byrne in the middle of your living room). With Journeys, at times we enter the pores on Young's face, thanks to a mini-camera that, at one point, is splashed by Young's spit.
But the camera gimmicks aren't arbitrary or whimsical; a Young solo concert is an intense display of musicianship by a man with a high-pitched whisper and a guitar that channels roots-rock, Metallica and Kraftwerk, all rolled into one. (During the Le Noise tour, T-shirts were sold reading "I said solo, they said acoustic.") Whether acoustic or electric, or simultaneously banging on the keyboard and playing harp, Demme expertly captures Young showcasing the strength of his late work and some of his classics ("Ohio," from 1970, includes a chilling remembrance of the four victims of the Kent State shooting), incredible range on guitar (from the sweetness of folk to the brutality of metal) and that unique voice that remains untouched by the passage of time.
If what you look for in a concert film is non-stop energy and entertainment, go see a Justin Bieber movie. If, instead, you want to see a songwriter in top form, a great-sounding soundtrack (engineered at 96 kilohertz, a much higher fidelity than what you hear at most theaters) and a tasteful filmmaker at work, then this movie is for you.