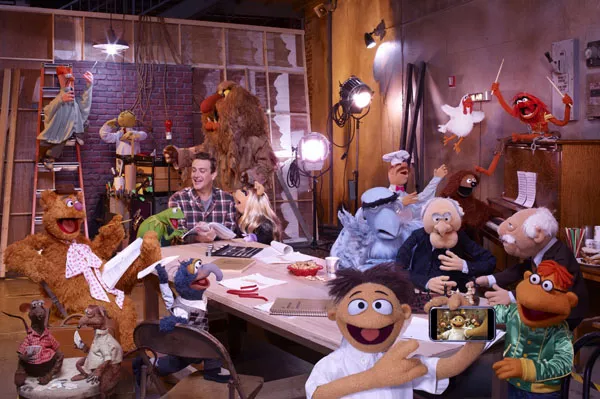 Believe it or not, screenwriter William Goldman's greatest lasting legacy 
in Hollywood may not be Butch Cassidy & the Sundance Kid, The Princess Bride, Marathon Man or any of the classics he brought to life. Sadly, Goldman may be best known for a phrase he used in his first book, Adventures in the Screen Trade: "Nobody knows anything." What he meant is that a movie that looks like a hit on paper – or even in dailies – can easily flop and vice versa. But the phrase has become an all-encompassing, all-forgiving excuse for blundering executives, wrongheaded filmmakers and anyone else presently screwing up in the industry to hide behind.
I celebrate Goldman's writing, and so it's with tongue firmly in cheek that I celebrate his misappropriated saying to explain my woeful record of picking out the year's most interesting non-blockbuster projects before the year begins. Since I started these pre-year previews (this is the third edition), I've gleefully anticipated what turned out to be some of those years' worst efforts: The Box and Taking Woodstock in '09, and Green Zone and Wall Street 2: Money Never Sleeps in '10. In fact, last year at this time, I previewed one that went direct-to-DVD – Ricky Gervais' Cemetery Junction – and three films that never even opened that year: Paul, Season of the Witch and Your Highness.
Sure, I ended up loving 2010-previewed The Town and Inception, the latter of which my cat could've predicted a big opening weekend for, and I'd go to bat for '09 picks Funny People and Where the Wild Things Are any day. But man, nobody knows 
anything, for sure.
So in the tradition of putting myself out there only to end up nowhere, here is my annual compendium of promising projects from some of the most exciting talent around. As always, I've left off the giant blockbusters, though I can say I'm hearing credible positivity coming out of J.J. Abrams' Super 8 (June 10), Captain America: The First Avenger (July 22) and Jon Favreau's 
Cowboys & Aliens (July 29).
As for X-Men: First Class (June 3), Green Lantern (June 17), Cars 2 (June 24), Transformers: Dark of the Moon (July 1) and The Smurfs (Aug. 3)? Well, it's going to be a long summer. Pray that at least some of the selections below work out for the best.
Source Code : Having dazzled the sci-fi community with his debut outing, 2009's minimalist Moon, director Duncan Jones seems to have been given free reign (and a bigger budget) to let his considerable imagination run wild. In this Jake Gyllenhaal vehicle, a soldier (Gyllenhaal) inhabits the body of a man involved in a train explosion. He has eight minutes to see through that man's eyes and find the culprit of the disaster. (April 1)
Crazy, Stupid, Love : Some of 2010's all-stars come together for this story of a newly divorced man (Steve Carell) trying to adapt to the dating world again. Directed by I Love You Phillip Morris helmers Glenn Ficarra and John Requa, from a script by Tangled scribe Dan Fogelman, the film also stars Ryan Gosling and Emma Stone – all talents coming off their best work last year, so the pressure's on. (April 22)
Bridesmaids : Ostensibly Judd Apatow's answer to his critics who claim he can't write women as funny and smart as his men – though he's only a producer here, not to mention last year's Easy A kind of already showed how the female Apatovian hero can be done – Bridesmaids was co-written by two Groundling alumni, Kristen Wiig and Annie Mumolo, and stars Wiig, who also has something to prove after years of filmic misuse. The broad comedy, directed by Freaks and Geeks creator Paul Feig, concerns a war amongst those titular wedding "helpers." Hey, it's gotta be better than Bride Wars, right? (May 13)
Friends with Benefits : Have I talked enough about Easy A already? Impossible! That film's sudden genius, Will Gluck, teams up again with Emma Stone, this time in a supporting role to Black Swan's Mila Kunis and The Social Network's Justin Timberlake, who star as friends who enter the benefit zone. Considering both Kunis and Timberlake could be coming fresh off supporting Oscar nominations, expectations are massive. Judging by the charming early trailer, they're probably safe in Gluck's hands. (July 22)
Moneyball : Speaking of The Social Network (Are you noticing a trend?), that film's mastermind, Aaron Sorkin, follows it up with this adaptation of Michael Lewis' nonfiction novel about Oakland A's GM Billy Beane (Brad Pitt) and his reshaping of the team based on "sabermetrics," a computer analysis that he claims is the true representation of a player's worth. The result: A team of low-wage nobodies and has-beens that went on a record-setting winning streak. Co-starring Jonah Hill as Beane's savant-like number cruncher, the film is directed by Capote helmer Bennett Miller from Sorkin's hilarious, uplifting, smart script that will inevitably be unfavorably compared to The Social Network. (Sept. 23)
Now : Hey, more Timberlake! Just what everyone was hoping for, no? This time he supports an oddball cast including TRON: Legacy's Olivia Wilde, Johnny Galecki and Cillian Murphy in writer-director Andrew Niccol's newest mindfuck. Niccol also wrote Gattica and The Truman Show, which should be enough of a track record to ensure optimal excitement, but his last couple of outings, S1m0ne and Lord of War, make Now more of a 50-50 possibility. (Sept. 30)
Perks of Being a Wallflower : Talk about pressure: In 1999, author Stephen Chbosky published his only novel, Perks of Being a Wallflower, which is still hailed by some as the closest approximation to a modern-day Catcher in the Rye. (It's also perennially banned in public schools, just like its progenitor.) He then spent the last decade faithfully trying to get it to the big screen, as it passed from desk to desk suffering untold indignities as it went. One movie producer told me years ago that it's a project that brings tears to executives' eyes, right before they beg off of it out of fear of screwing it up. Now, it seems it's in its creator's hands again and has a precious greenlight, thanks to John Malkovich's Mr. Mudd production company, which also produced Ghost World and Juno. That's good company, no matter what happens. (Nov. 4)
The Muppets : Yes, The Muppets, and here's why: Writer and co-star Jason Segal demonstrated in Forgetting Sarah Marshall that he's a puppet purist – he knows why they're funny and how they can excite the imagination. (He even played the Muppet Show theme song in that film, albeit while drunk and crying over his ex-girlfriend.) So it makes perfect sense that Segal takes the reigns of this reborn franchise, and his script sings with childlike enthusiasm. It finds the Muppets estranged from each other, torn apart by jealousy and mismanaged finances. When an oil tycoon schemes to take control of the Muppet theater, they must put on a show again to win it back with the help of an all-star cast. (Nov. 23)
Blood Meridian : Still in the planning stages without a reel of film yet shot, this is the frontrunner for the "Movies That Won't Happen This Year" award. But with a team that includes writer-director Todd Field (Little Children, In the Bedroom), producer Scott Rudin, and Cormac McCarthy, the author of the film's source novel, which Harold Bloom called "the greatest single book since Faulkner's As I Lay Dying," the violent novel about scalp hunters in the mid-1800s borderlands demands to be reckoned with … even from a mile out. (TBA)
The Cabin in the Woods : "If you hear a strange sound outside … have sex." "If an old man warns you not to go there … make fun of him." Those teaser poster taglines feel like the perfect setup for this oft-delayed (distribution studio MGM filed for bankruptcy months before its first release date) and oft-debated (MGM announced it was being put through the post-production 3-D process; co-writer Joss Whedon said "Uh-uh") horror not-really-spoof, co-written and directed by Cloverfield's Drew Goddard, has been through the ringer. But with Whedon, Goddard and a cast including Richard Jenkins and Bradley Whitford, it would be just as foolish to ignore as it is to anticipate it coming out this year. (TBA)
Margaret : In 2005, when I was a lowly intern at a production company, the place became electric one afternoon when a mammoth text came down from the Hills, practically in tablet form. It was the new Kenneth Lonergan script, Margaret, and you could hear a pin drop for about three hours while it was being read. I heard one word of feedback when the big shots finally emerged: "Unfilmable." Five years of work, re-cuts, re-edits and a couple of major lawsuits later, I think they might have been right. Either way, Lonergan says he's done with it now. The film stars Anna Paquin, Matt Damon and Mark Ruffalo. What's it about? Hey, do you want to go through the court records? (TBA)