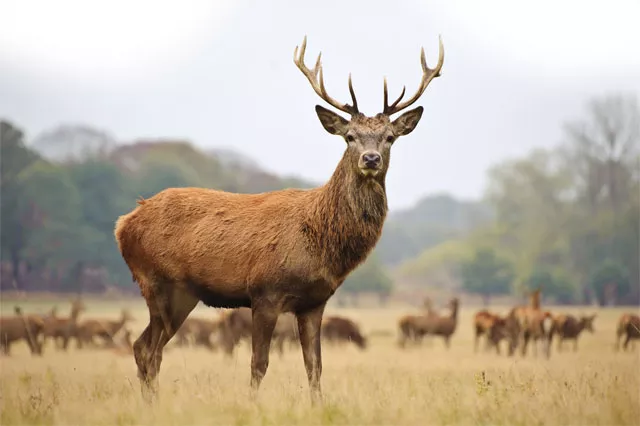 Two years – three deer seasons – back, I began learning to hunt. The whole enchilada: bow and arrows, target practice in the backyard, climbing trees in my brand-new camo wardrobe, all in the hopes of shooting Bambi for dinner. In my first season I shot only once, and missed. A more experienced hunter, though, gave me a doe he'd killed, and I taught myself to butcher it on my kitchen counter (amazing what you can learn from YouTube videos). My second season, I actually got a deer – a little button buck – and those butchering skills got better.
I had visions of Escoffier-style haute cuisine, but when I went looking for venison recipes what I found was Betty Crocker – and Betty was having a bad day. Almost everything I saw called for a Crock-Pot and a can of cream-of-whatever soup. The really fancy ones threw in some Lipton's French onion soup mix. It seemed that the grand tradition of classic game cookery had been hijacked by rednecks … which only made sense, when I stopped to think about the general hunting demographic.
I, however, was after a more elevated approach to cooking venison, something befitting all the time and work I'd put into killing and processing this deer in the first place. After I had taken this animal's life for my dinner, I wasn't going to just set it and forget it in the slow cooker with a bunch of crap from a can. Eventually I found Steak Diane, a swanky dish hugely popular during the French cooking craze of the early '60s. It was also originally a venison recipe ("Diane" as in Diana, Roman goddess of the hunt) in Escoffier's 1903 Le Guide Culinaire. After taking a look at Escoffier's dozen-plus ingredients, though, I opted for Craig Claiborne's streamlined version from the 1961 New York Times Cookbook. It was a simple but fantastically effective way to cook venison, using a scandalous amount of butter to compensate for game's natural leanness and then cutting that richness with cognac.
During my exile in redneck recipe-ville, though, I did fall in love with one preparation involving a slow cooker and a can – of root beer. My mom was the one, actually, who suggested I try adapting a super-easy recipe for pork barbecue that her friends were raving about, using venison in pork's stead, and it worked really, really well. I must now confess that, when retrieving a pack of venison from the freezer, I reach for the root beer much more often than I crack open my illustrated Escoffier.
Steak Diane
(named for Diana, Roman goddess of the hunt)
a venison backstrap or tenderloin, cut into 1-inch slices (alternative: use a 12-ounce beef tenderloin)
3 tablespoons butter, divided
1 tablespoon cognac, heated
1 teaspoon chopped chives
2 tablespoons sherry
Trim the meat well and pound very thin with a mallet. Heat two tablespoons of butter in a chafing-dish platter. Add the meat and cook quickly, turning it once. Add the cognac and flame. Cream the remaining tablespoon of butter with chives, and add it and the sherry to the chafing dish. Place the steak on a warm platter and pour the pan juices over it. (Adapted from The New York Times Cookbook, by Craig Claiborne.)
Venison Marlene
(named after my mom)
big hunk of venison: rump roast, shoulder, stew chunks, whatever you got
a 12-ounce can of root beer
your favorite barbecue sauce from a bottle, or you can get all fancy and make some
(optional: bacon)
Put thawed meat in slow cooker. Pour the root beer on top. (You can use more than one can, but I find it makes the finished BBQ taste strongly of root beer; 12 ounces really does do the job.) Turn on low and cook 6 to 8 hours, until tender. Turn the meat a couple of times if you think of it; it's better that all of it spends some time submerged in the root beer. Remove from cooker, pull apart into shreds, and mix with barbecue sauce.
(Bacon option: Drape slices of bacon over meat before pouring in root beer, and remove and discard bacon at the end. Venison is incredibly lean, and adding a little fat definitely makes this even more delicious.)
'Tis the season
If you haven't been blessed with the gift of fresh game by anyone in your life yet this season, you can still go out and bag your own.
For antlered deer, Florida is in "General Gun Season" right now, meaning you can hunt mature bucks using "all legal centerfire rifles and pistols, shotguns, muzzleloaders, crossbows and bows." Deer hunters must have a deer permit, as well as a hunting license.
Check the Florida Fish and Wildlife Conservation Commission's designated hunting zones at myfwc.com/hunting/season-dates/zone-map. Orange County is split between Zone B (season ends Feb. 17) and Zone C (season ends Jan. 20). Also there, find information on bag limits, permit and license prices, and seasons for other species.