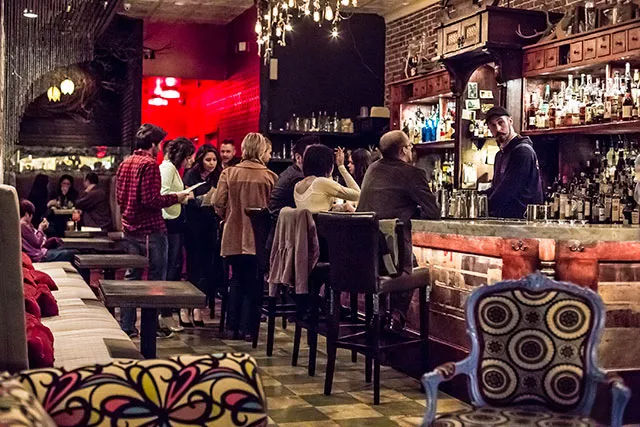 Cask and Larder
565 W. Fairbanks Ave., 321-280-4200, caskandlarder.com
This "Southern Public House" has already reached legendary status. Occupying a landmark building, James and Julie Petrakis' latest venture serves terrific nouveau-Southern fare as well as brews made in-house. It has also become known for its creative craft-cocktail menu. The bar recently scored big when it hired Erik Foster, local celeb craft bartender who used to make magic at both Courtesy Bar and the Matador.
The Courtesy Bar
114 N. Orange Ave., 407-450-2041, thecourtesybar.com
Gene Zimmerman, owner of downtown Orlando's Courtesy Bar, says he sources the best herbs, spices and ingredients around town and collaborates with chef Kevin Fonzo of K Restaurant to concoct imaginative mixers (like cherry-tarragon soda) and garnishes (like smoked manzanilla olives). Big points for the bar's retro-cozy and sophisticated décor – a nice respite from some of its louder, rowdier neighbors on Orange Avenue.
The new trend in downtown Orlando these days seems to be that of "mixology" hangouts with retro flair. The speakeasy at Hanson's Shoe Repair re-creates the Depression-era secret-stiff-cocktail culture (no cell phones allegedly allowed in here) and offers you a chance to enjoy a (sorta pricey) Negroni or French 75 out on a lovely balcony. You'll have to call in advance, though, as you need a password for entry.
Once a favorite downtown haunt, Matador has relocated and now calls the ever-burgeoning Mills 50 district home. Local craft-cocktail guru Erik Foster helped make it not just another neighborhood watering hole, but also a go-to spot for specialty drinks you won't find anywhere else. Foster is now headed to work at Cask and Larder, but we have a feeling he's probably taught the other bartenders at Matador a thing or two about honing their own crafts.
Prato
124 N. Park Ave., 407-262-0050, prato-wp.com
You'll battle crowds to get a seat at Brandon McGlamery's Park Avenue "it spot," but once inside, the Italian Citrus cocktail (and other bar creations) will justify the body-checking.