Page 3 of 5
India
airfare (Orlando to Mumbai) starting at $1,786 (quote via expedia.com)
With a population of 1.2 billion people, 780 major languages and more than 2,000 different ethnic groups, India is a nation with a rapidly developing modern culture that's rooted firmly in its past. For a couple thousand bucks, you can book a flight and luxurious hotel in the country's capital, New Delhi, or Mumbai, the city formerly known as Bombay. Once you're out of Orlando, you get to be the annoying tourist you've always secretly wanted to be, and you can visit some of India's gems, like the Taj Mahal in Agra or Harmandir Sahib, also known as the Golden Temple, in Amritsar. Or ditch the historical landmarks and take a tour of Bollywood, the country's Hindi-language film industry, where you might get lucky and spot the King of Bollywood, Shah Rukh Khan. For a modern twist on traditional Indian cuisine, dine at New Delhi's Indian Accent, where Chef Manish Mehrotra leads one of the best restaurants in South Asia. There's nothing quite like the in-your-face explosion of sights and sounds in India, and this trip is worth every penny.
However, saving a few grand for a trip across the world probably isn't feasible when you're eating Ramen noodles every other night. If you can't afford to make your holiday-travel wishes come true with a trip to India, with a little creativity you can at least be there in spirit.
Watch Dilwale Dulhania Le Jayenge $8.99 Netflix subscription
This Indian classic centers on a young couple, Raj and Simran, who fall in love while traveling through Europe. The problem: Simran's already engaged to the son of her father's best friend.
Listen to Lata Mangeshkar's 2014 album The Nightingale of India Lata Mangeshkar, Best of Her Evergreen Bollywood Hit Songs, $9.99 on iTunes
With a career spanning more than five decades, Mangeshkar is India's most well-known and beloved playback singers.
Try the bagara baingan at Tamarind Indian Cuisine
$12, 501 N. Orlando Ave., Winter Park, 321-207-0760; tamarindfl.com
This delectable dish consists of baby eggplant cooked in sauce of sesame seeds, coconut, tamarind red chili and spices.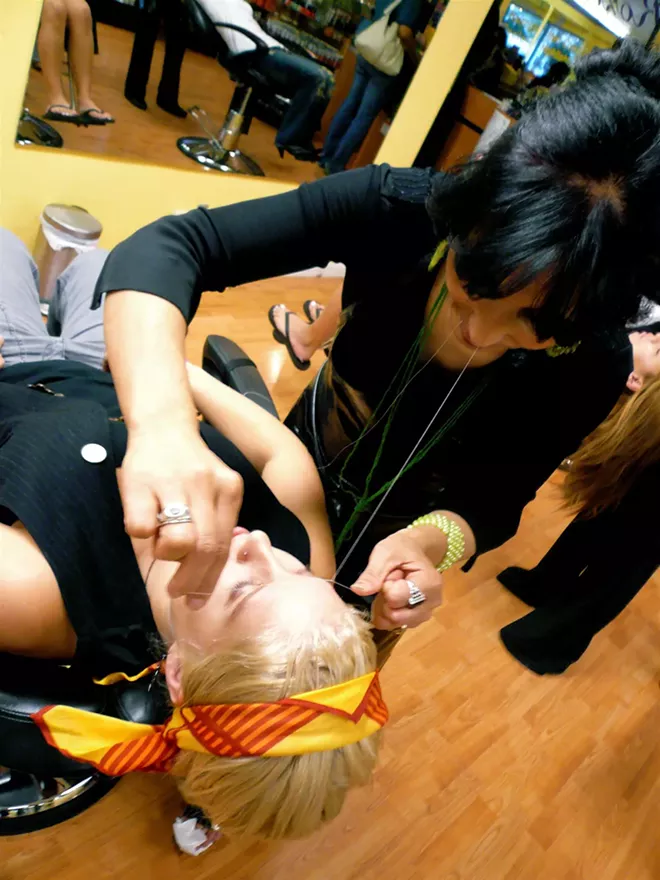 Tame those bushes around your eyes with threading
$10-12, Rashmi's Beauty and Boutique, 4734 S. Kirkman Road, 321-945-6476
Originally from Central Asia and India, threading is pretty easy to learn on your own from YouTube, but it's best you go with an expert. You'll get not only the results, but also the experience of this hair-removal art form.
Wander the aisles of Apna Bazar grocery store
9404 Orange Blossom Trail, 407-856-0238; 1155 W. State Route 434, Longwood; 407-260-2644; apnabazarcashandcarry.com
It's no Indian marketplace, but in Central Florida, it's the next best thing. Wander the aisles and dream you're in another land – or better yet, purchase some of your favorite Indian groceries and bring a little bit of South Asia home with you. – Monivette Cordeiro