Think you're ready for our compendium of creepy-crawlies? If so, just turn off your pop-up blocker, scroll down, click the thumbnail, print out, cut along the dotted lines and you too can become one of O-Town's spookiest.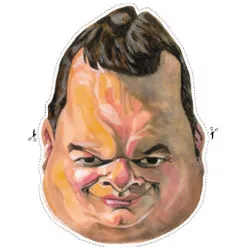 "CADAVEROUS" CAMERON KUHN
Forget the housing-bubble talk. If he builds it, you WILL come. That's the theory behind Orlando's downtown revitalization, and Cameron Kuhn has his hands in damn near all of it. He gobbles up land all over the city and spits it back at us as slickly marketed yuppie hives, making himself very rich in the process. There's nothing wrong with building or redevelopment, but things get kinda freaky when the blueprint for downtown looks like a vertical suburb. One Weekly staffer is having recurring nightmares in which Kuhn rises from the grave, withered flesh slipping from his decaying corpse, and stumbles around with his arms outstretched, the words "mixed use, miiiiiixxxxxxed uuuuuuse!" emanating from his long-dead vocal cords. Mommy!

KEVIN "BOO" BEARY
He's summoned to Tallahassee to appear before an "ethics" panel and won't say why. He accepts gifts from people his agency does business with. He ran a security business on the side and paid himself nicely to do it. He takes overseas trips that are so shrouded in mystery he can't even say where he's going. When reporters write something he doesn't like, he cuts off their access. He withholds budget information from county commissioners, then accuses them of not supporting law enforcement when they start asking questions. He quickly exonerates his deputies when they're accused of violating pursuit procedures resulting in the deaths of two innocent motorists, then defends them even when an eyewitness comes forward to say the cops were wrong. He used a restricted database to track down a woman who (correctly) called him fat.
And that's just the last six months or so in the 12-year tenure of Orange County Sheriff Kevin Beary. The very scariest thing about Beary? He's allowed to carry a gun.
THE "SUPERNATURALLY" SEXY SAVANNAH
Since when is a statuesque blonde with sparkling blue-green eyes scary? Allow us to explain: The Sexy Savannah – made famous on Real Radio's Monsters of the Mid-Day for her syrupy Southern drawl and now working the same beat on The Shannon Burke Show – seduces her listeners (mostly drooling men) with her airheaded, flirtatious crudeness. They just eat her up. (That she "likes to fart" was just one of her memorable shockers.) On air, there is no subject she shies away from as she banters with her all-male co-hosts about the size of her ass or whatever. She always lands like a lady no matter how hard the men (verbally) ride her.
Truth is, Savannah is a smart career woman who formerly served in the military and currently serves as a mom. By creating the persona of The Sexy Savannah, she's made herself the most well-known and adored female in local radio – no small task; just ask Miss B and Moira.
The scary part is that for a woman to be successful in radio in this town, being talented, funny, creative and professional isn't enough. Respect doesn't equal success unless you've got bleached-blond hair, a fetching 6-foot-tall body and are slyly foxy enough to play dumb. For all aspiring women, that's mighty scary.
BUD "HEADLESS" HEDINGER
Want to know how intolerant, parochial, closed-minded and insipid Orlando politics can get? Tune into Bud Hedinger's weekday talk show (3 p.m. to 6 p.m., WFLA 540-AM). Even in the world of right-wing talk, the former television news anchorman stands out as a beacon of unquestioning, unflinching loyalty to the premise that George W. Bush has never, ever done anything wrong, liberals hate America and any schmuck who runs for office as a Republican (especially a Jesus-praising, gay-bashing Republican) is entitled to a gushing interview. But what's scarier than Hedinger himself are the callers who fill up his phone line every day. We shudder to think.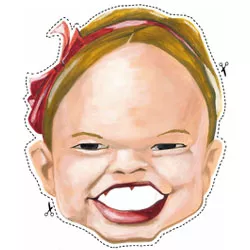 BOB "DANCE OF THE DEAD"'S BEAUTIFUL GRANDDAUGHTER
Frankly, we don't know what's scarier. Is it the mass ridicule to which this painfully awkward, speech-impaired ballerina is subjected umpteen times per day, thanks to her grandpappy's televised fawning? Or is it the speed with which any rational viewer's blood runs cold every time she appears on the screen, spinning madly into oblivion and beckoning all to visit a nightmare realm "where everybody dies"? (Oh … sorry … that's "rides.") If you're still not convinced that the Beautiful Granddaughter is a figure of fear ripe for immortalization in the attic of Disney's Haunted Mansion, just imagine her when she's 70, clad in a rotting tutu and fast-forwarding through video evidence of her former ubiquity. "I'm still big," she'll whisper to herself as tree branches rustle against the windows of her dank private screening room. "It's the commercials that got small."
feedback@orlandoweekly.com