Mayor of Orlando: Mayor Buddy Dyer
Here's the thing we hate about endorsements: There is no such thing as a perfect candidate for office. There are no politicians with whom we always agree. There is no local government body that's as efficient and lean and responsive as it could be. And there's not a year that goes by when we don't raise a fist to the sky and curse the powers that be for something boneheaded they've done that makes life in the City Beautiful a little bit uglier than it should be.
So whenever we endorse a candidate for office, it always feels a little disingenuous – we always have reservations.
Take Mayor Buddy Dyer, for instance. He has a vision for this city, and he's been able to see it through, despite naysayers, despite an economic recession, despite funding shortfalls. But we don't like that his vision is focused so intently on downtown that we sometimes wonder if he has a real grasp on what goes on in less-desirable neighborhoods. As political activists and community organizers are quick to tell you, there are two Orlandos: There's the one that's full of shiny new buildings and soccer stadiums and gastropubs and a high-end performing arts center. Then there's the one that's one paycheck away from homelessness – an Orlando that's being pushed further and further away from the downtown core. That Orlando can't afford to live in high-rise condos or buy tickets to the theater. That Orlando used to be located in close proximity to downtown, but it's slowly being pushed aside in the name of progress.
The mayor and City Council say their efforts to bring new development downtown will improve adjacent communities, and we hope that's the case. But will the people who live in those communities now be able to afford what the new downtown Orlando has to offer? If not, where will they end up when they've been displaced? We'd like to hear more from the mayor and City Council on that matter.
And that's where our endorsements come into play this year. We like the life we've seen Dyer bring to downtown Orlando. We like that we have a soccer team that people rally around, and that the team plans to base itself in our midst rather than out in the 'burbs. Although we've been critical of the process by which it came to be, we like that the Dr. Phillips Center for the Performing Arts shows so much promise – and that our downtown now has a centerpiece that's built on the concept of arts and culture, rather than bar-hopping. We like that the University of Central Florida, which seemed for the longest time more interested in building its own downtown on the east side, is now committed to bringing a new presence to downtown Orlando.
We love that downtown is starting to feel like a destination, and we don't want to see that progress come to a halt. Which we fear is what would happen if a new mayor who disagrees with Dyer and his vision comes to office and decides to dismantle it in the name of tax cuts and downsizing government. There's a delicate balance that has been struck here, and we don't think that now is the time to pull the plug.
So we're endorsing Dyer, but with a caveat: Mr. Mayor, in your next term, we want to see your vision for the rest of the city. And by vision, we don't mean that we want to hear how downtown's growth is going to have a trickledown effect on surrounding neighborhoods. We want you to tell us how you're going to make sure that organically unique neighborhoods like Ivanhoe Village don't just get plowed down by developers who want to capitalize on their cachet. We want you to tell us how you plan to bring economic opportunity to the Orlando that's struggling to get by on minimum-wage jobs – something that all of the candidates challenging Commissioner Sam Ings for his District 6 seat have addressed in their campaigns. Maybe you could invite some of them to bring their ideas to you and come up with an economic plan that doesn't just focus on the city's infrastructure, but on its people.
We're endorsing you, Mayor Dyer, but that doesn't mean our support is unconditional. We're challenging you to use this next term to bring all of Orlando – not just downtown – under your umbrella.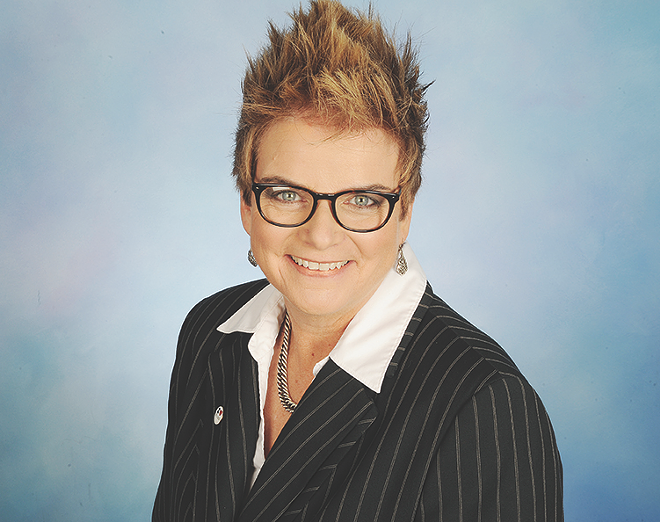 City Council, District 4: Commissioner Patty Sheehan
As with Mayor Dyer, we've disagreed with Commissioner Patty Sheehan on some of the decisions she's made during her tenure in office. However, she's nothing if not dedicated to her job, her district and the city. Her challengers bring valid concerns about city governance to the table – the city's residents certainly deserved more discussion about raising the city's property taxes by $1 for every $1,000 of property value before commissioners signed off on it, for instance – but of all the commissioners sitting on City Council now, Sheehan is not the one with whom we have the most concerns. Unlike some of her colleagues, she's been outspoken even when her point of view has been unpopular and she's been critical of the mayor's administration when nobody else was speaking up. Sheehan is refreshingly plainspoken, a passionate public servant and an accessible representative for her district.
City Council, District 6: Ka'Juel Washington
Technically, we'd like to say that voters in District 6 should vote for anybody but incumbent Commissioner Sam Ings, who couldn't even be bothered to give us a phone interview this campaign season. Ings is facing four challengers, and we're throwing our support behind Ka'Juel Washington.
While he's not the most politically experienced of the candidates, he holds a law degree, he volunteers with the Coalition for the Homeless, and he's passionate about raising the minimum wage for lower-income workers. In fact, his economic platform focuses on ensuring that any business contracting with the city pays workers a living wage of $15 per hour. That's something we can get behind.