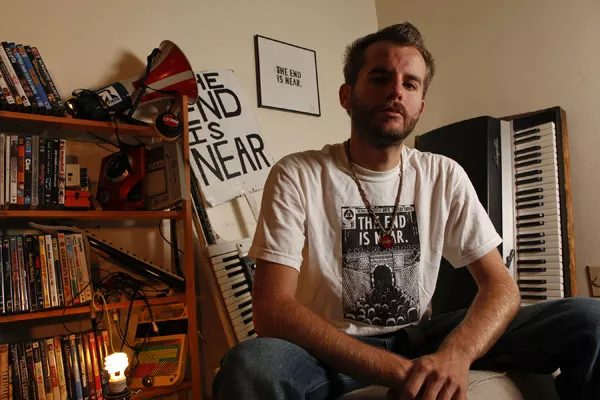 S.K.I.P.
Until the Very End

(Second Subject Recordings)

S.K.I.P. CD release party

with S.K.I.P. & Jimmy, Beef Wellington & DiViNCi 

resent the Return of Vocalization

9 p.m. Wednesday, Nov. 10

Back Booth, 407-999-2570

www.backbooth.com

$6-$8
For years now, backpacker S.K.I.P. (aka Justin Skipper) has beaten Orlando's streets with his message. But the rapper's new sophomore album, Until the Very End, makes it clear that this is a 
matured S.K.I.P.
"I want to be able to be a storyteller," says Skipper. "This social commentary shit is dead with me. I'm over it. And this whole kind of personal, self-loathing kind of whining about my past and stuff like that – which [is] all a form of therapy – but the overall thing that I got walking away from it is like, you know what, my next thing is I want to tell stories. I want to be able to provide a universal 
message."
Although still acutely conscious, his angle now relies less on raw, point-blank steam blowing. Furthermore, his presentation is exponentially more robust even considering that the narrative experience bleeds into other media like comics, T-shirts and film.
The concept album follows protagonist William "Billy" Tuttle after a fateful encounter with John Tittor, a prophecy-
wielding man from 2038 A.D. And though the record attacks broad conceptual ills like war, mass control and social entropy, they're often backdrops for the first-person walk of everyday life. Pulpit perspective is exchanged for personal examination of themes like uncertainty, 
resignation, accountability and mortality.
End is also a far more musical album. Its deeper, more sonorous fiber breathes with the pulse of an army of live instruments and players from notable Orlando bands. Although it's a new turn in his rap career, it's actually a return to S.K.I.P.'s formal 
musical background.
"Everything before [this] has been more of a hip-hop formula where [collaborator Swamburger], as a producer, would make a beat and I would rap over said beat and then we'd put it out," says Skipper. "My whole life has been [as] a trained musician, so I never really thought of it as my music because I was really only being a vocalist. And I really got to a point where I wanted to put myself out there as a musician who writes music and doesn't 
just rap."
The texture of the album is woven from myriad non-rap sources ranging from soul and funk to '70s rock like Jethro Tull, Led Zeppelin, Pink Floyd and Iron Butterfly. Some of the best songs, like the booming Kingston vibe of "Red vs. Blue" and the jazzy shuffle of "The Pride, the Cure, the Cancer," sample from more obscure sources – the former from a '60s exploitation flick and the latter from the Cure's "Lovecats." Other highlights include the assertive boom-bap rap of "Man From the Near Future" and the sumptuous brass beds of "The Unexpected Cost 
of Winning."
Furthering that depth, S.K.I.P.'s vocal delivery, which now includes singing, is richer and more anchored. The culmination is an organic, three-dimensional music experience brimming with tone and range.
"I've been doing a lot of growing up and I want to provide something that has maybe a little bit more of a mature perspective on things, a more human side to things," says Skipper. "And [I want to] stop being so damn angry all the time."