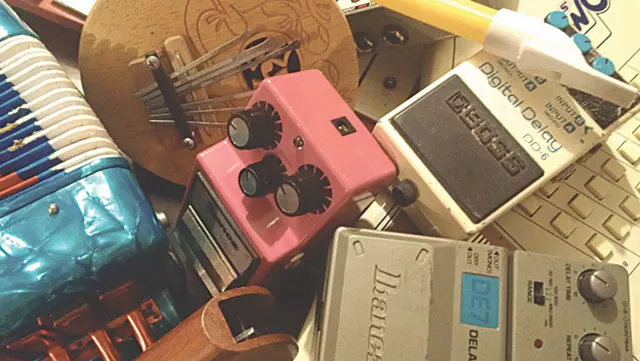 PEDAL CHALLENGE 4: MAY MADNESS
9 p.m. Tuesday, May 7 | The Peacock Room, 1321 N. Mills Ave. | 407-228-0048 | thepeacockroom.com | $3
There's freedom in experimentation. Even when you know what you expect to happen, you're bound by trial and error, and your objective often mutates according to what you observe. In the end, your effort may result as you hypothesized, but it could also beget wildly unforeseeable conclusions, not just in science, but also in cooking, art, mechanics – hell, even just in a conversation. And as fans of bands from the Beatles to Sonic Youth have observed, some of the best experimentation happens every day in music; you just have to have an ear for it.
At the Peacock Room, a monthly event sprang to life this year, unleashing a newborn's dissonant cry that challenges local musicians to approach songcraft differently. It's called the Pedal Challenge, and it forces musicians to compose on the spot, using foreign pedals and random instruments, resulting in gorgeously noisy soundscapes. For musicians, it's a creative workshop to confront their own stylistic conventionality. For the audience, it's a chance to see members of favorite local bands in an unusual circumstance. For those who happen to just wander in – it's a spectacle run exactly like a reality TV game show. VH1: Take notes.
Here's how it works. Musicians sign up either through Facebook or on the day of the show. Participants aspire to compete through three separate rounds of pedal challenges, using mystery equipment that is provided at the venue. These challenges change from event to event, so there's no true way to prepare. The rules of the first round are announced 24 hours before the event on Facebook. Should a participant make it to the last round, he or she claims a $100 cash prize.
As you'd expect, there are judges, and there's also audience voting. For the upcoming pedal challenge on May 7, so far there are eight contestants, including the competition's dark horse, Sterling Schroeder, a musician who has placed second in all the previous challenges. To enter, you don't need to be a musician, but it should be noted that all the past winners have been notable local artists: Doc Moonstien, Craig Hand and Steve Head.
"It's true, if you work regularly with a pedal board with like seven pedals on it, you do have a little bit of an edge, but it seems to always work out that that'll be the person who gets like a toy accordion and can't figure out how to play the toy accordion," says Tim Murray, founder of the Pedal Challenge.
"So it's not like they're going to get up there and play the same sort of thing they always do."
Murray says that musicians from a variety of styles and genres show up, but he'd specifically love to see more representatives from the punk and jazz communities. If you're not already signed up and want to participate, show up by 9 p.m. to get on the list. And remember, experimentation is survival, as you'll encounter delays, loops and other pedals you may have never seen before, and you might be playing something wacky like a slide whistle or manipulating a four-track recording of a Spanish telenovela. The end result? You might wind up discovering sounds you never knew you had in you.
"We're open, if you just come up even just for jamming," Murray says. "It's a community of noise. Everyone is welcome."