Our annual list of people making Orlando a better place includes those who bring delight to our eyes and ears, safety to our streets and respect to our city.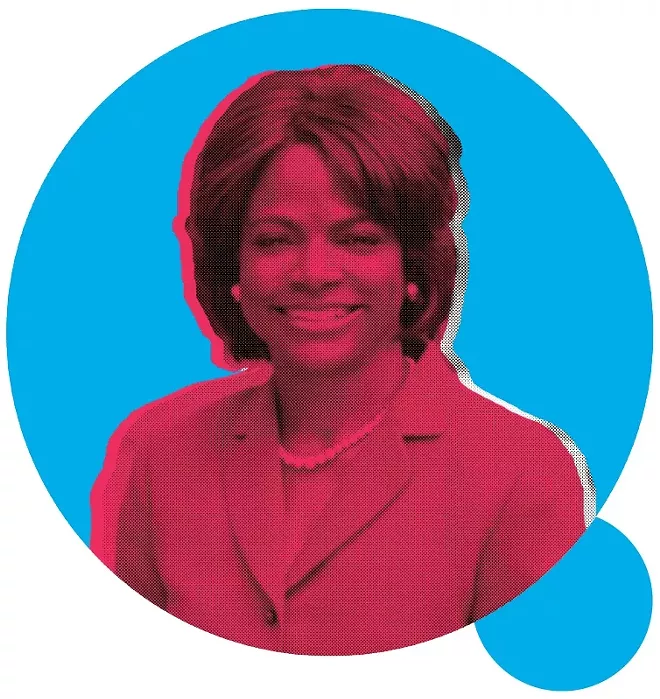 VAL DEMINGS, UNITED STATES REPRESENTATIVE, FLORIDA'S 10TH CONGRESSIONAL DISTRICT
Oh, brother (and sister), this era of Trump has been noisy. Distinguishing truth from lies among the seemingly infinite talking heads has felt impossible. Then, suddenly, out of the grandstanding monotony of the impeachment debates, a surprise orator arose with a singular, strong voice – a voice from
Orlando
– and made it possible.
"I've enforced the laws and now I write the laws," said Congresswoman Val Demings. "But the laws mean nothing if the accused can destroy evidence, stop witnesses from testifying and blatantly refuse to cooperate."
With an astounding authority, she sliced through the boredom and the bullshit.
Themis, the Greek goddess we call Justice, she stands blindfolded holding the scales. And she holds a sword in the other hand. Valdez Venita Demings, a Black woman who grew up in Jim Crow-era Jacksonville, subsisting on a faith in the American experiment she inherited from her parents, is also a former police officer and the former Orlando Police Chief. A Black woman ascending to the seat of federal lawmaking power is that American dream achieved. Our Rep. Demings proved a powerful voice amongst impeachment noise – among the seven impeachment managers, she came to represent the spirit of American ethics and justice.
Demings said she very much felt the weight, particularly when she made the walk to the Senate to hand over articles of impeachment. "The reality of that moment, the weight of the moment, was just overbearing," she says. Once she arrived, she became the fourth Black woman to speak on the Senate floor. "Fifty years from now, history will look at this moment."
She's been incredibly visible, pushing her impeachment team's argument as the face of the group on national news programs. After Trump was impeached in the House but acquitted in the Senate, it wasn't Adam Schiff or Hakeem Jeffries, but primarily Demings who was the voice of disappointment in the breakdown of the process.
Aside from justice, she also loves Orlando: "As someone who grew up poor, Black and female in the South, Orlando is such a warm, loving, accepting and tolerant community." Her one City Beautiful bugbear: transportation infrastructure. "Instead of spending time in Orlando's restaurants, stores and theme parks, they're stuck on I-4," she bemoans.
What's next for Demings has been a hot question. Her name has already bounced around as possible Vice Presidential material for the ultimate Democratic nominee.
"I just worked on the impeachment," Demings says with a laugh. "Am I not working hard enough for you?"
Throughout the impeachment, she has continued work on the House Intelligence Committee. She says she's going to keep fighting for the poor, overworked and discriminated against, and bring that fight wherever it takes her.
"Wherever it takes me, I'm ready," Demings says. "I don't know where that takes me, but I'm ready." (demings.house.gov)
BENOIT GLAZER, FOUNDER, TIMUCUA ARTS FOUNDATION
When we say the phrase "house show," a stereotypical set of images might come to mind: unpredictable sound system, cramped conditions, weird bathroom situation, free-and-easy approach to set times. The Timucua Arts Foundation house explodes all of these conventions. And you have jack-of-all-trades musician, designer and organizer Benoit Glazer and his family to thank for that.
Seeing a concert at the Timucua is a unique experience, and one with brain-breaking contrasts: In the cramped entry room, you find a potluck spread of free food and drink. But that leads into a purpose-built 100-seat concert hall with a vaulted wooden ceiling, several levels of viewing and impeccable acoustics. Hometown favorites perform some nights, as do legends like Zeena Parkins, Hans-Joachim Roedelius and taciturn free-jazz icon Peter Brötzmann – "He smiled at the show!" exults Glazer – and the whole operation is so tightly run, it's a shock to remember, or realize, that you're in somebody's actual home.
It all started from a simple urge: a desire to see some live music. Glazer had moved his young family to Orlando from Montreal in 1998 to take a job with Cirque du Soleil, and his schedule was so demanding that he couldn't get out to go to shows. So he and his wife, co-founder Elaine Corriveau, decided to take matters into their own hands, and began hosting concerts at their home in the Hunter's Creek neighborhood.
As these things often do, it snowballed, culminating in the Glazers buying property on the very end of Summerlin Avenue near downtown ("closer to the action," says Glazer) and putting their life savings toward construction of a house centered around a performance space designed and built by Glazer that would be a haven for music and visual arts. They built it and, to paraphrase Field of Dreams, performers and music enthusiasts in Orlando and far beyond came.
Glazer calls Timucua a home for the "chamber arts," which is, he explains, "music that's meant to be played in a more intimate environment." The space hosts around 100 events a year, and live-streams most of them for those who can't be there in person. During shows, Glazer can usually be found in the adjoining recording studio and control room, monitoring the feeds from several cameras.
"I think what sets us apart from some other venues is the wide range of what we offer – opera, plays, poetry, visual arts, every kind of music imaginable. This is what the people deserve," says Glazer. "We create an intimate environment to take in the art and the music."
Glazer now works full-time for the nonprofit Timucua Arts Foundation and its advisory board, and they're getting their money's worth. To hear him enthuse about design details, lighting, camera and speaker improvements, even the hunt to find the perfect vibraphone to buy for the venue backline, you begin to get an idea of how herculean this undertaking was and still is. But Glazer is just getting started.
"A lot of people think that this place is perfect, but I know it's not because I built it," he says matter-of-factly.
His plans for the future are ambitious. Glazer speaks excitedly about trying to build a viable touring circuit for musicians through the South in partnership with like-minded venues, building a permanent gallery space onto the house, doing a massive upgrade to the speakers and microphones in the concert space, and, eventually, launching the so-called "Benoit's Ark," a solar-powered floating concert hall.
"The day I stop wanting to improve," says Glazer amiably, "is the day I die." Then he's off to change some light switches, meet with an artist, and set up and tune the instruments for a show the next day. (timucua.com)
ALAUNA FRISKICS, EXECUTIVE DIRECTOR, THE ORLANDO FRINGE
Orlando is overflowing with talented performers who long to shine on stage. But in order for them to stand in the spotlight, there has to be someone backstage like Orlando Fringe Festival executive director Alauna Friskics, who has made it her lifelong mission to make sure those artists get the opportunity to be seen. "I knew from a pretty early age that I wanted to run my own theater someday," she says, "and use my left brain/right brain to help artists create their art easier."
Ironically, the event that Friskics now leads is the one that originally brought her to town from the Midwest in the late 1990s. Family members who lived in the area and volunteered for Fringe invited her to visit during spring break of her senior year, and Friskics says she "fell completely in love with it immediately," volunteering "from sunup to sundown." She moved to Central Florida after graduation, and she's been an active member of our performing arts community ever since.
Before succeeding George Wallace as the Fringe executive director in 2017, Friskics came to prominence as the founding executive director (and first employee) of the Garden Theatre, whose 2008 rebirth helped drive Winter Garden's decade-long resurgence. "I was welcomed with open arms into that community," she recalls of her dozen years there, "and being able to create something that they were falling in love with, by helping to rebuild and restore the theater, was just a dream come true."
Although she's appeared in shows herself, her heart lies in supporting others' creative efforts. She cherishes her ability to help cultivate artists and producers in their early careers, pointing out how many now-familiar local artists have "cut their teeth [and] begun their theatrical careers here at Fringe."
Although her work with Fringe and taking her daughter on hikes and to birthday parties keeps her too busy to spend much time out and about (other than trips to Kabooki Sushi, her favorite) she loves the energy of the city. "Orlando is made up of some really cool people doing innovative and collaborative things, and it's fun to be a part of projects that build community." (orlandofringe.org)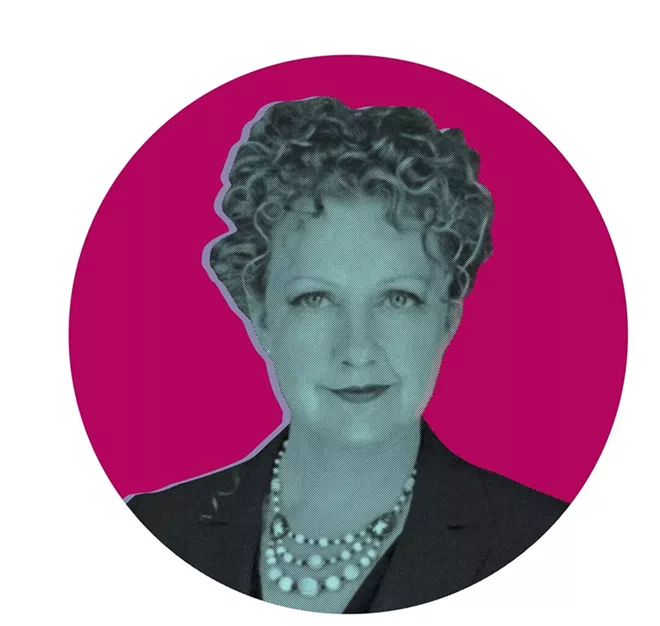 SHANNON FITZGERALD, EXECUTIVE DIRECTOR, MENNELLO MUSEUM OF AMERICAN ART
Way back in 2016 when we first spoke to Shannon Fitzgerald – about a show of Pop Art prints on loan from the Smithsonian at the Mennello – she said, "We need to connect what's going on in here with the outside world."
Fitzgerald was talking about associated programming, the kind of thing every modern museum director knows is a necessity. But it's a significant indicator of the changes she had in mind for the Mennello Museum of American Art, changes that she has executed briskly and efficiently.
In her four years at the helm of the Mennello, she's expanded the institution's understanding of "American art," opening things up from the sleepy, folk art-centric space it once was into a tiny-but-mighty bastion of contemporary American art by the likes of Jiha Moon, Bo Bartlett, William Eggleston and Firelei Báez. And the expansion isn't just artistic – the museum recently announced plans for a 40,000-square-foot expansion, a transformation that will cause ripples beyond its verdant campus through the Loch Haven cultural complex and out into the wider city.
Fitzgerald came to Orlando a seasoned curator, having served as executive director of the Rochester Art Center in Minnesota and chief curator at St. Louis' Contemporary Art Museum. We've long beat the drum for more risk-taking in our city- and county-funded arts initiatives, along with a less parochial approach. Fitzgerald's big-tent methodology is a perfect fit for a city like Orlando, a city that knows it loves art but still needs a guiding vision to form its taste. In Rochester, St. Louis, Oklahoma City, Milwaukee and Columbus, Georgia, she calls herself lucky to have seen students "transform their perspective through the power of education and heightened awareness."
A couple of years ago, when the state slashed arts funding, she said to us, "We're producing culture for our culture. So if you take that away, I think we're just less evolved." We couldn't agree more. And as she also serves as the city's director of public art, we are hoping for big (literally and figuratively) things in the future from Fitzgerald. (mennellomuseum.org)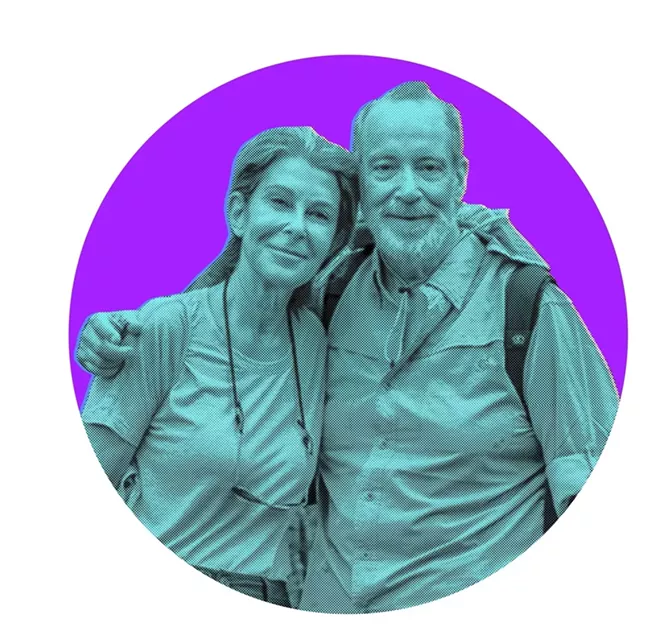 PAUL WEAN AND JOAN REINES, FOUNDERS, PAWSITIVE SHELTER PHOTOGRAPHY
Even if you haven't heard the name Pawsitive Shelter Photography before, you're probably familiar with their work. Just check our weekly "Gimme Shelter" column in the back of almost any issue of
Orlando Weekly.
The brainchild of Paul Wean and Joan Reines, Pawsitive Shelter Photography provides free portrait photos of cats and dogs currently up for adoption at Orange County Animal Services, presenting the animals in their best light for the most important photo of their lives.
The project began in 2011 after Wean and Reines saw a segment on CBS Sunday Morning about Teresa Berg, a portrait photographer who was having success photographing small rescue dogs in her studio. Though Wean was a novice at digital photography, he assured Reines that they could have similar success with the animals at OCAS. With the help of professional photographer Barbara Gordon-Sheridan, Pawsitive Shelter Photography was born.
With Pawsitive Shelter Photography, homeless animals get the luxe treatment. Pro lighting and seamless backdrops surround the animals, rather than the impersonal snapshot of a downcast dog or a fearful cat on a vet's table or worse, cowering in a cage. Fluffy boas, feathers, neckties and bandannas help bring out each animal's personality so that they can make the best possible first impression on those looking to adopt. Wean says that, at first, he was not very keen on the whole costume thing.
"I thought they were an affectation and an attempt to further anthropomorphize the animals," he says. "I have since changed my mind and recognize that some of the props make the animals more appealing to adopters, help frightened dogs look less frightened, and also help us distinguish between similar-looking dogs and cats." He still leaves the dressing-up to the more "fashion conscious" volunteers.
Since its inception, Pawsitive Shelter Photography has photographed more than 23,000 animals, and the results speak for themselves. In 2011, more than 2,050 animals were euthanized due to time limitation – meaning the animals spent too long at the shelter and had to be put down because of space constraints. In 2019, that number had fallen to zero. In fact, the live release rate for all dogs taken in by OCAS in 2019 was 94 percent, and for cats it was 74 percent.
Wean and Reines have three dogs of their own, Ziggy, Zoey and Bella. All three are rescues. (facebook.com/pawsitiveshelterphotography)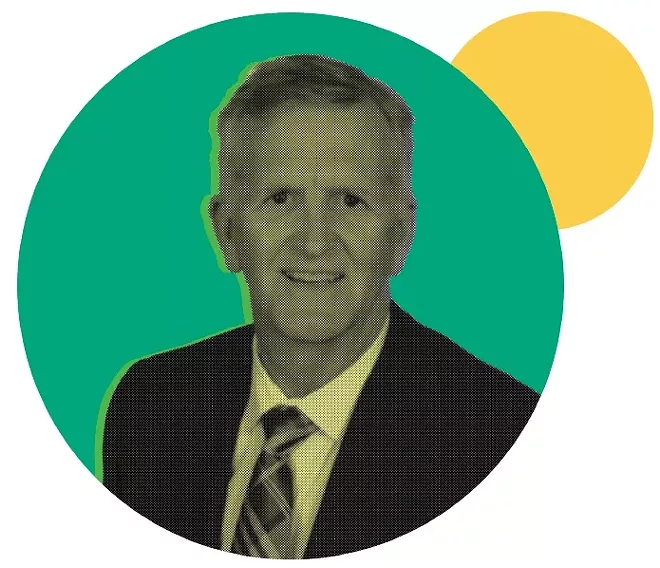 BILLY HATTAWAY, TRANSPORTATION DIRECTOR, CITY OF ORLANDO
"The carnage," says Billy Hattaway.
That's it. That's the reason he's committed his career to make streets safer for pedestrians and cyclists in greater Orlando and throughout Florida.
In the 1970s, 45,000 people died on U.S. roads per year. More recently, the Orlando metro has steadily ranked as the deadliest place for pedestrians in the country. Between 2008 and 2017, over 600 pedestrians died in the Orlando area. Clearly, there was a long way to go to stop the carnage.
Hattaway, an Orlando-area native who spent some time in Boston before returning to the Sunshine State, was working at the Florida Department of Transportation as an engineer when, in 1996, he went on a tour of 13 cities in 10 days along the West Coast. He saw traffic plans of types that were not at all considered, let alone built, in Florida.
"That trip was responsible for my conversion experience," Hattaway says.
One such approach was the roundabout, a road plan popularized in Europe. "Roundabouts have a 90 percent reduction in death collisions," Hattaway says. But, in the mid-'90s, Florida wasn't ready. "At that point, the data was only coming from Europe," said Hattaway. "People thought, 'we're different.'" Which is to say, we don't do that Euro stuff. When Hattaway presented such alternatives to state and city officials, he saw very little support. So he moved on, leaving the FDOT for the private sector. In 2011, the political winds shifted, and the state agency asked him to return. His Alert Today, Alive Tomorrow initiative, which focuses on engineering, education and enforcement of safer policies, is still ongoing at the agency, one that's staffed with people who, Hattaway emphasizes, do the work that made his safe-street theories a reality.
Aware of his work – and the Orlando-area death toll – Mayor Buddy Dyer, in 2016, called on Hattaway to join city staff as the City Beautiful's first transportation director since 2008.
He's spent the first year or so rebuilding the transportation department. With his team assembled, Hattaway and crew are readying to present a master plan for street safety for the city. We are optimistic that the day when we can stroll these streets without fear is coming. (teamfl.org, orlando.gov)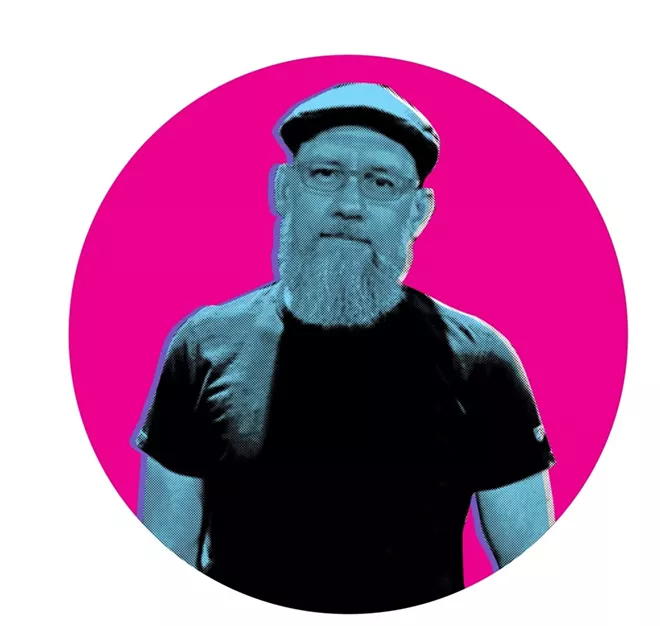 SANDY BITMAN, OWNER, PARK AVE CDS
If you pop in to Park Ave CDs, the sprawling record emporium in the heart of Audubon Park, to search through the endless miles of vinyl aisles, you might not spot longtime owner Sandy Bitman. And yet, his ethos and dedication and, yes, love of music defines every inch of the store.
Park Ave CDs is a triumphant anomaly in the imploding music retail business: The hours are longer, the inventory is bigger and the events calendar is more robust than ever. "We're definitely not shrinking," chuckles Bitman.
The success of Park Ave CDs is down to a willingness to evolve and adapt as the times change. And Bitman, who has been working at Park Ave CDs since 1994, has seen his share of change in the music business, from the alternative music boom to the potential death knell that was Napster and digital file-sharing and on through today's much-heralded vinyl revival.
Bitman's tenure at Park Ave CDs dates back to the early 1990s, when he was a Rollins College student regularly visiting the shop's location on tony South Park Avenue in Winter Park. He was finally offered a weekend fill-in slot behind the register by (small world alert) Brett Bennett – now the owner of Audubon Park neighbor Stardust Video & Coffee. For Bitman, this was the dream, and he slowly worked his way up to manager of the store by 1997, before buying the whole operation from the previous owners in 1998.
Park Ave CDs left Winter Park in 2004 and settled in their current location on Corrine Drive soon after. "Part of it was, obviously, getting a bigger space here for half what we were paying on Park Avenue. And this was one of the areas in town that I thought the store could thrive in and thought that it could help rejuvenate the area," Bitman says. Since then, the bustling Audubon Park neighborhood has sprung to vibrant life all around them.
The bigger location was soon stuffed to the gills with records, CDs, books, cassettes, shirts and various pop-culture ephemera. The maximal inventory policy is a priority, with the classic canon and obscure gems getting equal space. Bitman and the staff at Park Ave CDs are focusing in on events, in-stores, performances, readings, listening parties and community days that give sales proceeds to local nonprofits.
"There are very few commerce institutions that can mix social and commerce well. I think a good coffeehouse, a good bar, a good bookstore can," says Bitman. "A good record store is also one of those places where people can be social and hang out and feel part of the fabric of the neighborhood and the scene." (parkavecds.com)
GREG GOLDEN, DIRECTOR OF STUDENT MEDIA, ROLLINS COLLEGE
If you think running a radio station sounds difficult, or teaching hundreds of college students, Greg Golden is a man who has successfully done both at Rollins College. His soft-spoken leadership and seemingly infinite patience have helped guide eight classes of young adults through their first management and broadcasting experiences.
That's not the only reason we love him.
WPRK 91.5 FM has broadcast from Rollins College since 1952, becoming fully student-run between 1989 and 1991, and eventually airing 24 hours a day. The station's general manager ensures everything is legally compliant and serves as a teacher and supervisor to a team of student managers who control the station's on-air content, underwriting and promotions. Golden's responsibilities as director of student media also include the school's newspaper and literary magazine, The Sandspur and Brushing.
For decades, "the Best in Basement Radio" was indeed headquartered in the subterranean lowest floor of Mills Memorial Hall on campus. Then, in September of 2017, Hurricane Irma swept through the school's scenic grounds, damaging the station's antenna beyond repair. For 11 months, WPRK could only be heard online, a dispiriting time for students used to the addictive relevance of sizable audiences and listeners who call the studio line. Finally, in August 2018, WPRK was back on the FM airwaves, but the turbulent times were not over. WPRK's studios and offices also needed to relocate – three times – while the Mills building was demolished and replaced by a brand-new building, Kathleen W. Rollins Hall.
Having been a student DJ himself in the Rollins class of 2011, Golden could relate to his students' feelings of loss and frustration. He set their focus on the years ahead, helping students develop new podcasts, community collaborations and a membership program similar to those of public radio stations. He also kept students involved in the design decisions for the station's new home.
In January, the station's new permanent location finally opened, on the first floor, just a few feet underground. Considering the time and attention the college has devoted to WPRK during Golden's tenure, it's hard to believe the station was almost sold by the college 20 years ago, with only one missing signature by then-president Rita Bornstein saving it for generations of future students and listeners.
At only 32 years old, Greg Golden has already created his legacy at Rollins through the success stories of his students. But his most lasting contribution to the college and community might be in keeping the faith, and excitement, alive during one of WPRK's toughest decades. (wprk.org)
– This story appears in the Feb. 12, 2020, print issue of Orlando Weekly. Stay on top of Orlando news and views with our weekly Headlines newsletter.