Page 6 of 8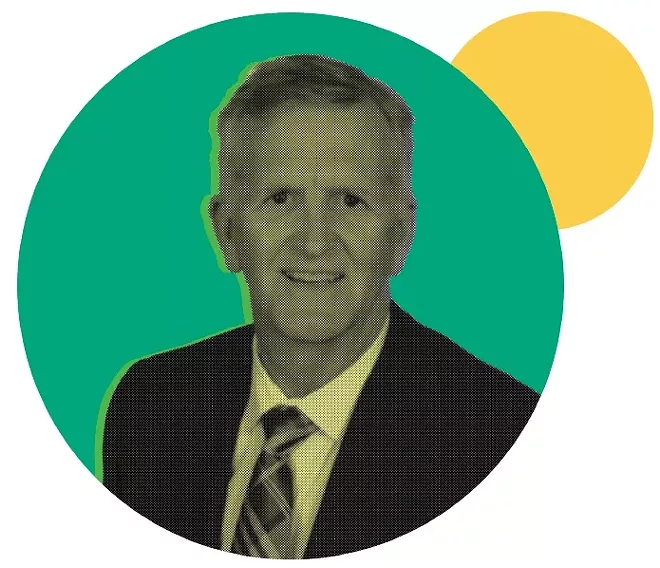 BILLY HATTAWAY, TRANSPORTATION DIRECTOR, CITY OF ORLANDO
"The carnage," says Billy Hattaway.
That's it. That's the reason he's committed his career to make streets safer for pedestrians and cyclists in greater Orlando and throughout Florida.
In the 1970s, 45,000 people died on U.S. roads per year. More recently, the Orlando metro has steadily ranked as the deadliest place for pedestrians in the country. Between 2008 and 2017, over 600 pedestrians died in the Orlando area. Clearly, there was a long way to go to stop the carnage.
Hattaway, an Orlando-area native who spent some time in Boston before returning to the Sunshine State, was working at the Florida Department of Transportation as an engineer when, in 1996, he went on a tour of 13 cities in 10 days along the West Coast. He saw traffic plans of types that were not at all considered, let alone built, in Florida.
"That trip was responsible for my conversion experience," Hattaway says.
One such approach was the roundabout, a road plan popularized in Europe. "Roundabouts have a 90 percent reduction in death collisions," Hattaway says. But, in the mid-'90s, Florida wasn't ready. "At that point, the data was only coming from Europe," said Hattaway. "People thought, 'we're different.'" Which is to say, we don't do that Euro stuff. When Hattaway presented such alternatives to state and city officials, he saw very little support. So he moved on, leaving the FDOT for the private sector. In 2011, the political winds shifted, and the state agency asked him to return. His Alert Today, Alive Tomorrow initiative, which focuses on engineering, education and enforcement of safer policies, is still ongoing at the agency, one that's staffed with people who, Hattaway emphasizes, do the work that made his safe-street theories a reality.
Aware of his work – and the Orlando-area death toll – Mayor Buddy Dyer, in 2016, called on Hattaway to join city staff as the City Beautiful's first transportation director since 2008.
He's spent the first year or so rebuilding the transportation department. With his team assembled, Hattaway and crew are readying to present a master plan for street safety for the city. We are optimistic that the day when we can stroll these streets without fear is coming. (teamfl.org, orlando.gov)