Page 7 of 8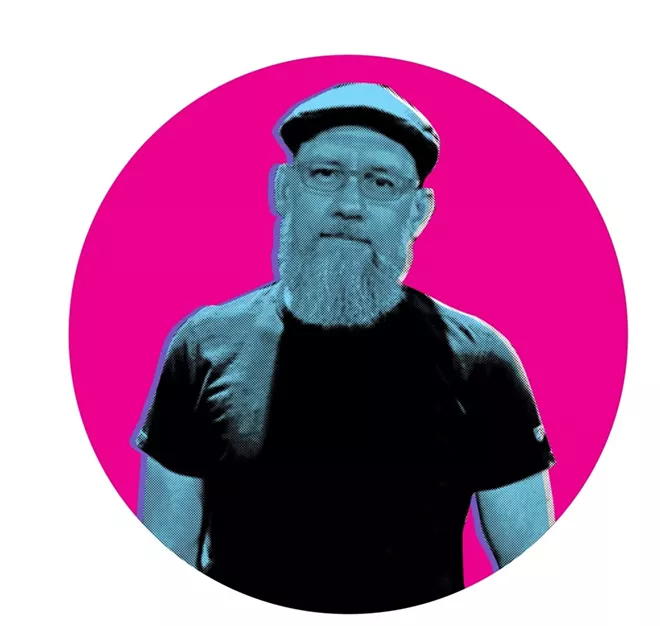 SANDY BITMAN, OWNER, PARK AVE CDS
If you pop in to Park Ave CDs, the sprawling record emporium in the heart of Audubon Park, to search through the endless miles of vinyl aisles, you might not spot longtime owner Sandy Bitman. And yet, his ethos and dedication and, yes, love of music defines every inch of the store.
Park Ave CDs is a triumphant anomaly in the imploding music retail business: The hours are longer, the inventory is bigger and the events calendar is more robust than ever. "We're definitely not shrinking," chuckles Bitman.
The success of Park Ave CDs is down to a willingness to evolve and adapt as the times change. And Bitman, who has been working at Park Ave CDs since 1994, has seen his share of change in the music business, from the alternative music boom to the potential death knell that was Napster and digital file-sharing and on through today's much-heralded vinyl revival.
Bitman's tenure at Park Ave CDs dates back to the early 1990s, when he was a Rollins College student regularly visiting the shop's location on tony South Park Avenue in Winter Park. He was finally offered a weekend fill-in slot behind the register by (small world alert) Brett Bennett – now the owner of Audubon Park neighbor Stardust Video & Coffee. For Bitman, this was the dream, and he slowly worked his way up to manager of the store by 1997, before buying the whole operation from the previous owners in 1998.
Park Ave CDs left Winter Park in 2004 and settled in their current location on Corrine Drive soon after. "Part of it was, obviously, getting a bigger space here for half what we were paying on Park Avenue. And this was one of the areas in town that I thought the store could thrive in and thought that it could help rejuvenate the area," Bitman says. Since then, the bustling Audubon Park neighborhood has sprung to vibrant life all around them.
The bigger location was soon stuffed to the gills with records, CDs, books, cassettes, shirts and various pop-culture ephemera. The maximal inventory policy is a priority, with the classic canon and obscure gems getting equal space. Bitman and the staff at Park Ave CDs are focusing in on events, in-stores, performances, readings, listening parties and community days that give sales proceeds to local nonprofits.
"There are very few commerce institutions that can mix social and commerce well. I think a good coffeehouse, a good bar, a good bookstore can," says Bitman. "A good record store is also one of those places where people can be social and hang out and feel part of the fabric of the neighborhood and the scene." (parkavecds.com)